When we first met Chef Amber Lancaster at the 2018 National Restaurant Association Show in Chicago, we knew there was something special about her. She had that "it" factor – an unabashed confidence, but also a deep love and appreciation for the culinary arts.
When we learned more about how she transitioned into the job, we knew she was one to keep an eye on.
Since then, Chef Amber's star has risen through the ranks on several televised cooking competitions. Already a multi-time winner on Guy's Grocery Games, Chef Amber will make her Fox debut this week when she appears Thursday on Season 19 of Hell's Kitchen.
"The intensity level is something that I'm not even sure I can put into words … I understand 100 percent now why they call it Hell's Kitchen."
She currently oversees two restaurants at the MC Hotel in Montclair, New Jersey. The question is, when all is said and done, will she be running a Hell's Kitchen Restaurant in Las Vegas?
"My hopes for 2021 are to continue to support everyone in this industry as much as possible … everyone in this industry can adapt, grow and help each other."
Watch Season 19, which debuts Thursday on Fox, to find out.
For more with Chef Amber, you can see her on other Chef Works original programming, including Art of the Ingredient and Sound Bites.
Be sure to subscribe to our YouTube Channel.
She was also featured as our 2018 Sept. Chef of Chef Works.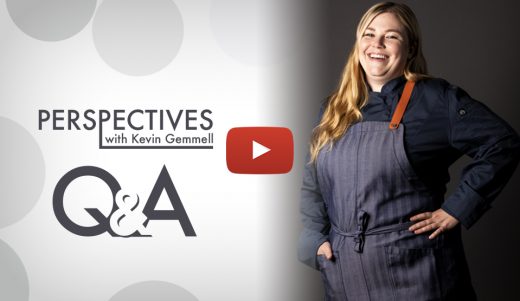 ---
Want more Perspectives:
Videos
Australian Chef (by way of Oregon and California) Tawnya Bahr
Competitive eating champion Joey Chestnut
Chef Stephen Coe, winner of Chopped: Beat Bobby Flay Tournament
Print
Chef Lamar Moore on his decision to leave a high-profile Las Vegas job
Air Force veteran, Chef Donald Royer (11/20)
Talking cell-based meat with David Kay of Memphis Meats 11/6
Competitive eating champion Joey Chestnut (10/23 including video)
Chef Nick Hunter, Compass Group USA, Morrison Living
Sommelier Brian Matta of Le Cadeau Vineyard