Perspectives is a short-form Q&A with culinary and hospitality professionals navigating the new landscape. Each week we'll hear from different members of various communities about their experiences in the COVID era and how they are helping their business, guests and community move forward. If you work in hospitality and would like to be featured in Perspectives, please email kgemmell@chefworks.com.
---
Chef Benjamin Robinett has come full circle in his life. And that's not a figurative metaphor. He literally is now the executive chef at the same hospital where he was born in Oklahoma.
Chef joined the Chef Works blog for a video and print Perspectives this week. Be sure to watch chef's video interview and subscribe to our YouTube channel for lots of original content.
Chef Works: I understand you're now the chef at the hospital where you were born. How did your career path take you into being a healthcare chef?  
Benjamin Robinett: I certainly am. My dad worked there when I grew up as well. My mom would take my brother and me to visit him for lunch, and now I eat there all the time. Weird how things work out.  It's much bigger now and there are three campuses. I'm not entirely sure how I ended up there. But it makes sense. I am constantly using things I learned from working in restaurants and catering.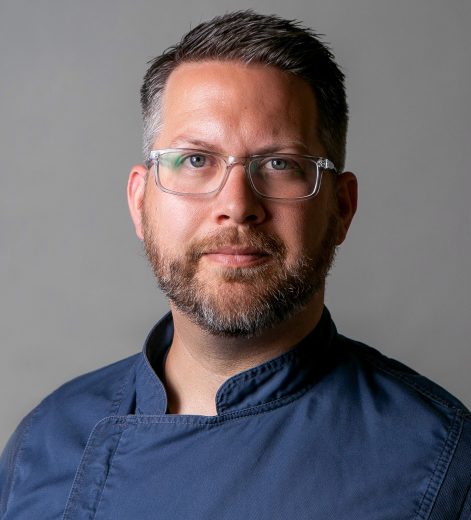 Chef Works: Speaking of that, what are some of your career highlights?
BR: I've been super lucky and been able to do some cool things. I have been able to cook privately for several professional athletes across the country — mostly professional basketball players and a pro boxer. I'm currently getting ready to do a collaboration with a local brewery, (405) brewing co., they have some amazing beer.
Chef Works: If you weren't a chef, what would you be doing with your life?
BR: Easy, I would probably be a musician, or possibly a cinematographer. Along with cooking, these were big interests of mine.
Chef Works: Today is the anniversary of 9/11 and our country is once again going through struggles. How can chefs be the glue that unites us? 
BR: I read somewhere once that "sharing a meal is the most communal and binding thing in almost every place in the world." I think from a chef's standpoint, we get these opportunities to serve people and maybe for a few minutes it can take your mind off things from behind the scenes.
---
Want more Perspectives? Email kgemmell@chefworks.com for a chance to be featured.