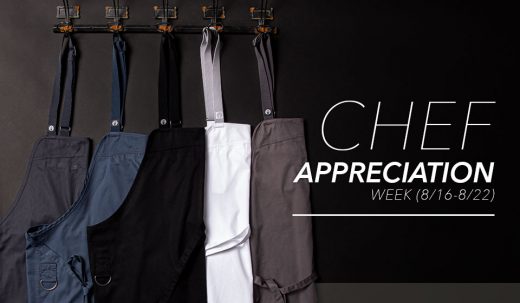 Perspectives is a short-form Q&A with culinary and hospitality professionals navigating the new landscape. Each week we'll hear from different members of various communities about their experiences in the COVID era and how they are helping their business, guests and community move forward. If you work in hospitality and would like to be featured in Perspectives, please email kgemmell@chefworks.com.
---
For this week's Perspectives, rather than focusing on just one voice, we're hearing from several.
Next week is Chef Appreciation Week. And to show our appreciation, Chef Works is offering a 30 percent discount on orders of at least $200*. We're also launching a social media giveaway where you can enter to win a free Brio Chef's Bib Apron and your choice of a six-pack of one our SKILD SERIES™ face coverings.
Be sure to follow us on all of our social channels!
In honor of chefs, we put out the question:
What does Chef Appreciation mean to you?
Here are a few of those responses:
---
"Appreciation to me is when someone wants your advice. They want to try and replicate something that you did. They want to pick your brain just to see how you make the kitchen run smoothly. Nothing makes you smile more than someone watching you work and be in pure amazement."
Chef Brandon Taylor, Grazer's Chophouse, Morgantown, WaVa.
---
"I light up every room that I step foot into. I feel appreciated as a Chef when I meet people who have heard my story or have been following my journey. And, they don't just support me in one area, but as a community leader, entrepreneur and mom! For that, I feel appreciated."
Chef Ashley Shannon, Ashley Eats Chicago
---
We as chefs are always putting it all on the line, never really asking for a thank you. We do this thing, this business, because we love everything about it — the good and the bad. Being recognized for being a chef validates the long hours away from family and friends, the madness of the job and sacrifices many of us have had to make and continue to make.
These things are that much more evident during this time of COVID. Chef Appreciation to me means understanding the value of everything that we do to make that dish and food experience exceptional. Appreciate a chef today.
Hugh Sinclair, aka Chef Irie (Executive Chef/Culinary Consultant Food on Fiyah Experiences, South Florida
---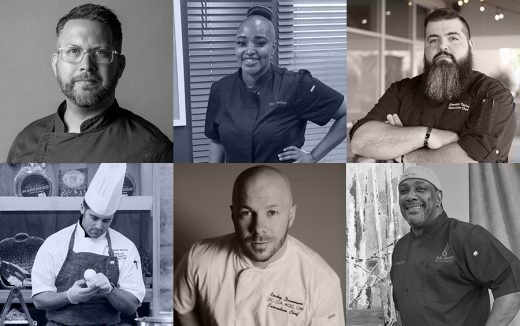 ---
"To appreciate a Chef, you must understand (and appreciate) everything that goes into the craft. Most enjoy what's served on the plate in front of them without really understanding the hours and hours of inspiration, conceptualization, procuring ingredients, testing recipes, training techniques and executing processes that get that plate to your table. Appreciating the entire process is truly appreciating the Chef. Next time you're dining out, take a bite, and really envision the entire process. I promise you'll not only appreciate the Chef, but you'll appreciate that bite like never before!"
Rocky Dunnam, Executive Chef MU Health Care, University of Missouri
---
Giving us gifts of food by way of cooking for us. There have been a couple times that really stick out where the meals were made with me in mind, and that really means a lot.
I feel like a lot of people say the idea of cooking for a chef can be nerve-racking.  The reason it shouldn't be is because every day, chefs send out plate after plate, and each one is made with love and intention. And when you do that for us, we get it. We feel the love. I feel honored when someone makes a special effort to cook for me.
Chef Benjamin Robinett, CCC Oklahoma midsize health system
---
Today's chefs are the mentors of the next generation of culinary professionals. Their knowledge, patience and wisdom are a source of pride and appreciation. Most everything with food has already been done, but it's how we are taught that makes our technique distinctive and meals delicious. That couldn't be done without being mentored on culinary fundamentals and then being able to grow our own interpretation as chefs. We never stop learning!
As the French chef and restaurateur Auguste Escoffier famously observed, "the painter, sculptor, writer and musician are protected by law. So are inventors. But the chef has absolutely no redress for plagiarism of his (or her) work; on the contrary, the more the latter is liked and appreciated, the more people will clamor for their recipes."
This relationship is profoundly unique to the culinary industry, and my colleagues and I at Erickson Living are immensely proud to be a part of it.
Chef Brian Santos, Campus Executive Chef at Brooksby Village, an Erickson Living-managed community in Peabody, Mass.
---
*30 percent discount does not apply to SKILD SERIES face coverings.
---
Want more Perspectives? Email kgemmell@chefworks.com for a chance to be featured.