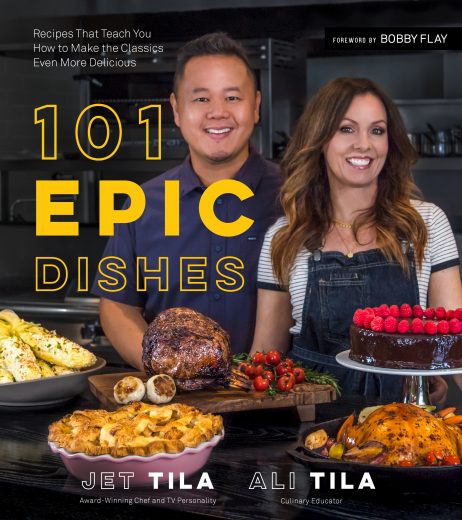 The Chef Works family has been huge fans of Jet and Ali Tila for years. And we're thrilled that they are fans of ours!
The couple will be releasing their first cookbook together, "101 Epic Dishes", with a formal announcement tomorrow on "The Today Show." This is the second book for Chef Jet and the first for Chef Ali, a culinary educator.
The book will be available on Amazon and at all major outlets, including Barnes & Noble, Target and Books a Million.
Chef Jet was kind enough to chat with the Chef Works blog about his experience writing the book with his wife, some of their inspirations and the must-try recipes.
Chef Jet, this is your second book. How does this one differ from your first book?
Jet Tila: This is the first that Ali and I co-wrote together.  It's her first and it's an honor to be able to write a book with my wife and favorite person. This book isn't Asian. It's all the classics made even more delicious and each recipe has a great chef tip.
What are some of the recipe inspirations for this book?
It really has it all. From breakfasts — like chicken and waffles and chia pudding – to full course meals like prime rib and the perfect roast chicken. And, of course, Ali's famous desserts.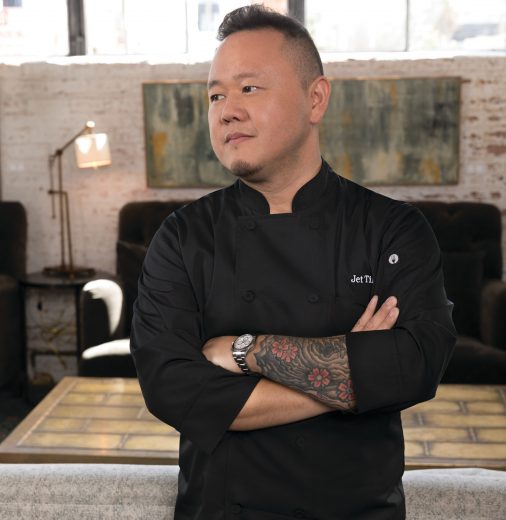 What was it like putting together a book as a husband-wife team?
JT: It was a great bonding opportunity.
How much give-and-take/lobbying/negotiating was there between you two on the final recipes that made the cut?
JT: We started with way more ideas so we had to really tighten up the list and go with the ones that we were both passionate about. Those were the ones that stayed. Then we kept what we thought readers and cooks would appreciate. And there were times we each would lobby for certain dishes.
I would imagine all of them are must-try recipes. But what should people try first?
JT: There are a ton of great recipes. But the bacon and egg breakfast tart, prime rib roast and chocolate peanut butter tart should give you a good start on breakfast, main course and dessert.
We know you and Ali are parents, and kids can be finicky eaters. What's the most kid-friendly recipe?
JT: We've got tons that are kid-tested and approved; from smoothies and strawberry creamsicle to the perfect roast chicken.
What was your favorite part of doing this book together?
JT: Definitely putting our family recipes in a book that will last forever. We wanted our kids, family and friends to have something from us to them. We wanted to give them something that would last forever.
---
For another Q&A with Chef Jet, check out his recap of being the Iron Chef American floor reporter in 2018.