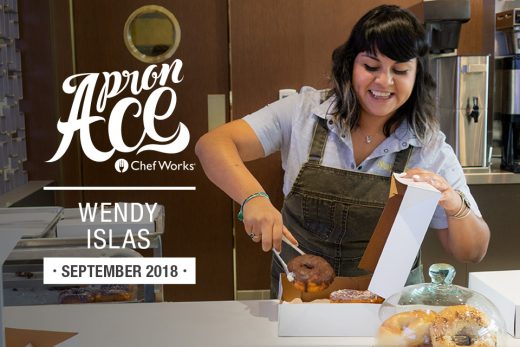 ---
Each month we feature an Apron Ace. If you love your Chef Works apron and wear it outside of the traditional kitchen setting – makeup artist, potter, florist, barista – we want to know! To be featured, email marketing@chefworks.com. Pictured above is our September Apron Ace, Wendy Islas, photographed by Chef Works in San Diego at Nomad Donuts in her Warren Cross-Back Bib Apron and Havana Shirt.
---
The coffee world has evolved beyond your morning cup of Joe. And Wendy Islas is there to help walk you through the process.
Islas, 31, is the lead barista for Nomad Donuts — the gourmet donut shop with a daily-changing menu that was named one of the 10 best in the country by "The New York Post." Islas recently moved from being a baker in the back of the house to being the resident coffee expert. She's overseeing coffee operations at their new location in the heart of downtown San Diego.
You call yourself a coffee nerd. How does one reach that status?
Wendy Islas: I am a total coffee nerd. I love the process. You have to understand that the barista is the last person who touches your coffee before they give it to you. But I like to think about the journey that coffee has been through to get to you. That starts with the farmers and bean buyers to the roasters to the distributors to me and then finally to you. I'm the last person to touch it and probably the first person you see after you sip it. That journey matters. And I think it's important for baristas to be educated about that process.
Tell us about your journey to the front of the house.
WI: I actually started out as a graphic designer. I was born in Los Angeles and raised in Tijuana, Mexico, before coming back to the United States. I was looking for a new work environment because being a graphic designer felt too repetitive for me. I was looking for something a little different, a little more fluid and a little more one-on-one. Baking had already been a passion of mine. I was a home baker for a while already and I'd sell my cakes and cupcakes every so often so I figured, let's try this professionally. After a few months as a baker with Nomad – and a break to get married – I moved to the front of the house and have been learning everything I can about coffee ever since.
What's the most rewarding part of your job?
WI: I really like the hospitality aspect. There's something really rewarding about seeing someone take that first sip of coffee in the morning and knowing that it's going to make them happy. I love the look on kids' faces when they walk into the shop and see all of the donuts. I love to people watch, and watching positive human reactions is also really neat. When I see someone hold a door or save a person from a bad parking spot, it's a daily reminder to do nice gestures for people because I see dozens of them every day. But ultimately it's just knowing that you are making someone happy.
What do you love about your Chef Works gear?
WI: I love the fabric! It's breathable and movable. The fact that you can feel comfortable in your apron is so nice. All of the versatility and knick knacks and pockets all serve a purpose. The cross-back straps are an awesome feature because you know it's not going to be sliding around everywhere. I use every pocket on the apron and shirt. We're moving all of the time, bending and lifting and the shirt and apron work with us.