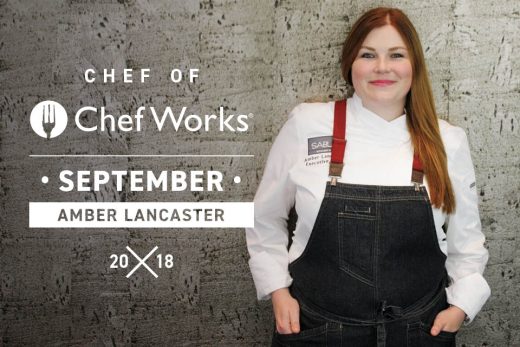 ---
Each month we feature a Chef of Chef Works. If you're a fan of Chef Works gear and are interested in being featured, email marketing@chefworks.com. Pictured above is our September CoCW, Executive Chef Amber Lancaster, photographed at Sable Kitchen & Bar in Chicago in her Marrakesh V-Series Women's Chef Coat and Berkeley Apron.
---
Chef Amber Lancaster had childhood dreams of growing up to be a food writer.
One problem: "It turns out I loved cooking food more than writing about it."
Earlier this year Lancaster, 30, was named Executive Chef of Sable Kitchen & Bar, located in the Kimpton Hotel Palomar Chicago, right at the heart of the extraordinarily competitive downtown market. She took some time to chat with the Chef Works blog about putting her stamp on the restaurant, her studies in Paris and the time she stood outside in a blizzard for three days to get a job.
Give us your "a-ha" moment when you decided you wanted to cook?
Amber Lancaster: I was on a full scholarship at the University of Arizona in Tucson when my uncle asked me if I could do anything I wanted, money is no issue, what would it be? I said cooking and he said I should probably go to culinary school. So I left Tucson and took a two-year crash course at Le Cordon Bleu College of Culinary Arts-Scottsdale. Then I got Le Grand Diplôme from Le Cordon Bleu in Paris. I learned a lot, but I didn't get the butt-kicking every cook needs until I got into the kitchen.
And exactly how and when did that take place?
AL: I cooked under some amazing chefs in Paris like Guy Savoy and Alain Ducasse. When I got to Chicago, I tried to get a job at Alinea and was turned down. I don't like being turned down, so I said I'm going to wait outside until you give me a job. I want this. I'm going to do this. It was three days in a blizzard. But I was determined. On the fourth day, they said come back with your knives. You really don't learn until you learn on the job.
Sable Kitchen & Bar has had several executive chefs. How do you go about putting your stamp on it and making it your own?
AL: I think a lot of chefs come in with tunnel vision. They say 'This is my food and my vision and if you don't like it you're missing out.' It's not necessarily about me. Of course I want to incorporate all of the flavors and techniques I love and learned while studying in France and Rome. But it's got to be baby steps so we can get the people to trust our restaurant and come back again and again. This is a super over-saturated market and there is so much competition. I'm going to do what's best for the restaurant and our clientele, not my ego.
If you could cook for one person, who would it be and what would you make?
AL: I'd want a challenge. I'd want to cook for Thomas Keller and I'd make him eggs – a perfect French omelet. A lot of times some chefs just can't handle egg cookery. I feel like that would be a great test. There's no room for mistakes in eggs.
What's something about you that might surprise people?
AL: Not a lot of people know but I actually volunteer a lot of my time. I want to have my own non-profit soup kitchen one day. I spend a lot of time making meals for church and finding ways to help people on the street. Sometimes it feels like a full-time job outside of my full-time job. My heart is in both places.