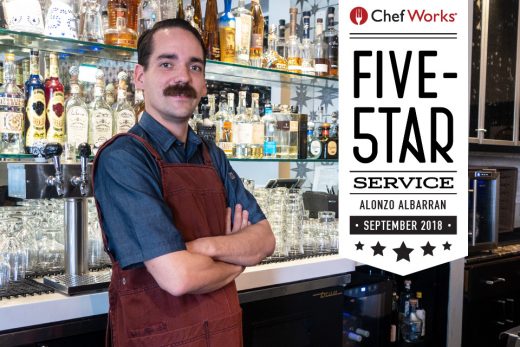 ---
Chef Works will be spotlighting someone in waitstaff each month through November as part of our "Five-Star Service" blog feature. In December, we'll ask our blog's readership to vote who has the "best story." We'll dress the winning restaurant with Chef Works gear! Pictured above is Alonzo Albarran of Death by Tequila, photographed by Chef Works in his Uptown Cross-Back Bib Apron and Detroit Shirt. 
---
Alonzo Albarran learned at a young age the importance of simple, kind gestures. At the age of 21, the ambitious Albarran had opened his own pizza joint in his native country of Mexico. That's where he had an encounter with one of his regulars that forever changed his perspective on life.
"He came in and looked tired, sick," Albarran explained. "I did my best to make him smile and laugh and he left happy. The next day his wife came in and told me he had passed away last night. She told me he enjoyed his food and enjoyed talking with me. It was some of the last moments of his life and I made him smile and laugh. I don't know what he was going through. But it changed me. One meal and being nice to someone can change everything for them."
Born in Guadalajara, Jalisco [hah-lees-kaw], Mexico, Albarran has lived in a lot of places – including parts of Mexico, Montreal, Vancouver, Wisconsin and Oklahoma. But he's never really had a home. That is, until now. The 27-year-old is the head bartender at Death By Tequila in Encinitas, Calif., one of the coastal cities north of San Diego. The Baja-inspired restaurant offers more than 80 different types of tequila.
"I grew up near the town of Tequila," Albarran said. "I've been there. I've been to the distilleries. I've seen how it's made, but I never really fell in love with the process until I started here. Now I memorize everything. Each night I go home and learn everything I can about one particular type of tequila. Then the next night I learn another. And then another. I want to be able to tell our customers exactly what they taste and why they are tasting it. If I'm going to sell you a $90 shot of tequila, you better know the history and understand the product."
Albarran was fortunate to grow up financially comfortable in Mexico. His grandfather established a successful tire distribution business that has stayed in the family since the end of the second World War. But Albarran wanted to experience life for himself and blaze his own trail.
"I started working in restaurants in Mexico when I was 14," he said. "I didn't necessarily work because I needed the money. We had money. But I wanted to know what it was like to make my own money. I liked the idea of working hard and being compensated for your hard work. I liked spending the money I earned by myself. I take that same approach with life and with our customers. If you work hard and provide them with great service, you will be rewarded."
His journey through North America finally brought him to San Diego County. He had some experience bartending. But slinging drinks in Mexico and Canada is different than in the U.S.
"Each country is culturally different in the types of drinks people order and even how they are prepared," he explained. "It took some time to learn how people like to have it done in the U.S. For example, I don't think I ever made a Manhattan in Mexico, but it's very popular in the U.S."
Albarran will be participating next month in WASTED: A Celebration of Sustainable Food along with 30 other chefs and mixologists. Multi-award winning chef Elizabeth Falkner will emcee the event, with all proceeds going to Kitchens for Good.
"I love creating and I love all aspects of hospitality," he said. "You can change someone's day by giving them good service and good food."
---
To see Albarran and dozens of other chefs and mixologists compete at WASTED, visit wastedcelebration.com for ticket information and details.