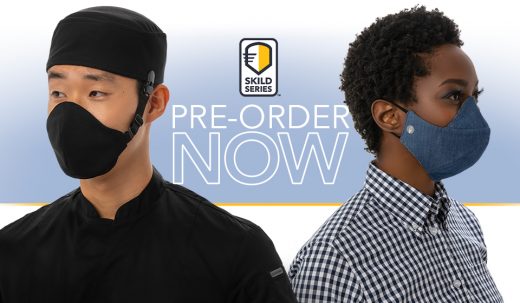 Chef Works proudly announces the two newest designs to the SKILD SERIES™ line of face coverings – the FC2 and the FC5.
There are now five different styles of face coverings in the SKILD SERIES™, each with its own unique capabilities and functions.
The SKILD SERIES™ FC2 has a traditional "ear loop" design. However, the adjustable toggles and reversible fabric elevate it beyond basic.
The SKILD SERIES™ FC5 is one of the most unique and innovative face coverings on the market because it can attach to any headwear thanks to its adjustable clips. While not reversible like the FC2, the FC5 can be rotated 180 degrees to accommodate all face shapes.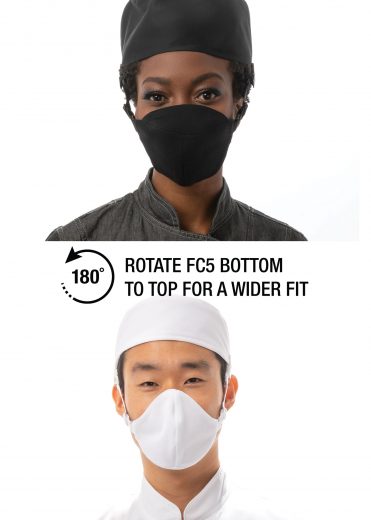 "These final two additions to the SKILD SERIES™ complete a line of face coverings that is versatile, functional and diverse enough to fill a wide range of needs across all industries," said Amanda Stuckey, vice president of marketing for Chef Works. "While the FC2 might have a traditional look, the adjustable ear loops and contoured panel design deliver comfort and breathability. The FC5 offers functional innovation thanks to the adjustable clips and quick-access design."
The FC2 and FC5 are available now for pre-order, with shipping expected next month. They join the FC1, FC3 and FC4 in rounding out the SKILD SERIES™ of face coverings – which were designed in collaboration with hospitality leaders all over the world.
"We're extremely proud of the SKILD SERIES™ because it delivers exactly what our industry needed and wanted," said Neil Gross, CEO of Chef Works. "All face coverings in the SKILD SERIES™ are washable/reusable, multi-functional and versatile. They are offered at a fair price point (as low as $6.99 per unit on some styles) and will deliver the confidence our industry needs to navigate this new landscape now and well into the future."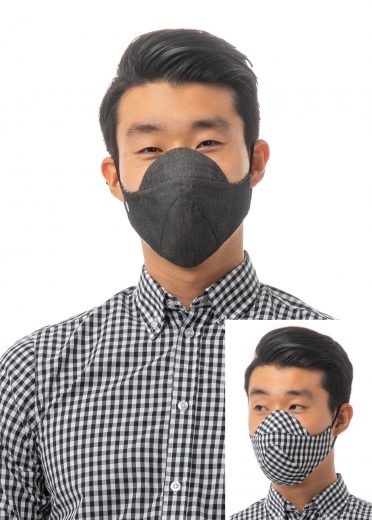 Please note that while none of the products in the SKILD SERIES™ are medical-grade, the Center for Disease Control has advised that a face covering can help slow the spread of viruses and prevent people who might not know they are unwell from transmitting. See the individual product pages for the full disclaimer.
All coverings will be individually wrapped to maintain hygiene standards.
With dozens of styles and color combinations, the SKILD SERIES™ integrates seamlessly with many of our other apparel offerings.
Be sure to check out all of chefworks.com to find durable, on-trend gear for all areas of hospitality and beyond. This includes chef coats, aprons, pants, banquet coats, shirts and accessories.
Want to know more about the Chef Works SKILD SERIES™ line of face coverings? You can read about the how and the why from Chef Works CEO Neil Gross here. And here's the release on the launch of the FC4 "gaiter" style face covering.
---
Recent stories from the Chef Works blog: