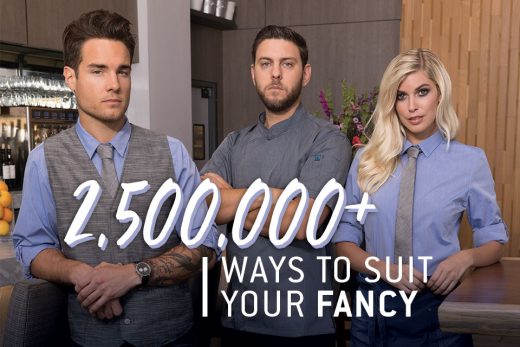 "I can't find what I'm looking for" should never be something we hear from our customers. If it is, we're not doing our jobs.
At Chef Works, we take tremendous pride in our fashion-forward culinary and hospitality apparel. And for us, function is just as important as fashion.
Chef is in our name. And we know chefs and the culinary world. From chef coats, aprons and pants to shirts and accessories, we can dress the back of the house and waitstaff to the nines.
But we don't stop there. We love offering variety to every corner of the hospitality industry. Bakers, chocolatiers and hairdressers are some of our best clients. And assisted living facilities, culinary schools and upscale cinemas are just a few of the other institutions we dress.
"Chef Works is extremely proud of our global reach across a wide range of industries," said Marc Batten, vice president of sales for Chef Works. "It doesn't matter if you're in the back of the house, a server or a florist, we've got a range of products that are stylish and will cater to your needs."
Some numbers to consider:
Chef Works Possible Stock Combinations
Aprons: 300
Coats: 107
Pants: 38
Shirts: 118
Vests: 8
Potential front-of-the-house combinations (aprons, shirts, pants): 1,345,200.
Potential back-of-the-house combinations (aprons, coats, pants): 1,219,800.
By the way … those figures don't take into account headwear and accessories! With Chef Works gear, you can mix-and-match to your heart's content.
And in case you were wondering, our popular Berkeley Apron with interchangeable, cross-back suspenders has more than 320 combinations alone!
"We like creating a look that no one has thought of before and being market leaders," Batten continued. "We have a design team that works tirelessly to reinvent itself and is constantly at the vanguard of fashion and function. There are timeless elements to our apparel that will always be in style. But they are versatile enough that adding details make them current and trend-worthy."