It has been cold all over the country lately. I've been bundling up to walk the dog and forgetting to wake up early to scrape the ice off my windshield. I'm looking forward to the holidays, but I'm also daydreaming about the warm, easy days of summer. With warmth on my brain, I thought the perfect November pick me up would be a sparkling peach punch. 
Don't worry if you can't find fresh peaches at your grocery store this time of year. You can substitute frozen peaches or canned in a pinch. Just remember: if you use canned peaches, you should use your honey very sparingly as the canned peaches will most likely come in a sugary syrup. I like to buy peaches in natural fruit juices instead of a corn syrup based juice. 
If you use fresh peaches you'll need to peel them. It's easiest to peel them by blanching them first. Bring a pot of water to a boil and plunk your peaches in the water for one or two minutes. Remove them with a slotted spoon to a bowl to cool enough so you can handle them. The skin will peel easily off after this. You can do the same thing with tomatoes when you make sauce. 
Fresh ginger gives this drink a little bit of zing. I wrap the slices in some cheesecloth so I don't have to strain out the bits after making my tea. If you don't have cheesecloth, simply  strain the tea and ginger through a fine mesh strainer to catch most of the ginger pieces. Dried ginger will not work in this recipe. You'll end up with grit at the bottom of your punch. 
Don't be afraid to buy a nice big piece of ginger. Ginger will keep excellently in the freezer. From the freezer, you can use a microplane grater to grate it right into whatever future dish you decide to make. After learning this trick, I rarely use dried ginger unless I'm baking. 
White tea is the perfect complement to the flavors of the peach. The tannins in the tea create a subtle, bitter contrast to the sweetness of the peaches. White tea is less forward than black or green tea and it has the most antioxidants. It's also quite low in caffeine, so you can enjoy your punch without it keeping you up all night. 
The best part of this sparkling peach punch is how versatile it is. If you're serving it at an afternoon backyard barbecue and you want the kids to be able to enjoy it, make it sparkle with seltzer water or ginger ale. If you choose ginger ale, pick a soda from a smaller manufacturer that uses real ginger. You'll notice the flavor difference because it will have a real big burst of spicy ginger flavor without the intense sweetness of more commercial sodas. 
You also have the option of straining your puree to remove the peach chunks. This is purely a personal decision. I myself happen to love the pulp in my orange juice and a thicker, more textured peach punch. By all means, strain your puree to get just the peach juice from your peaches if you want a less rustic drink. 
If your party is more of an evening affair or an adults only party, then sparkling white wine is the way to go. I made this batch with a sparkling Pinot Grigio. It's on the sweeter side and you can find inexpensive options so you're not breaking the bank. If you'd like a dryer beverage, use a dry sparkling white wine, champagne, or Prosecco. 
This punch is a gorgeous, peachy orange color and looks amazing served in a vintage serving bowl. If you don't have a punch bowl, serve your peach punch out of mason jars for a down home, rustic feel. Alternatively, serve in pint glasses with a straw and a wedge of peach on the rim. 
What kind of punch do you like to serve this time of year? 
Sparkling Summery Peach Punch
This recipe makes one pitcher of sparkling peach punch which should serve about 8-10 people comfortable. Serving sizes will vary, so plan accordingly when serving, especially if you want to use mason jars. Double the recipe if you're expecting more than ten people at your fete. 
Ingredients 
2 cups water
4 white tea bags or 4-5 Tbs loose white tea in a tea ball or disposable tea bag
1"-piece of ginger, thinly sliced
4 very ripe peaches or 1 15 oz can of peaches
1/2 orange, juiced
1/2 cup peach nectar or the juice from the canned peaches
2 Tbs raw honey (consider omitting if you're using canned peaches)
2 1/2 cups seltzer water or 1 bottle sparkling sweet white wine, like sparkling Pinot Grigio
mint sprigs and/or additional peach wedges for garnish
Place water and sliced ginger in a medium sauce pan and bring to a boil. 
Remove the mixture from heat and add the tea bags. Allow the tea to steep for about 10 minutes. Strain if necessary. Set aside to cool to at least room temperature. You can also make the tea a day or two ahead – keep it cold in your fridge until you're ready to use it.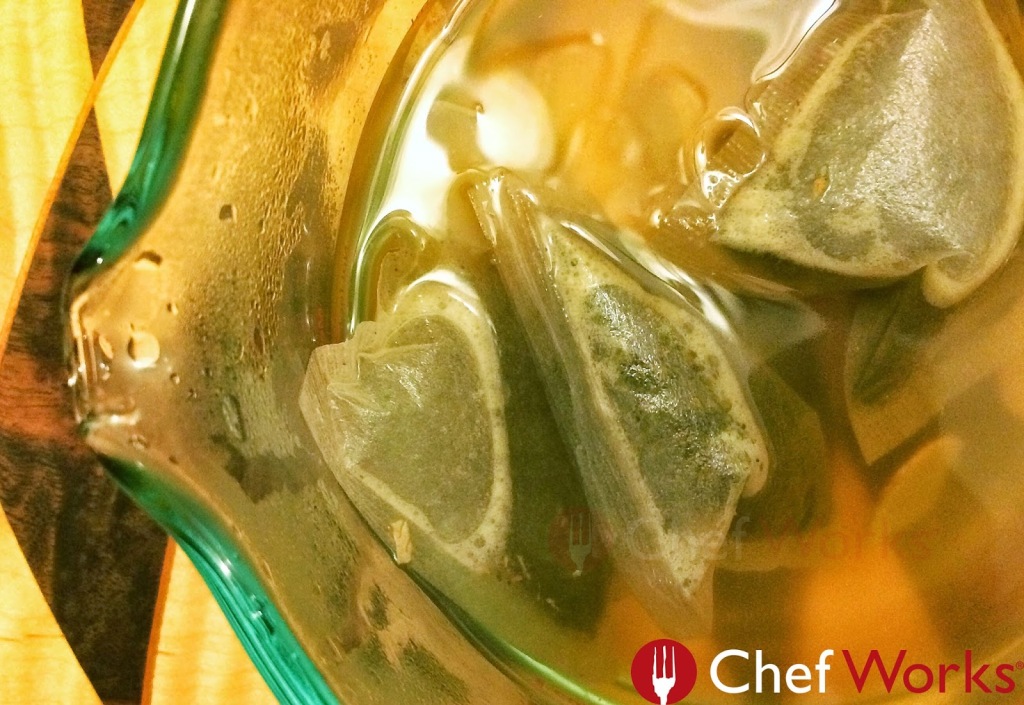 If you're using fresh peaches, bring a medium saucepan full of water to a boil.
Add your peaches and cook one to two minutes. Remove from the saucepan with a slotted spoon and set aside to cool until you can touch them.
When the peaches are cool enough to handle, remove the skins, quarter them with a paring knife, and remove and discard the pits.
Combine peaches, orange juice, nectar, and honey (if you're using it) in a food processor or blender  and puree until smooth. Strain if you want your punch to be less thick. This can also be made several hours to one day ahead of time. Keep cold in the fridge.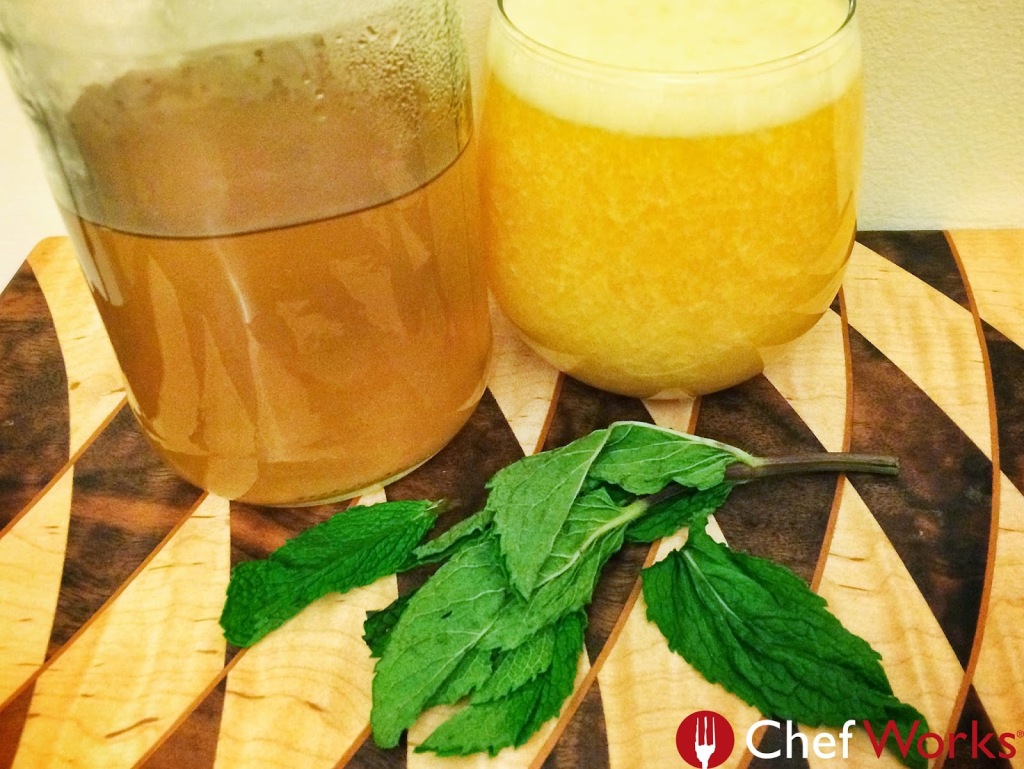 In a large punch bowl, combine the peach puree, tea, and seltzer water or sparkling white wine. Chill until cold before serving or place an ice ring in the bowl. Stir in a handful of mint leaves.
Garnish each glass or jar with a sprig of fresh mint.