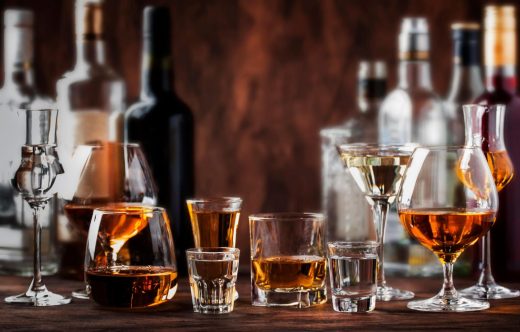 Have you ever heard of the saying, "if you try to please everybody, you please nobody?" The idea is that whatever you're offering customers should target specific tastes, and experiences. After all, would you dilute your restaurant's theme of North African cuisine by putting a plain white chicken breast and mashed potatoes on the menu, just because some people eat only that? 
Your wine and drinks list may be the last place where pleasing everybody pleases nobody. The markup on alcoholic beverages is often the lifeblood of restaurants, and people have very strong opinions about what they want to drink. Therefore, alienating people by catering to only some people's drink preferences risks cutting off income. (Which means that you might have to throw in some sweet white wines and even sweeter cocktails, even if what you really love to serve are bitter cocktails and dry, bold wines.)
This edition of weekly bites covers the weird and wonderful new alcoholic beverage trends of 2022 — and what you can serve to your customers that'll still feel like you're specializing in some way. We've collected three stories that can provide inspiration for new and interesting drinks to satisfy a wide array of tastes and preferences. 
Every year, Food and Wine magazine publishes their predictions for the biggest trends in beverages (both alcoholic and non-alcoholic) for the hospitality industry. Here's our summary of key trends:
There has been a general movement away from sweeter drinks, and towards drier and more bitter options. This is great news for those who prefer the depth and complexity that drier drinks often bring, but be careful not to completely cut the sweet out of your list. 
Consumers are straying away from the 10-ingredient cocktail, and preferring the old classics that feature 3-5 ingredients: dirty martinis, negronis, old-fashioneds. The type of liquor used is becoming more important, as consumers are less satisfied with well drink options. 
As with most trends in the culinary and hospitality industries, consumers want a drinks list that's more curated. They want liquors and botanicals that come with a story, are small batch, artisanal, and locally produced. 
"The consumer has become a cocktail connoisseur, knowing their stuff and raising the bar on expectations. They want rare spirits, stories of the distillers, that one-of-a-kind drink mixed up by the bartender specifically for them", says Gabriel Urrutia of Brugal 1888, in his interview for Food and Wine's drink trends of 2022. 
The wine industry is no stranger to hot new trends and clever marketing. With the whole biodynamic/natural/organic wine trend craze settling down from a hipster trend into a must-include on any list, you may be wondering where the new trend may be emerging. 
Turns out, the new trend is not emerging, it's sinking — wine that's been aged underwater. 
Yes, you heard correctly. Wine that has been aged underwater, not underground! 
It may sound like the kind of wine making technique that dates back hundreds of years, but in reality, aging wine underwater is a very new practice that emerged from an accidental discovery. 
According to the Food52 article about underwater wine, it all started in 1998, when some divers discovered bottles of champagne in a 1916 wreckage. Of course, they just had to try it, and they quickly realized that the time spent underwater had greatly improved the champagne. 
Across Europe, winemakers are experimenting with sinking their bottles of wine to age them, with delicious results. (What a time to be alive!) 
As with all new trends in winemaking, underwater-aged wines are expensive, with the starting price of $100.  
Even restaurants who try to keep their wine list reasonably priced tend to have a few high-end offerings. After all, you need to provide a $500 bottle for those who think that price corresponds to taste. Consider adding an underwater-aged wine to the list, and you may find yourself selling even more high end bottles, because who can resist the chance to drink a bottle of wine aged in the depths of the ocean?  
Is expensive whisky really worth it?
As with wine, whisky prices can get out of the realm of luxe, and into the absurd. Here's a question for you: Is a ONE MILLION dollar cask of whisky worth the price? 
Scotch whisky — made only from Scottish barley, water, and yeast — in particular often commands high prices. Terroir is incredibly important when it comes to Scotch, with noticeable differences in taste and aroma from island to island. Scotch collectors would happily pay 5 or 6 figures for some rare or discontinued Scotch.  
So… is it worth the money? We think there's plenty of great Scotch and other whisky in the $50-100 a bottle range. American whiskies are also becoming global players by moving beyond bourbon to offer Scotch-style whiskies, rye whiskies, and more. This article by InsideHook is a great starting point for interesting whiskies you can include on your drinks list. 
What are you going to add to your drinks list next? Consumer psychology tells us that the more you pay for something, the more you feel like you're getting something truly special. So maye one million dollars is the right price for some people. For others, providing them with an unforgettable experience and story (like underwater-aged wine) is what will get them to buy. 
~~~~
Chef Works blends fashion and functionality to provide chefs and other industry workers with apparel that looks good and gets the job done. Have you explored our online catalog today for the latest styles?