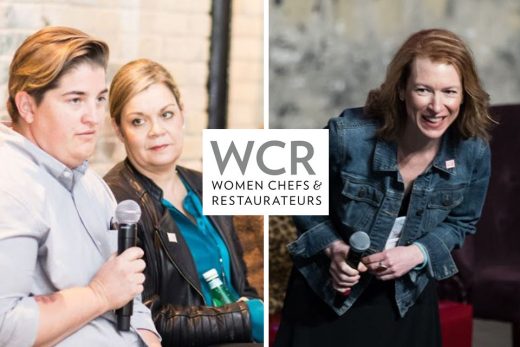 The #MeToo movement has created shockwaves across nearly every industry since it became an international and viral phenomenon last year – and the culinary industry was right in the crosshairs. Me Too not only shined a glaring spotlight on sexual misconduct,  but it also helped elevate the debate and profile of other issues women face in the culinary industry by bringing them to the forefront.
"I think people are starting to realize that there are a lot of problems women are facing," said Amanda Cohen, chef and owner of Dirt Candy in New York, which has been recognized by the Michelin Guide for five straight years. "Me Too might be the most 'visible topic, but for us it's also a catalyst for everything else and it's helping push a lot of those other issues forward."
Issues such as media coverage, financing and access to equal resources are among the topics members of Women Chefs & Restaurateurs (WCR) discuss regularly. Kristen Lee-Charlson, executive director of WCR, said she believes now is the time to turn the conversations into actions.
"I really believe we have an opportunity in this moment and we need to keep seeking out positive ways that we can support each other," Lee-Charlson said. "That's what we're trying to do with our organization. How do we become a place to convene these conversations and resources for women? We should join hands, link arms and take the path forward to help bring about change."
Resources – specifically funding for women in the industry – has been a glaring issue for years, but is only now getting the attention it deserves, Cohen said. But with that comes ancillary issues, such as media coverage and awards recognition. Chefs and restaurants that win more awards and receive greater attention are more likely to receive financial backing.

"The numbers of women graduating from cooking schools has been going up," Cohen explained. "But what's happening is we're having a really hard time keeping them in the industry. They still don't get enough coverage in the media. There's not enough financial backing for women, which stems from a lack of coverage in the media. We're not nominated enough for awards. And the kitchen culture can be exceptionally difficult, as we've learned from the Me Too movement."
Kelly Fields, chef partner of Willa Jean in New Orleans, had a similar assessment. Last year she launched her "Yes Ma'am" foundation to mentor women in the industry.
"The #MeToo movement has shed light on really important issues we've been facing and fighting for years, but it would be dangerous to let the conversation start and stop with sexual misconduct," Fields said in an email. "Restaurateurs and entrepreneurs need to start making immediate investments in women.  Women in particular need to make significant steps into self-investment; finding mentors and resources to start owning their spaces."
In what many hope is a sign of change, women and/or minority chefs took home 11 of the 16 major awards from the James Beard Foundation earlier this year.
"How do we have a conversation about gender without pointing out gender?" Lee-Charlson asked. "It's tricky. But we have to get back to the heart and soul and core of what we're talking about. We have an opportunity to really effect change."
With that in mind, more resources are becoming available. As a gesture of solidarity, Chef Works was out in force at the WCR annual conference earlier this year.
"Chef Works was proud to be the apparel sponsor for the WCR conference," said Amanda Stuckey, vice president of marketing for Chef Works. "We look forward to future collaborations while continuing to support and celebrate some of the most innovative women in the culinary industry."
Fields, Lee-Charlson and Cohen agree that there haven't been significant shifts in the industry over the last 10 years. But all are hopeful the surge of awareness that has swept the industry since last fall will alter the landscape in the coming years.
"The most important thing I've witnessed in this is an opportunity for women to not only have a voice, but to own their voices unapologetically," Fields said.  "That's a really powerful thing to see."