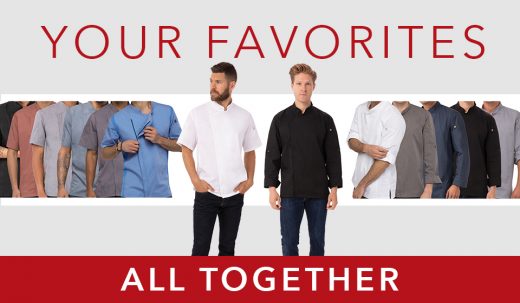 Nobody knows you better than you. So we decided to take the Chef Works gear that you love the most, bundle them together and give you a 10-percent discount.
On the heels of our curated bundles release, we've assembled four new looks where you were actually the stylist — you just didn't know it. And just like our previous set, you save 10 percent off of the regular retail price when you purchase through the website.
We know that chefs like variety. It is, after all, the spice of life.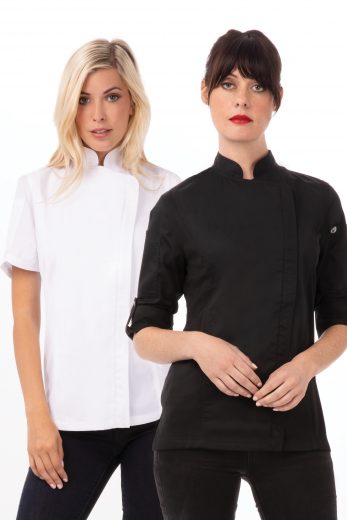 We also noticed that many of you were buying long- and short-sleeve chef coats together. Light-bulb moment! Some days call for short sleeves. On other days, long sleeves make more sense.
"This second release of bundled chef coats and chef pants is all about the chef's personal tastes and less about the 'look' per se," said Amanda Stuckey, vice president of marketing for Chef Works. "This is about getting chefs the gear they need in a manner that is easier, faster and with a little discount to help them out. We already know these were fan favorites and bestsellers. So putting them together is like peanut butter and jelly or shrimp and grits. It's a natural combination."
The four new looks include:
The Heat-Beaters: We took two of our most popular chef jackets from our Urban Collection™ and teamed them together because we know for a fact that you love them! The Springfield Chef Coat (short sleeves) and Hartford Chef Coat (long sleeves) are both zippered chef jackets that are often bought together. So we saved you the clicks – and 10 percent!
Cool & Lite: Two of our lightest, coolest chef coats have come together to create an unstoppable force of fashion and function. The Calgary Cool Vent™ Chef Coat has long sleeves and turn-back cuffs. The Montreal Cool Vent™ Chef Coat has short sleeves. Both chef jackets have executive features without the executive price point.
The Women's Chef Coat Bundle: We matched the Women's Springfield Chef Coat with the Women's Hartford Chef Coat for a cool and complete look. Both zippered women's chef jackets include our award-winning Cool Vent™ fabric. Designed by women, for women, these best-sellers will be your BFFs for days and nights to come.
The Chef Pants Bundle: Sometimes you want a zipper. Sometimes you don't. Get both — it's as easy as that. The Essentia Baggy Chef Pants and Essential Baggy Zip-Fly Chef Pants give you comfort, maneuverability and a personal preference.
If you want looks that have been curated by our design stylists, you can check out 12 different sets of bundles here. For all other apparel – including front of house, aprons, accessories and more, visit chefworks.com