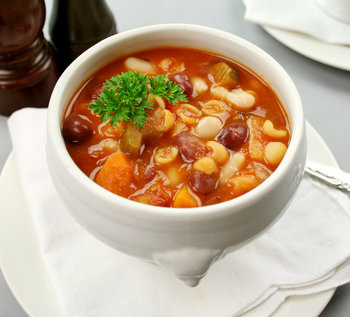 Wintertime is a time when we seek warmth and comfort from our food to combat the chill from outside. For many, that means hearty dishes, which rely heavily on bread and other grains that make those with a gluten-free diet feel left out. Fortunately, there are plenty of excellent wintertime recipes that don't include gluten, but still warm you from the inside-out and are delicious to boot! Here are ten great gluten-free winter recipes to try.
Roasted Winter Vegetable Ragout with Shaved Parmesan
Recipe via Gluten-Free Goddess
What you'll need: 
3 medium golden or sweet potatoes cut into bite-sized pieces
½ cabbage, cored, and sliced thin
½ butternut squash, peeled, and cut into bite-sized pieces
4-5 cloves of garlic, minced
1 28 ounce can fire roasted whole tomatoes, with juice
1 14 ounce can white Northern beans, drained and rinsed
1 cup vegetable broth
½ cup dry white wine
1 tablespoon apple cider vinegar or balsamic vinegar
1 teaspoon rubbed sage
Preheat oven to 350 degrees Fahrenheit. In a large roasting pan, combine potatoes cabbage, and butternut squash. Drizzle with enough olive oil to coat the vegetables and season with salt, pepper, and garlic. Toss. Add the whole tomatoes and break them apart with a wooden spoon. Add the white beans.
Stir broth and whine together, then pour over the vegetable mixture. Drizzle with apple cider vinegar or balsamic vinegar. Sprinkle with sage and toss lightly.
Roast vegetables in over for about an hour, stirring halfway through, or until potatoes are tender when tested with a fork.
Serve warm topped with shavings of fresh Parmesan.
Shepherd's Pie
Recipe via Food Republic
 What you'll need:
1 tablespoon vegetable oil
1 large onion, peeled and diced
1 large carrot, peeled and diced
1 pound ground beef
1 cup beef or chicken broth
1 tablespoon tomato paste
1 teaspoon fresh thyme leaves
1 tablespoon chopped Italian parsley
1 cup frozen peas
2 pounds russet potatoes, peeled and cut into cubes
6 tablespoons unsalted butter
1/2 cup milk
salt to taste
Preheat oven to 375 degrees Fahrenheit. In a large sauté pan, heat oil over medium high-heat. Add onion, carrot, and ground beef and cooked until beef is browned (about 8-10 minutes).
Drain the beef fat and add the broth, tomato paste, and thyme to the pan. Simmer for about 10 minutes or until the juice thickens. Add the peas. Cook for an additional 2 minutes. Pour mixture into an 11- by 9-inch baking dish and set aside.
In a separate pot, bring the potatoes to a boil. Cook for about 20 minutes or until tender when tested with a fork, and drain. Mash the potatoes with butter, milk, and salt until smooth.
Spread mashed potatoes over the meat mixture in an even layer, making sure to spread it to all edges evenly. Bake for 30-35 minutes, or until top of potatoes is golden. Let sit for 10-15 minutes before serving.
Gluten-Free Herbed Focaccia Bread
Recipe via Gluten-Free in SLC
What you'll need: 
1 cup sorghum flour
1 cup tapioca starch
1/2 cup millet flour
2 teaspoons xanthan gum
1 teaspoon sea salt
1 teaspoon dried minced onion
1/2 teaspoon garlic salt
1 tablespoon Italian seasoning
1 tablespoon instant yeast
1 1/4 cup warm water
a dash of sugar
4 tablespoons olive oil
1 egg
1/2 teaspoon red wine vinegar, or apple cider vinegar
1 tablespoon of honey
Preheat oven lowest setting. Mix first 8 ingredients in a large bowl until well-combined. Set aside.
In a small bowl, mix yeast, warm water, and dash of sugar.
Mix all ingredients together to create a thick, cake-like batter. Lightly oil a large casserole dish (preferably larger than 13- by 9-inch baking pan), and drop the dough into the dish, using a flat spatula to spread the dough evenly to the edges. Sprinkle the top of the dough with sea salt, Italian seasonings, and Parmesan cheese.
Allow your dough to rest in warmed oven for 20 minutes. Then, turn the oven to 375 degree Fahrenheit and continue to make for about 30 minutes or until the top of the bread is golden and puffy.
Winter Squash Risotto
Recipe via Eating Well
What you'll need: 
5 cups reduced-sodium chicken broth or vegetable broth
2 tablespoons extra-virgin olive oil
3 medium shallots, thinly sliced
3 cups chopped peeled butternut, hubbard, red kuri, or kabocha squash
2 cups shiitake mushroom caps, thinly sliced
1/2 teaspoon dried thyme
1/2 teaspoon salt
1/4 teaspoon freshly ground pepper
1/8 teaspoon crumbled saffron threads (optional)
1 cup arborio rice
1/2 cup dry white wine
1/2 cup finely grated Parmigiano-Reggiano cheese
In a medium saucepan, bring broth to a simmer over medium-high heat, then reduce heat so that broth remains steaming, but is no longer simmering.
In a large saucepan, heat oil over medium heat. Add shallots and cook until fragrant (about 1 minute). Stir in squash and mushrooms and cook for about 5 minutes. Stir in thyme, salt, pepper, and saffron. Add rice, stirring until translucent (about 1 minute). Add wine and cook, stirring, until almost absorbed by the rice (about 1 minute).
Add ½ cup of the hot broth, reduce heat of large pan to gentle simmer, and cook, stirring constantly, until the liquid has been absorbed. Continue adding the broth in this manner, ½ cup at a time, stirring constantly until all liquid has been absorbed and the rice is tender and creamy (this should be about 30-40 minutes total). Keep in mind that you may have some broth leftover. Remove from heat and stir in cheese.
African-Inspired Crockpot Soup
Recipe via Kalyn's Kitchen
What you'll need:
1 medium yellow onion, chopped
1/4 cup sliced green onion
2 red bell peppers, seeds removed and chopped into 1/2 inch pieces
1 tablespoon minced garlic
2 14-ounce cans diced tomatoes with juice
8 cups vegetable stock
1 teaspoon ground cumin
1 tablespoon Ancho chile powder
1 teaspoon chile powder
1 teaspoon Aleppo pepper
1/2 cup uncooked brown lentils
1/4 cup uncooked brown rice
1 cup peanut butter
Place chopped yellow onion, green onion, bell peppers, and garlic in crockpot. Add canned tomatoes with juice, vegetable stock, ground cumin, Ancho chile powder, chile powder, Aleppo pepper, lentils, and brown rice. Cook on high for about 4 hours or on low for about 8 hours.
After 4 hours on high or 8 hours on low, reduce heat to low and stir in peanut butter. Cook for 1 more hour.
Masala Casserole
Recipe via Healthful Pursuit
 What you'll need:
1 tablespoon coconut oil, divided
1 cup red onion, chopped
2 tablespoons fresh ginger, chopped
2 tablespoons fresh garlic, chopped
3 teaspoons ground cumin seeds
1.5 teaspoons ground coriander seeds
1 teaspoon whole coriander seeds
1 teaspoon ground cinnamon
1 teaspoon garam masala
1 1/2 teaspoons mustard seeds
pinch of chili (optional)
1/2 teaspoon turmeric
½ teaspoon sea salt
1½ cups brown basmati rice
4 cups water
1 medium sweet potato, diced
1 cup small cauliflower florets
1 medium yellow or orange bell pepper, diced
1/3 cup raisins
large pinch saffron
Preheat oven to 400 degrees Fahrenheit. Heat half the coconut oil in a skillet over medium-high heat and sauté onions for 5 minutes. Add all spices and sauté an additional minute, stirring constantly.
Use the remaining coconut oil to lightly coat a deep (2 liter) casserole dish. Mix onion mixture and remaining ingredients and place in casserole dish. Cover and cook for 75-80 minutes or until water is absorbed and rice is tender.
Remove from oven and allow to sit with lid tight for 5-10 minutes to allow the rice to continue to soften.
Mushroom and Tempeh Gumbo
Recipe via Fat Free Vegan Kitchen
 What you'll need:
1 1/2 teaspoons dried thyme
1 1/2 teaspoons smoked paprika
1 teaspoon dried basil
1 teaspoon granulated onion or onion powder
1/2 teaspoon freshly ground black pepper
1/2 teaspoon granulated garlic or garlic powder
1/2 teaspoon rubbed sage
1/4 to 1/2 teaspoon cayenne pepper (use more for more heat)
1/4 to 1/2 teaspoon freshly ground white pepper (use more for more heat)
8 ounces tempeh
2 teaspoons gluten-free tamari
1/3 cup gluten-free flour
6 to 7 cups vegetable broth
1 large onion, finely chopped
2 large (or three medium) ribs celery, finely chopped
1 large green bell pepper, stemmed, seeded, and finely chopped
16 ounces portabella mushrooms, stemmed, sliced about 1/4-inch thick, and cut into inch-long pieces
4 ounces sliced mushrooms, any type
6 cloves garlic, minced
12 ounces sliced okra, fresh or frozen
salt to taste
3 cups cooked brown rice, to serve
Mix all spices into a small bowl. Cut tempeh into 1/2-inch cubes, place in separate mixing bowl, drizzle with tamari and mix well. Sprinkle tempeh with 1 teaspoon of the spices blend, mix well, and set aside to marinate.
Heat a large stockpot and toast the flour, stirring constantly, until it turns lightly brown and begins to smell nutty. Pour flour into a blender along with 2 cups of broth and blend until combined.
Wipe out stockpot and return to heat. Add onion and sauté until it begins to soften. Add the celery and bell pepper and continue to cook another 2 minutes. Add mushrooms, garlic, and 2 tablespoons of water and cover tightly. Cook until mushrooms begin to soften (about 2 minutes).
Add flour mixture to the vegetables (blend quickly again if it has begun to separate) as well as 4 cups of broth and the okra. Add all the remaining seasoning mixture and bring to a simmer. Reduce heat to low, cover, and cook for 25 minutes. In the meantime, brown the tempeh in a skillet.
After the 25 minutes, add the tempeh, and if the soup seems too thick, another cup of broth. Cook for a few more minutes. Serve over brown rice.
Winter Minestrone Soup
Recipe via Simply Sugar & Gluten Free
What you'll need:
2 tablespoons extra virgin olive oil
1 ½ cups onion, chopped
6 garlic cloves, grated
1 cup celery, diced
1 teaspoon salt
1 cup carrots, peeled and diced
1 cup parsnips, peeled and diced
1 ½ cups sweet potatoes, peeled and diced
2 teaspoons ground fennel seed
2 teaspoons dried oregano
¼ teaspoon dried red pepper flakes
1 fresh rosemary sprig
3 cups diced tomatoes in juice
3-4 cups water
1 (15 ounce) can kidney beans, drained and rinsed
½ cup fresh parsley, chopped
grated Parmesan cheese
In a large stockpot, heat olive oil over medium-low heat and cook onions 5-8 minutes until they start to get tender. Add celery and garlic and cook for an additional 5 minutes until the celery is soft, stirring occasionally. Add carrots and parsnips, cover and cook for 10 minutes, stirring frequently. Add sweet potatoes, ground fennel, oregano, red pepper flakes, and rosemary, and cook for several more minutes. Add tomatoes and water. Cover and simmer until all vegetables are tender (about 25 minutes).
Add beans and parsley and heat through (about 5-10 minutes). Serve hot topped with grated Parmesan cheese.
Winter Salsa
Recipe via Gluten Free Gigi
 What you'll need:
1 yellow bell pepper, diced
1 onion, diced
2 tablespoons olive oil
1 teaspoon orange zest
Juice from 1 orange
28-ounce can whole Italian plum tomatoes, drained, seeds removed, and chopped
½ green bell pepper, diced
2 tablespoons cilantro, minced
1 tablespoon fresh lime juice
salt, to taste
1 teaspoon jalapeno pepper, finely diced (optional)
In a skillet over medium-high heat, sauté yellow pepper and onion in 2 tablespoons oil until tender (about 5 minutes).
Remove pan from heat. Add orange zest and juice and stir. Add chopped tomatoes, green bell pepper, cilantro, limejuice, salt, and jalapeno. Gently stir and transfer mixture to serving bowl.
Savory Stuffed Winter Squash
Recipe via Natural Vitality Living
What you'll need: 
3–6 baked winter squash (such as acorn or carnival)
2 tablespoons milled chia seeds
2⅓ cups water
1 cup kasha
½ teaspoon sea salt
2 tablespoons red palm oil
2 cups fresh shiitake mushrooms, stems removed and caps sliced
1 cup leeks or onions, coarsely chopped
1 cup celery, sliced
1 cup red bell pepper, coarsely chopped
1 tablespoon fresh thyme leaves or 1½ teaspoons dried
2 teaspoons fresh sage, coarsely chopped, or 1 teaspoon dried
¼ cup hemp seeds
In a small bowl, mix milled chia seeds with ⅓ cup water; set aside. Boil 2 cups water in a teakettle.
In a 9-inch heavy skillet, heat and melt the red palm oil. Add mushrooms, leeks, celery, red bell peppers, kasha, chia mixture and sea salt and sauté, mixing occasionally, until the ingredients are fragrant and well mixed (about 5 minutes).
Add the boiling water and bring the ingredients to a boil over high heat. Reduce the heat to medium-low and simmer, covered, for 10 minutes or until the water is absorbed.
Add thyme and sage and stir. Taste and adjust the seasonings, if desired. Let cool briefly and serve stuffed into baked winter squashes, such as acorn or carnival, garnished with hemp seeds.
What are your favorite wintertime gluten-free recipes? Share yours with us in the comments section below.