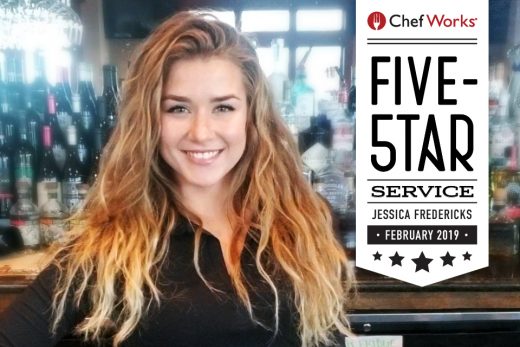 ---
Chef Works will be spotlighting someone in the front of the house each month through November as part of our "Five-Star Service" blog feature. In December, we'll ask our blog's readership to vote who has the "best story." We'll dress the winning restaurant with Chef Works gear! Pictured above is Jessica Fredericks of The Oaks Club at Valencia, photographed in her Definity Women's Knit Shirt and Uptown Waist Apron (not pictured). To nominate someone, email kgemmell@chefworks.com.
---
Jessica Fredericks is, at times, torn between her two personalities. There's the adventurous 25-year-old who traveled to Bali by herself earlier this month for a yoga retreat, followed by a week of "kicking around" the island. There's the free-spirit who spent a month driving up and down the entire West Coast on her own just so she could "see what I could find."
But there's also Fredericks the bartender at The Oaks Club at Valencia in Southern California who doesn't like leaving her adopted family for too long. And by adopted, she not only means the rest of the crew at the members-only golf club — but also the members themselves.
"Our members expect a certain level of service and you start off wanting to treat everyone like family. And then, somewhere along the way, they become just like family," said Fredericks. "You build those relationships and many of them you see every day. You know their drink. You know their families. You get to know them on such a personal level. That's really special."
About three years ago, Fredericks was doing odd jobs in St. Charles, Ill. She worked in retail, accounting and had a brief stint as a hairdresser. None of it was for her. Her heart was calling for something different … and she listened.
"I was tired of doing jobs I hated," she explained. "I wanted to be somewhere different and do something different. I moved to California three years ago and was looking for a career I could bring anywhere. I asked myself 'What's something everyone needs?' Bartenders!"
So she went to mixology school and for the last year and a half has been quenching the thirsts of golfers and members at The Oaks Club.
"We have an outstanding team and are always trying to exceed member expectations," she said. "I love everybody I work with. We're a very close-knit family and we all help each other out. It's a big change from some of the past bars I've worked at."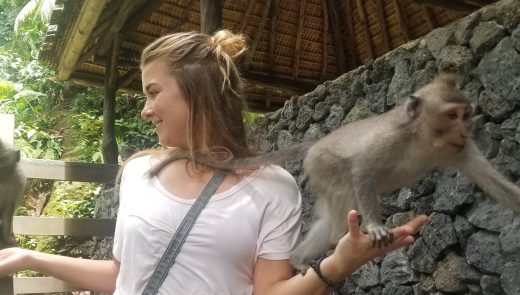 She's hoping her recent Indonesian experience will translate to her work behind the bar. Bartenders are often reluctant psychiatrists. And being able to offer different perspectives and carry conversations are a big part of the job.
"I get wrangled into some very interesting debates," she said. "Some I can talk about, some I can't. But being able to meditate for hours a day really gave me some clarity. People go on vacations all of the time, but they rarely get the peace of mind I experienced. I really consider myself blessed for the time I was there and what I learned.
"It really made me realize how much a fresh perspective can help you understand yourself and the people you come across. Also, that the skills used in the service industry really can translate to anywhere in the world and you can take them with you."
Fredericks has drawn praise from members for her Old Fashioneds and Manhattans. Though she admits she's a simple vodka and soda woman at the end of a long shift.
She's not entirely sure where the next few years will take her. Maybe she'll still be with her extended family at The Oaks Club. Or maybe she'll be mixing drinks at an ocean-side bar in Australia. The world is her playground.
"All I know is that I plan to be traveling as much as possible," she said. "I want to see as much of this world as I can. And I'm thankful to have found a career that gives me the means to do that."