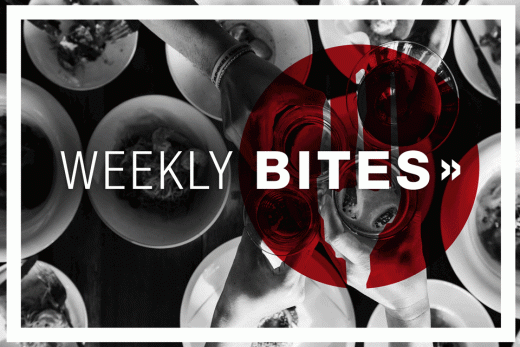 Welcome to Week 9 of 2019! Chef Works Weekly Bites is where we take a dive into the fun food stories of the week.
First up is guess the quote:
"Let food be thy medicine and medicine be thy food." (Answer at the bottom)
---
APPETIZER
Oscar buzz has been in the air for weeks and the annual Hollywood who's-who event brought plenty of mystery leading into the final hours with a deep field of candidates for best picture. The culinary industry was well-represented by Chef José Andrés, one of its finest ambassadors, helping to introduce "Roma" for its best picture nomination.
While helping actor Diego Luna introduce highlights for Best Picture nominee Roma, a film centered around the experiences of a domestic worker and a wife abandoned by her husband, Andrés gained momentum as he went on and punctuated the short speech with a call to appreciate women and immigrants.
You can read the full story here on Eater.
---
MAIN COURSE
With the Oscars comes talk of glamorous parties, exquisite fashion and oh-so-delectable bites.
The Governor's Ball, hosted by Chef Wolfgang Puck is the crème de la crème of post-Oscar events. Here's a video peek at what the stars were munching on, via Miami's CBS affiliate.
Now that you've seen what's on the menu, do you want to make it yourself? U.S. Magazine has some of the recipes!
Of course, not all of that is going to be eaten. So what happens to all of the leftover food? Food & Wine gives us the rundown here.
---
DESSERT
As if we needed another reason to love In-N-Out! The West Coast burger chain knows that those of us on the Left Coast aren't accustomed to particularly rainy days. So to help the kiddos stay warm, they are offering free hot chocolate on rainy days! Pop Sugar has the story here.
---
FOUND THE FORK
Chef Works again served as the culinary and hospitality apparel sponsor for the Food Network South Beach Wine and Food Festival and an amazing time was had by all!
"I spoke to everyone I saw wearing Chef Works and asked them how they liked whatever it was," said Donna Finley, senior business development associate for Chef Works. "Some had on our coats and some wore aprons. All sang our praises and absolutely loved the items they wore. I also sat in on some of the demos and presentations and the energy level was extreme!  At all events, there were enough stations of really good food that no one chef commanded all the attention (so no extremely long lines). I was also impressed by the range of chef talent from local restaurants to well-known chefs all over the U.S."
---
WEAR OF THE WEEK
Did you like what the chefs at SOBEWFF were wearing? It's easy to get your hands on your own Springfield Chef Coat! Available in seven different colors this short-sleeve, zip-up coat is perfect for staying cool in the kitchen and when the weather starts to turn warmer. And it's got all of the perks you've come to love from a Chef Works coat, including a back-collar apron holder and multiple utility pockets. And it's available in exclusive cuts for women and men.
---
Quote Answer: Hippocrates