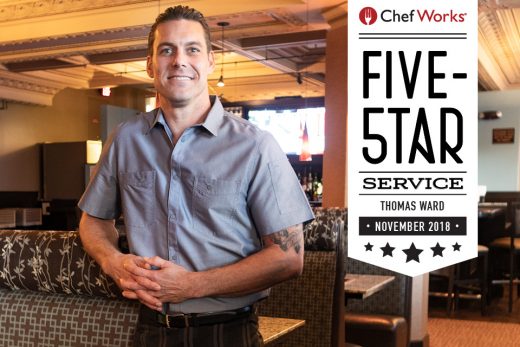 ---
Chef Works will be spotlighting someone in waitstaff each month through November as part of our "Five-Star Service" blog feature. In December, we'll ask our blog's readership to vote who has the "best story." We'll dress the winning restaurant with Chef Works gear! Pictured above is Thomas Ward of The Melting Pot, photographed by Chef Works in Jaxon Shirt and Presidio Half-Bistro Apron.
---
Thomas Ward is in recovery – though he's not truly "recovered." Nor will he ever be. His – like approximately one in 10 Americans in recovery – is a story that has no end. Rather, it's a daily grind to be better than you were the day before and stay hopeful that you'll be better the day after.
His journey is one worth hearing. And Ward caught up with the Chef Works blog at the Melting Pot in San Diego, where he talked about his road to sobriety, how the restaurant industry saved him and how one general manager believed in him so much that he helped change the culture of their establishment.
"I don't think I ever meant for this place to be a place of sobriety," Ward explained. "I've been here five years now and there are about 16 of us here who are sober. One by one I brought them here from my recovery program and each one has flourished. Our general manager, Deirdre Woodruff, believed in me and gave me a chance. Now I'm trying to pay that chance forward. I can't even describe what this place has been for me and so many others."
Looking back at his upbringing and his choices, Ward, 40, sees how he easily slipped into addiction. A high-stress, high-paying sales job right out of high school played a major role in his abuse of pills. This was in addition to the marijuana and drinking habits he'd developed in high school. Throw in an abusive stepfather and the escalation to speed and heroine and his path towards a full-blown crash was inevitable.
From crime to jail to being homeless, Ward finally hit rock bottom one night while serving yet another six-month prison sentence. He'd been beaten several times and finally decided it was time for a change. After his release he found CRASH – Community Resources and Self Help in downtown San Diego. He entered one of the toughest long-term treatment programs in California, knowing full well that it would test every ounce of his mettle for six months.
"I had no self-esteem," Ward said. "I had no confidence. I had no self-worth. I was pretty beaten down. But part of the recovery process is coping with those feelings and finding ways to build yourself back up. That means finding a job."
That's when Ward and Woodruff met. Ward had no restaurant experience when he applied for a server position at Melting Pot.
"He told me his story and said 'I just need someone to give me a chance,'" Woodruff recalled. "I didn't have any experience with people in recovery. But something told me on that day to give him a chance. I've always asked myself why I did it and I don't have an answer. I just had a feeling I could make a difference."
Fast forward five years. Ward has been sober since July of 2013, is a manager and also helps oversee the new employee training program. A large portion of Woodruff's staff have traveled the same roads as Ward. But each one has flourished under Ward's stewardship.
"I can truly say he's helped change the culture of this restaurant," Woodruff said. "He's grown so much and he's made a tremendous difference in everyone else's life. I really believe the two of us were put together for some reason and to challenge each other."
Ward has a relapse plan in place. He's a sponsor. He lives with other people in recovery and they encourage each other. Each day when he goes into work, he sees the people he's helped influence.
"Much like recovery, this is a place where nothing is given to you," Ward said. "You have to earn it."
Ward earns it every day.  His story never ends. It simply starts over each morning.