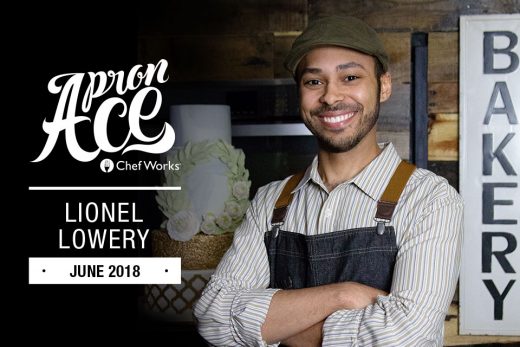 If you love your Chef Works apron, use it outside of the traditional kitchen setting (makeup artist, potter, florist, baker, etc.) and would like to be an Apron Ace, email marketing@chefworks.com.
Remember Willy Wonka's backstory? His father was a dentist, wanted his son to pursue the business, but was shattered when he instead became a chocolatier.
Lionel Lowery is basically Willy Wonka … without all of the dad guilt. The 28-year-old was well on his way to becoming a dentist when he had a moment of clarity. He'd rather be filling people's mouths with baked goodness rather than repairing them. So he teamed up with his mother, Shawn, who started The Peanut Butter Sucker home bakery about seven years ago.
The Lowerys, a military family, have had to move several times over the years. But they are now settled in Kentucky and The Peanut Butter Sucker has grown so exponentially that they are in the process of building a commercial kitchen at their home. Scan their Facebook page, and you'll see 150 five-star reviews out of 152. Lionel, who will one day run the family business, took some time to chat with the Chef Works blog about his artistic passions, working with his family and why he loves his Berkeley Apron!
Take us through your journey from dental school to baker.
Lionel Lowery: I finished my degree and was accepted into dental school. It seemed serendipitous. I was interviewing at Howard University in Washington D.C. Our family was going to be stationed there. It just made sense. But when I got to school, it all came to fruition that this isn't what I wanted to be doing with my life. So I sat down with my mom and we had a conversation. She asked 'What do you want to do?' It didn't take me long to say 'I want to work with you.' That made her happy.
So you knew dentistry wasn't going to be your thing. How long had you known that?
LL: I always loved science and I always loved art. Dental school was tapping into the science part of my brain, but not the art. Then again, my parents always told me starving artists are called starving artists for a reason. It's a tough way to make a living, so that's why I chose dentistry. But I loved baking. And baking is a science. I didn't understand until I was older that it was the outlet and the medium I needed to get the best of both worlds.
Tell us about the origins of The Peanut Butter Sucker.
LL: It started about seven years ago. We were in El Paso [Texas] at the time, but we had to move a lot going from base to base as a military family. My mom decided to start it as a hobby. Before long, we had people at different bases wanting cakes or cookies. It's amazing what it's become from where she started.
And the name?
LL: My grandfather died of cancer. When I was little he and I used to eat peanut butter off of a spoon. He called them peanut butter suckers. He always said if you can't talk to your kids and share memories, you've lost them. My mom named it in memory of my grandfather. That's honestly what the business is based on.
What's the most satisfying part of your job?
LL: We're getting a chance to help others make memories, but we're also building a legacy. We'll make cakes for a baby shower, and then the family will send us pictures of the baby after they're born. People tag us in their wedding photos because we did their cakes. A part of us is going to be in those pictures for years to come because people are going to look back and remember that cake. The fact that we're a part of that is really, really special.
What do you love about your Berkeley Apron from Chef Works?
LL: We did a bridal show and we stood out in the best way possible. The apron matched our display perfectly. It was cool, vintage and rustic, which is our brand. That's what we are. When you feel confident, you connect with people. When you feel in the zone, other people will see that and gravitate to that. It's not just an apron. It's how you feel and how you connect. Everything else will fall into place.