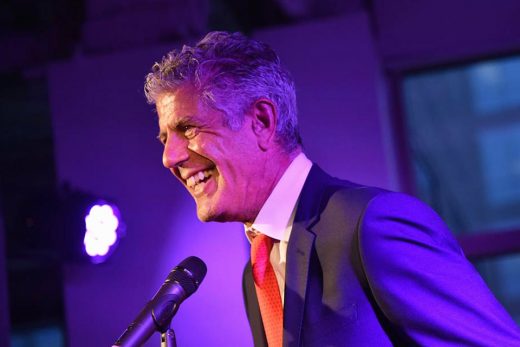 The culinary community is in mourning following the news Friday that Anthony Bourdain was found dead in a hotel room in France of a reported suicide. The 61-year-old celebrity chef, author and television personality is credited for inspiring millions. According to multiple news outlets, he was found unresponsive by friend and chef Eric Ripert.
"Your body is not a temple, it's an amusement park," Bourdain once mused. "Enjoy the ride."
Through shows like No Reservations and Parts Unknown, Bourdain took people across the globe. The sharp-tongued activist wasn't afraid to tell it like it was, and in the last year had become a staunch supporter of the #MeToo movement.
"In these current circumstances, one must pick a side," he wrote in Medium. "I stand unhesitatingly and waveringly with the women."
Many celebrities, in and out of the kitchen, turned to social media to express their sadness and share stories about Bourdain.
Goodnight you cranky, opinionated, beautiful man. You littered the joint with good words. Built a shit ton of windows for the rest of us to see the world. Thanks, Tony. pic.twitter.com/S06UpPSPaa

— Troy Johnson (@_troyjohnson) June 8, 2018
"Low plastic stool, cheap but delicious noodles, cold Hanoi beer." This is how I'll remember Tony. He taught us about food — but more importantly, about its ability to bring us together. To make us a little less afraid of the unknown. We'll miss him. pic.twitter.com/orEXIaEMZM

— Barack Obama (@BarackObama) June 8, 2018
Stunned and saddened by the loss of Anthony Bourdain. He brought the world into our homes and inspired so many people to explore cultures and cities through their food. Remember that help is a phone call away US:1-800-273-TALK UK: 116 123

— Gordon Ramsay (@GordonRamsay) June 8, 2018
National Suicide Hotline
1 800 273 8255

I've brushed up against this darkness and I know it's a tempting exit but REACH OUT to ANYONE. Stay on this side of it — in the light and warmth. Where you get to try again, every day.

— Patton Oswalt (@pattonoswalt) June 8, 2018
I am gutted and saddened upon hearing the news of @Bourdain, a beloved presence in the culinary community. You will be missed. pic.twitter.com/GIAijn3jIL

— Carla Hall (@carlahall) June 8, 2018
#RIPAnthonyBourdain ???
You are missed by all of us ?

A note to all: you are not alone. Call the National Suicide Prevention Lifeline and seek help to save yourself and those around you ?

☎️ :1-800-273-8255 (avail 24/7) pic.twitter.com/v7JL2IrOea

— Chef Works ???? (@Chef_Works) June 8, 2018