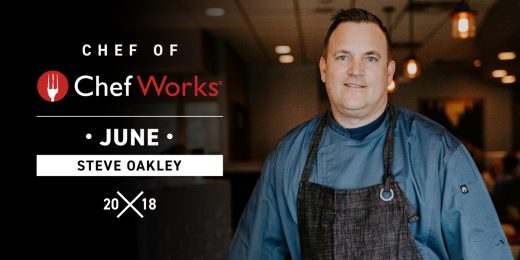 Unfortunately for Chef Steven Oakley, the Boston Celtics and Indiana Pacers already have full rosters and the Indianapolis Colts already have a quarterback. Oakley, 49, says he would have found a future in sports had he not gone into cooking.
Fortunately for the people of Indianapolis, he found his calling in the kitchen, not on the court. They get to enjoy the creations of the seven-time James Beard nominee, who opened Oakley's Bistro in 2002 and has been dominating the Indy food scene ever since. Oakley took some time to chat with the Chef Works blog about his origins, his approach to cooking and being one of the few who has actually beat Bobby Flay.
Who were some of the people that influenced you at an early age?
Steven Oakley: My grandparents owned a grocery store/delicatessen and they would cook everything. My grandfather was a butcher and my grandmother did the baking. It was one of those old corner stores that used to be in South Chicago, Ind., and they lived upstairs. My mom was a great home cook. We always had a big Sunday meal on the table each week. No matter what, there was always a sense of food in my family.
When did you actually start getting your hands dirty in a professional kitchen?
SO: There was a little four-star French restaurant called The Cottage outside of Chicago. I was 15 or 16 and interested in fine dining. My mom said I should just walk in and volunteer, so that's what I did. I walked in and said I'd do anything for free. By that point I had already realized that I wasn't going to be the next Larry Bird. So they let me pick herbs out of the garden. After a week, they started paying me and that's how it all got started.
I'm sure it feels amazing to keep being recognized with James Beard nominations, but is it frustrating that all of the attention in your region tends to focus on Chicago?
SO: The nominations are nice. And I think it says a lot about the Indianapolis food scene that we are starting to get a little more of the recognition. I'm ecstatic year after year to be recognized. My goal has always been to be in front of customers and teach and train my staff. That's the driving force behind what I do. If the awards come, great. If they don't, they don't. I've got four guys who used to work for me who have gone on to open their own restaurants. That's something I'm very proud of. If this restaurant was in Chicago, 150 or 175 miles away, maybe it would be different. But it's not something I spend a lot of time worrying about.
(As of publication date) Bobby Flay has a 126-66 record on his show, "Beat Bobby Flay." You're one of the 66 who has beaten him. What was that experience like?
SO: Beating Bobby Flay was a surreal experience. It's probably the most nerve-racking thing I've ever done. I'm a pretty confident person. I've competed in sports and done some other competitions. But I just didn't know what to expect. I went in with a happy-go-lucky attitude. Seeing his face when I said 'seafood corndog' as my specialty dish was fantastic.
What has that experience done for your brand?
SO: It's definitely my proudest moment as a chef. After I won (last year) they told me I can expect about a six- to eight-month bump in business. It's been a year and people still come in talking about it. We had a viewing party the night it aired and brought in a 60-inch television and people were yelling and going crazy. We probably had about 250 people in here watching it. It was a blast.