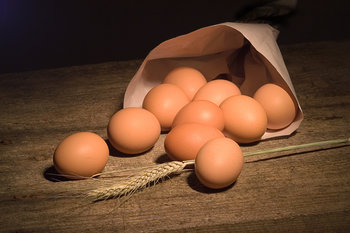 Even for someone who loves food, cooking can be a daunting task—especially after getting home from a long day of work. Luckily, with a little planning and few creative kitchen strategies, you can make your job as executive chef of your home kithcen a little easier.
Here are 15 tips and tricks to keep hidden in your kitchen apron:
1. Preserve Guacamole With Water.
If you're a big avocado lover, preventing this dish from browning can get complicated and frustrating. You can add lime juice to it, but this will only change the taste. You can also cover it in a plastic wrap, but this will simply delay the the inevitable. So what is a guac lover to do? Try adding a thin layer of water to it.
According to blogger Faith Dunard of The TheKtchen.com, "OK, you say, this sounds weird—maybe even gross. Water on the guacamole? But water is a perfect barrier against oxygen, and since guacamole is dense, a little liquid won't water it down. I pour in a small amount of water to cover the top of the guacamole and refrigerate it for up to three days. After I take it out and pour off the water, I stir up the guacamole and the texture is no different than when it was made. In fact, I like the taste of guac after it has sat in the fridge overnight; I find the cilantro and onion flavors are blended better."
2. Easily Peel Shells of Hard Boiled Eggs.
Many people have trouble when it comes boiling eggs, as well as removing its shell once it is cooked. Fortunately, there's a quick and easy way to do this for multiple eggs at the same time. All you need is a shallow tupperware, water, and lots of shaking!
Step One: Fill the container half with water.
Step Two: close the tupperware and  shake vigorously.
That's all you need to do. This should do the trick to removing the shells on more than one egg!
3. Brine Fish Before Cooking.
This will enhance the flavor of the fish and make it easier to cook.
4. Add Extra Crunch to Your French Fries.
All you have to do is freeze them when they are half-cooked. They'll go from drab to restaurant quality in no time.
5. Have a Big Meal to Prepare? Don't Cook Everything on the Same Day.
Cooking a meal for a lot of people can challenging. To help make the process easier, you can spread out parts of the meal and cook it throughout the days leading up to it. By the time your dinner party or arrives, you'll have everything ready sans the extra stress and clean up.
Video blogger Emma Christensen explains, "When I throw parties like my All-American Beer Bottling Party, I aim for a balance of three types of dishes: dishes that can be made 1 to 3 days ahead, quick-cooking or quick-to-assemble dishes to make the day of the party, and prepared foods that I will pick up locally, like the pie and pretzels for my party. This way, the work is spread out and I never feel overwhelmed at any one time."
6. Ran Out of Butter But Have Heavy Cream?
Create an easy subsitute. All you need is a jar, heavy cream and salt.
Watch this video to learn how.
7. Easily Tell the Difference Between Boiled Eggs and Raw Eggs.
Some people decide to boil eggs and store them in egg cartons alongside their raw eggs. This could be a recipe for disaster if you grab the wrong one. One way to help differentiate one from the other is adding balsamic vinegar to the water when you boil them. According to Brigitt Hauck from RealSimple.com, "This will taint the egg without changing the flavor and it will be easier to tell one from the other."
8. Get the Most Juice From Your Citrus Products.
It's happened to everyone at least once in their lives–you need to add a bit of lime to your recipe and go to grab the nearest fruit, only to squeeze and nothing comes out. Seriouseats.com suggests to microwave the lime to get the most juice, 15-20 seconds should do the trick! This also works great for lemons, oranges and tangerines.
9. Keeping Fruit From Browning
If you have a piece of fruit like a pear or apple and would like to store it, and prevent browning, all you need to do is add a little bit of honeyed water.
Watch this video from America's Test Kitchen that will show you how.
10. Easily Separate Egg Whites.
Egg whites can be used as a healthier alternative in many recipes that require eggs. They're also great for creating the best frosting for many of your sweets. You can easily seperate your egg whites using the simple 3-bowl method.
Using three bowls, crack the egg into bowl 1. Then scoop out the yolk and transfer it to bowl 2. Finally, transfer over the egg white to bowl 3. Then bowl 1 will be ready for your next egg.
11. Prevent Seeds From Getting Into Juice Marinades.
Use a cheesecloth when juicing your citrus fruits to prevent seeds from getting in.
12. Want your Bananas to Last Longer?
Wrap the top part of the bunch with plastic wrap, as seen in this photo via BuzzFeed.com.
13. Keep Wine Cubes Handy
Using an ice tray, pour your red or white wine and store in the freezer. You can use these cubes when a recipe asks for wine or as a way to quickly chill a newly poured glass of wine.
14. Bake an Egg, Don't Boil it.
Celebrity chef Alton Brown suggests baking eggs with their shells for 30 minutes at 325 degrees. This will result in a less smelly egg, with a creamier texture.
15. Perfect Wine and Cheese Pairings
Keep a easy-to-follow wine and cheese pairing guide on handing when throwing your next gathering. It's a fun and simple way to impress your guests.