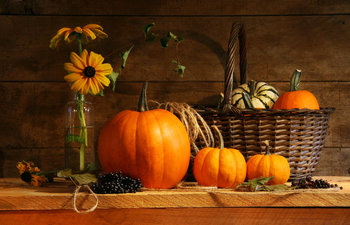 Thanksgiving Day is fast approaching! Here's a list of seven new dishes/foods to bring to your Thanksgiving gathering this year that are sure to impress.
Classic Sweet Potato Casserole
Sweet potatoes are a signature Thanksgiving side dish. This recipe is sure to impress your guests.
What you'll need: 
4 1/2 pounds sweet potatoes
1 cup  of sugar
1 1/4 cups of cornflakes cereal, crushed
1 1/2 cups miniature marshmallows
1/2 cup of softened butter
1/4 cup of milk
1/4 cup of chopped pecans
2 large eggs
1 tablespoon  of brown sugar
1 tablespoon of melted butter
1 teaspoon of vanilla extract
1/4 teaspoon  of salt
What you'll do:
Preheat oven to 400° Fahrenheit. Bake sweet potatoes until tender (usually takes around an hour). Let stand until cool to touch. Peel and mash sweet potatoes. Once this is done, lower oven temperature to 350°.
Mix in mashed sweet potatoes, granulated sugar, butter, milk, eggs, vanilla extract and salt at medium speed with an electric mixer until smooth. Spoon mixture into a greased 11" x 7" baking dish.
Combine cornflakes cereal, chopped pecan, brown sugar and melted butter. Sprinkle over casserole and bake at 350° Fahrenheit for 30 minutes. Once the time is up, remove from the oven and let it stand for 10 minutes. Sprinkle marshmallows in alternate rows between cornflake mixture; bake 10 minutes. Let stand 10 minutes before serving.
Hot-and-Spicy Cranberry-Pear Chutney
This recipe puts a tangy spin on the traditional cranberry sauce, showcasing the flavors of fresh orange, ginger, and peppers.
What you'll need: 
1 1/2 cups fresh cranberries
1 (6-oz.) package sweetened dried cranberries
1 cup fresh orange juice
1/3 cup sugar
1 tablespoon grated fresh ginger
2 (10 1/2-oz.) jars pear preserves
1 (10 1/2-oz.) jar hot jalapeño pepper jelly
1 (9-oz.) jar mango chutney
1 tablespoon orange zest
What you'll do:
Bring cranberries, dried cranberries, orange juice, sugar, and fresh ginger to a boil in a large saucepan over medium-high heat, stirring constantly. Lower heat to low, and let simmer, stirring constantly for 5 minutes or until cranberry skins begin to separate.
Stir in pear preserves all other ingredients; let it simmer for another five minutes and stir constantly. Remove from heat, and cool chutney completely.
Squash Casserole
If you and your guests prefer a savory side dish to a sweet one, try this delicious squash casserole recipe.
What you'll need:
4 pounds sliced yellow squash
1 large sweet onion, finely chopped
1 cup (4 oz.) freshly shredded Cheddar cheese
1 cup mayonnaise
2 tablespoons chopped fresh basil
1 teaspoon garlic salt
1 teaspoon freshly ground pepper
2 large eggs, lightly beaten
2 cups soft, fresh breadcrumbs, divided
1 1/4 cups (5 oz.) freshly shredded Parmesan cheese, divided
2 tablespoons butter, melted
1/2 cup crushed French fried onions
What you'll do: 
Preheat oven to 350° Fahrenheit. Cook yellow squash and sweet onion in boiling water until tender. Drain.
Combine squash mixture, Cheddar cheese, mayo, basil, garlic, pepper, eggs, breadcrumbs and ¾ cup of the parmesan cheese, place mixture into a lightly greased 13" x 9" baking dish.
Mix butter, French fried onions, breadcrumbs and Parmesan cheese. Sprinkle over the squash mixture.
Bake for 40 minutes at 350° Fahrenheit.
Click here to see the full recipe.
Perfect Mashed Potatoes
Thanksgiving dinner isn't complete without some creamy mashed potatoes. Make sure yours are just right with this recipe for the "perfect" mashed potatoes.
What you'll need:
3 pounds Yukon gold potatoes
2 teaspoons  of salt
1/3 cup butter
1/3 cup half-and-half
4 oz of softened cream cheese
3/4 teaspoon coarsely ground pepper
What you'll do:
Peel and cut potatoes into 1" pieces. Bring potatoes, 1 tsp. salt, and cold water to a boil in a Dutch oven over medium-high heat. Lower temperature to medium-low, and cook until fork-tender (around 20 minutes); drain.
Return potatoes to Dutch oven. Cook until water evaporates and potatoes look dry. Put potatoes on 1 side; add butter, half-n-half, cream cheese, pepper and salt on the other side. Cook until butter is melted and mixture starts to boil.
Remove from heat and beat at medium speed with a hand-held electric mixer to desired degree of smoothness. Serve immediately.
Stuffed Mushrooms
Add some flair to your Thanksgiving dinner with these tasty stuffed mushrooms. They are the perfect punch of protein for those guests who'd rather skip the turkey.
What you'll need:
12 fresh mushrooms
1/2 pound ground beef
1 tablespoon minced onion
1 clove garlic, minced
1 tablespoon butter
1/4 cup bread crumbs
Salt and pepper to taste
1/4 cup heavy cream
1/4 cup melted butter
1 teaspoon chili powder
What you'll do:
Preheat oven to 425° Fahrenheit. Remove and cut mushroom stems.
Combine ground beef, onion, and garlic in a saucepan over medium heat. Cook until beef is no longer pink and drain. Mix in chopped mushroom stems, butter, breadcrumbs, salt, and pepper. Cook for 5 minutes, stirring frequently. Remove from heat, and stir in cream.
Dip mushroom caps in melted butter, and stuff generously with meat mixture. Arrange stuffed mushrooms in a baking dish. Sprinkle with chili powder. Bake for 20 to 25 minutes.
Apple Crisp
What's even better than Thanksgiving dinner? Thanksgiving dessert. Give your guests more than traditional pumpkin pie by whipping up this perfect apple crisp.
What you'll need:
Filling:
5 Granny Smith apples, peeled, cored, chopped small
1/4 cup finely chopped pecans
3 tablespoons all-purpose flour
1/2 cup brown sugar
2 tablespoons maple syrup
1 tablespoon lemon juice
Topping:
3/4 cup all-purpose flour
1/3 cup brown sugar
1/4 teaspoon ground cinnamon
1/4 teaspoon salt
6 tablespoons chilled butter, cut into pieces
1/4 cup coarsely chopped pecans
What you'll do: 
Preheat oven to 350° Fahrenheit
For the Filling: 
Mix all the ingredients together. Place into 7 to 8-ounce ramekins.
For the topping: 
In a large bowl, mix the flour, brown sugar, cinnamon and salt. Add in the butter until it forms pea size lumps. Stir in pecans and sprinkle over filling.
Bake crisps for 35 to 40 minutes. Cool 10 minutes before serving.
Click here to see the full recipe.
Sugar Coated Pecans
Want to add a little something extra to your Thanksgiving dessert? Try serving it with these sweet sugar coated pecans.
What you'll need: 
1 egg white
1 tablespoon water
1 pound pecan halves
1 cup white sugar
3/4 teaspoon salt
1/2 teaspoon ground cinnamon
What you'll do:
Preheat oven to 250° Fahrenheit. Grease a baking sheet.
In a bowl, mix sugar, salt and cinnamon. In a separate bowl, whip together the egg white and water until foamy.
Add pecans to egg whites, stir to cover the nuts evenly. Remove the nuts, and toss them in the sugar mixture until coated. Spread the nuts out on the prepared baking sheet.
Bake for 1 hour. Stir every 15 minutes.
Having a great Thanksgiving is all about the people you share it with. Follow these recipes and enjoy the holidays with the ones you love.