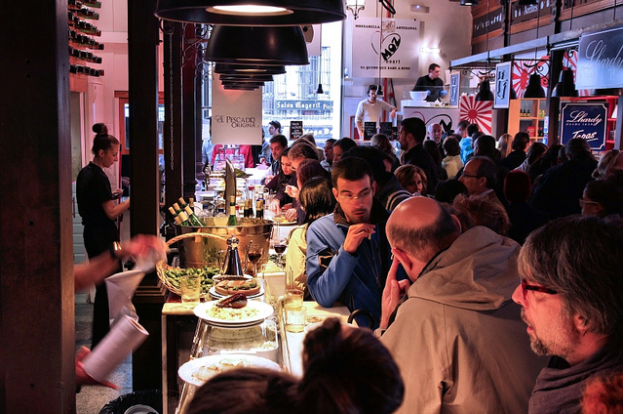 (Source: Flickr)
Did you know that excess noise levels are one of the the most common restaurant complaints, ranking just behind poor service? The noise in your restaurant can affect a diner's impression of your restaurant to a very high degree. If it it is distracting, noisy, and hard to conduct a proper conversation in your establishment, people might leave your not make a return trip, even if they really love your food. Remember: dining isn't just about the food or the service: it's about the full experience.
Unfortunately, the trend toward more industrial, spare restaurant spaces means that noise levels are at an all time high in many restaurants. The hard materials and lack of insulation mean that sound reflects and reverberates. With a few diners, it might sound bustling and like a hot spot, but once your restaurant gets crowded, it's deafening–and not in a good way. Whether you need a major noise control overhaul in your establishment, or you just need some tips to keep the sound distraction to a minimum, these 8 methods for controlling noise in your restaurant will have a positive effect on the overall customer experience.
Install carpet in high traffic areas.

Even if you have an industrial, spare look throughout your restaurant, consider installing carpet in some of the highest-traffic (and therefore loudest) areas of the establishment. Surprisingly, this isn't the dining room: since people are seated, the only movements are typically those of the servers. The "high traffic" areas in question will depend on the

seating layout

of your restaurant, but are most likely to include the lobby/waiting area, the bar area, the area in front of the kitchen, and by the restrooms.





Does installing carpet sound like a bit too much right now? Even area carpets or throw rugs will help absorb noise and mute some of the excess ambience that might be disturbing the diners from enjoying a conversation with their cuisine.

Two words: wall panels.

Fabric-covered wall panels are a restaurant-friendly type of sound absorber which can help lessen unwanted noise. Not so sure about installing noticeable panels on your wall spaces? Don't worry: these panels don't have to be dowdy or stick out like sore thumbs. You can make them suit your establishment in a number of ways.



One way would be to employ a unique fabric, print, or color for the panels which will complement your chosen restaurant decor. Another way is to use painted textiles, which can double as art objects displayed on the walls. Suddenly, those noise-absorbing fabric panels offer both form and function.  


(Source:

Flickr

)

Get yourself some curtains.

Curtains can help reduce unwanted light and soften the sound in your restaurant. While heavier drapes will have the biggest impact, even thinner curtains will affect the sound quality in your restaurant.



Curtains can also be incorporated into your restaurant's aesthetic, and have the added bonus of allowing you to pull the drapes when you close for the evening for additional privacy during your non-business hours.


(Source:

Flickr

)

Tablecloths.

Your choice in linens (or lack thereof) can affect the noise levels in your restaurant. Not only do tablecloths reduce the clattering sound of silverware and glassware on the table, but they can help absorb ambient noise from individual table conversations, with an overall quieter effect. Know your

target customer

: if your establishment is popular for date nights, for instance, the quieting effect that tablecloths can offer can be a very positive thing.





Even if your restaurant has an industrial vibe, tablecloths can create a welcoming contrast to the stark interior, as pictured in the image above.

Make your ceiling soft.

If cloth wall panels, curtains, or carpets just don't jive with the style or look of your restaurant, there is one other solution: insulate the ceiling. You could either install a soft, cloth draped ceiling, or have specific sound proofing panels installed overhead.



Customers are unlikely to spend a lot of time evaluating the ceiling, so you can discreetly add some soundproofing in this way without distracting from your restaurant's decor.


(Source:

Flickr

)

Don't keep loud machinery near the dining area.

This might sound obvious, but don't place loud machinery near where your diners are enjoying their meal. Be smart about where you place even the most frequently used appliances or pieces of machinery so that they don't disturb your customers.





This means don't install the espresso or smoothie blender in a heavy traffic or prominent area in your establishment. It will be disturbing and disruptive to your diners. Keep the heavy machinery tucked away in the kitchen, or in a place where it will be least disruptive to your customers' conversations.

Research your air conditioning and heating options.

Every time you turn on the AC, does it rattle and hum and make your customers look away from their conversations to try to figure out what is making all the noise? Or when you turn on the heat, does it sound like a (loud) car running? Your thermostat could be affecting the quality of your customers' dining experience.





Researching the quietest options, then having high quality air conditioning and heating units professionally installed might require a bit more time and a bit more of an up front cost for your restaurant, but you'll be working to ensure that you can offer your customers a dining experience that won't be fraught with the moaning and groaning sounds of your heat and cooling systems.


 

(Source:

Flickr

)

Invest in a good stereo system and speakers.

When chosen appropriately and played over high quality speakers at a pleasing volume that allows for conversation, music can augment the dining experience and help your customers relax, enjoy their experience, and maybe even

spend more money

.





When chosen inappropriately and from an inferior system, your music will sound uneven, harsh, and will generally provide an unwelcome distraction. If you want to play music in your establishment, be sure to invest in a high quality sound system with good speakers placed throughout the space so that the sound level is consistent.
Conclusion: The noise level in your restaurant can have a big effect on the overall customer experience. By taking the time to reduce excess noise wherever you can, you're investing in creating the best dining experience possible for your customers. When your customers leave happy (and with their hearing intact), they're far more likely to make a return trip, and to suggest your establishment to their friends. So be sure to keep the noise distraction to a minimum!
How do you control noise levels in your restaurant?