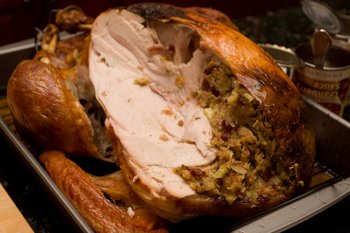 Thanksgiving dinner is probably the most stressful meal you will have to cook all year, but the good news is, it doesn't have to be. As long as you are smart about your preparations and your menu, Thanksgiving can be an enjoyable day for everyone (including the cook). Follow these nine essential Thanksgiving cooking hacks to ensure that your holiday meal is stress-free:
Create a timeline and prepare your dishes…days in advance
There is no rule that says you must cook all of your Thanksgiving meal on Thanksgiving Day. Give yourself plenty of breathing room by preparing as much as possible in advance. Make yourself a schedule and a checklist/grocery for the entire week leading up to Thanksgiving. Not only will this allow you more time to enjoy your family and friends, but it also gives you wiggle room for mistakes and ensures that you won't be making last minute grocery trips because you forgot an essential ingredient. Things you can make ahead of time:
Pie dough. Make your dough far ahead of time and freeze it. That way all you have to do is thaw it in the refrigerator overnight and you have homemade piecrusts to impress everyone the next day.
Make your turkey stock and gravy ahead of time.  You can easily go to the butcher and get all the turkey extras you need (necks, wings, etc.) to make your homemade stock that you will use for stuffing and side dishes and freeze it weeks in advance. The same goes for gravy, which is usually the most stressful part to make with everyone breathing down your neck anyway. Making gravy ahead of time gives you plenty of time to pay complete attention to the process (we all know that stepping away from constantly stirring the gravy can mean disaster) and give you time to strain it so that you don't have bits of anything in it. Plus, gravy freezes well, so all you have to do is reheat it Thanksgiving day.
Prepare your ingredients. Most of us don't have enough refrigerator space to keep several baking dishes of food for a couple days (if you do, by all means, make your sides a day or two ahead of time and leave them in the fridge), but you can chop all of your vegetables, peel all the potatoes, and sauté the stuffing ingredients ahead of time. Doing some of the prep work will cut your total kitchen time in half come Thanksgiving Day.
Cook your turkey overnight
Wouldn't it just be wonderful if you could wake up Thanksgiving morning to the smell of cooked Turkey? You can make your dream a reality. Slow roast your turkey overnight while you sleep. Not only does this cut down on stress, but also slow roasting the bird makes the meat more tender (high temperatures cause meat to dry). Try this recipe this Thanksgiving Eve to slow-cook your turkey.
Tape all your recipes to your cabinet doors
Not only does this give you a visual of what still need to be done, but you won't waste 20 precious minutes looking for a lost recipe or not be able to read the final steps because you spilled gravy all over it. Plus, this makes it easier for others to jump in the kitchen and help.
Adding butter to the dough
Adding cold butter to your pastry or biscuit dough rather than melting it or softening it to make it easier to mix in is what makes the end result deliciously soft and flaky. However, "cutting in" cold butter is the ultimate pain. Instead, use a cheese grater to grate frozen butter into your flour.
 Skip peeling the potatoes
One of the most tedious tasks that usually ends up with peels flying all over the kitchen no matter how careful you are, peeling the Thanksgiving potatoes is not necessary. Boil your potatoes with the peels on, then once they're cooked, "shock" them by dunking them in ice-cold water and the peels will slide right off when you rub your hands over them.
Get fluffier mashed potatoes
Simply add a little bit of baking powder while you're mashing the potatoes (one teaspoon per 6 potatoes is fine). The heat from the potatoes triggers the chemical activity in the baking powder for instant fluff. Then, doctor them up with butter, sour cream, and herbs as you please.
Have your emergency contacts ready
Okay so Thanksgiving is rarely an absolute disaster, but there are definitely moments of panic and second-guessing throughout the day. Have this list of holiday hotlines on hand if you need a quick answer about your Thanksgiving dinner preparations. From turkey preparations to how to store and what to do with leftovers, these hotlines can help you out in a pinch (especially if you're the stubborn kind who doesn't like to ask family for help).
Don't forget about your slow cooker
Your oven will be getting a workout and you might be panicking about getting all your dishes heated in time for dinner. Slow cookers are an excellent and out-of-the-way cooking option for veggies, mashed potatoes, or cranberries. There are plenty of Thanksgiving recipes for slow cooker casseroles, so don't let this space-saver go to waste!
Call in catering
Blasphemy? Not so much. Getting your Thanksgiving catered can take the stress out of the preparation, especially if there are a ton of mouths to feed. Many catering companies offer partial catering options so maybe you don't want them to do all the work, but you'll spring for a mashed potato bar. Best Thanksgiving ever? Yes.
What do you do to ensure a successful Thanksgiving meal? Have you ever tried any of these hacks before? Tell us about it in the comments section below.