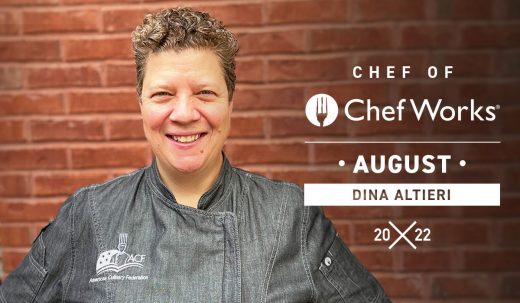 ---
Each month we feature a Chef of Chef Works®. If you're a fan of Chef Works gear and are interested in being featured, fill out this form. Pictured above is our August 2022 Chef of Chef Works®, ChefDina Altieri, in her GRAMERCY DENIM CHEF COAT
---
Chef Dina Altieri has worked in many facets of the culinary industry — from restaurant chef to educator to her current role as Director of Membership Development at the American Culinary Federation (ACF) where she gets to support thousands of people towards professional growth. We had the chance to sit down with her and hear about what she's learned through her varied career experiences and how ACF is helping people take the next step towards their professional goals.
Chef Works: Tell us a little bit about how you got started and where you are now in your culinary journey.
Dina Altieri: Absolutely, I'm currently the Director of Membership Development at the American Culinary Federation (ACF). I've been on this culinary journey since I was 16 years old, and I feel so lucky! I knew I wanted to be in a kitchen. I knew I wanted to do food. My career has allowed me to pivot into all things food related — teaching, cooking, leading, supporting, it's been my lane for a long time, and I'm very grateful.
CW: Can you share more about your experience as an educator? What did you learn about yourself while teaching others? 
I started teaching when I was 28. I was really excited about being a chef. You know, most chefs you meet are really proud. We write menus and prep lists, get ready for service,lead teams, and practice our craft day in and day out. And that's how we are in our regular life, very motivated and driven. I realized when I became a teacher that there were a lot of transferable skills, but there's a whole new skill set too. I had to learn to deliver a lesson and not lecture, and how to handle it when I didn't know the answer.
When I first started teaching, I thought it was about being an expert in front of the room giving a lecture. After a few years, I learned to start with 10 minutes of content and then open it up to talk about what the students wanted to know. I'd cover what they needed to learn in terms of the course outcomes and the lesson of the day, but what I really wanted to know was, "What kind of soups are you familiar with? What have you experienced?"
It's really important to get the buy-in and make sure everybody in the room understands the context. In a perfect world, through their own lived experience, then the learning experiences become more valuable. A great example of that happened years ago. I was teaching at Kendall College in Chicago, and we were in a soup lab. I was going through this demo on a Thai soup, "Tom kha gai". When I looked up, one of my students was smiling. And I realized he was from Thailand. He said, "Chef, can I show you some things?" He came up and showed me and the other students how he toasted the cinnamon and ginger root and he said "Chef you're not doing it wrong, but I want to show you how we do it traditionally." I've never forgotten that. I follow his journey on Instagram. He now owns his own restaurant in Thailand. 
I think it's so interesting when you get to that point as an educator where you realize that you're in the room to guide an experience for someone, but there's so much you can learn yourself. I was excited I could learn from him. And the other students didn't say, "Haha Chef, he knows more than you" — that's not what it's about. Of course he knew how to cook that soup better than I did! He grew up with a grandma who taught him how to toast the ginger and the cinnamon so that he could pass that on. So I think once I just let go of my ego a little, I became a much better teacher.
CW: What does the American Culinary Federation's collaboration with Chef Works look like? 
DA: Chef Works has been a part of my professional attire for a long time. I have worked for multiple companies where we have sourced uniforms from Chef Works. They are an official ACF Apparel Provider, which means that if an ACF member wants to purchase a chef coat, Chef Works can add the ACF logo. This is a great partnership. 
ACF is a federation of members nationwide and a member can join and engage in all of our national programming in addition to participating in a local experience in their community. It's a national organization with thousands of members. We offer support at all levels of one's career. Professional growth means something different to everybody you speak with, right? For me it was always about engaging in competitions and continuous learning. ACF provides various things for many people. In most communities, we have a robust local chapter experience. Depending on what city or town you're in, you can engage at the local level. This involves networking, fellowship of chefs, sharing stories, sharing jobleads, communicating, and collaborating. So a lot of us have been involved in ACF for many years. 
We create webinars, summits, and a national convention every year, where we do a ton of educational programming, networking activities, and competitions. Sometimes you have people who say, "I'm really not into competition." What I always say is, "That's fine. You don't need to be a competitor. Come and learn with us." But to me, getting ready for a competition requires that you've trained, so it's almost like somebody's telling you, "I'm a marathon runner," and really, maybe you're saying, "I'm not a marathon runner, I can barely run to my mailbox." But think about the training that goes into being ready for a marathon and the progress that happens during that time. That's how I look at readying yourself for certification or a competition — it's the training that is important to celebrate.
Some people love that adrenaline rush, but I used to coach students and I would always explain, "Look around the room right now. There's 80 students in the room. Five of us will emerge as winners, and there are going to be more losers than there are winners." And the students would ask, "Chef, why do you call it losing?" And I'd tell them, "Because it is losing. Any way you slice it, call it failure, call it losing, it's just a part of life. Winning is really special, but winning isn't the important thing. Celebrate the journey and the progress. In order to stand up and compete, you've had to train for this." 
I make sure people understand that competitions might not be for everyone. But competition doesn't mean that I want to be better than the majority. What's motivating me is the chance to train and receive critique, because I want to hear feedback and I want to get better. That's the cycle. 
So that's ACF in a nutshell! We are in the company of chefs, students, and associate members all over the country who are in every segment of food service imaginable. Our members are leaders in all facets of the industry. For example, they are directing food service in school districts, working in restaurants, clubs, university dining, healthcare segments, and entrepreneurs setting trends and moving the industry forward.  So we're a very diverse group of people, and we celebrate everyone at every level of their career path.
CW: What advice would you share with aspiring chefs?
DA: First and foremost, focus on progress not perfection. I think we're very critical of ourselves. Being great at any trade, any profession, any occupation requires a lot of patience and a lot of time, and it's just like learning an instrument or training for a marathon or training for a competition — you've got to give yourself time. That's always what I share with early career culinary students. I know you see someone on TV and they'll make a technique look easy or you read about it in a magazine or see something on Instagram and it might look easy, but it will take some time. But you'll get the muscle memory of how you hold your knife and how to be efficient with your cooking techniques through repetition and practice. 
My career used to be in post-secondary education, and the students would watch me or another instructor do a demo. And you could tell they were thinking, "Wow, I'm never going to be able to do that." They'd already implemented a negative mindset before they got back to their workstation. On one hand, you really want the person in front of the room to be the expert, right? But on the other hand, how you're internalizing that is "I'm not good enough." 
I spend a lot of time really helping people embrace their progress. Whatever your goal is, you'll get there. I spent a significant amount of time in my career in the education realm. I have a lot of respect for chef educators, it's not an easy job to motivate learners and create significant learning experiences. I also spent five years in the non-profit sector, with students who had many barriers to employment — whether they were individuals in recovery or coming out of a domestic violence issue or reentry post incarceration. There, I'd have learners in front of me who were going through a lot. And so, whether I was teaching them how to make the perfect omelet or something more complicated, I had to remind myself that learning something for the first time can be overwhelming and intimidating. 
I came to realize that although I was teaching them hard skills, the soft skills we were practicing were almost more important. I was teaching them how to take feedback, how to be present. I was helping them understand emotional intelligence, and what role that plays. We were practicing conflict resolution and how to have a professional relationship with co-workers in terms of teamwork. I learned a lot from teaching these courageous individuals. These students, in many cases, were homeless. I was able to teach a skill that then transferred into employment and disrupted the cycle of poverty and homelessness for the individual and their family.
My journey has gone from boots-on-the-ground in the kitchen, cooking, calling back orders on the line, being a chef in a catering kitchen, being in a restaurant, and all the way through the education environment, non-profit, for-profit, and now in a position to support thousands of people towards their professional growth. I couldn't be more grateful. 
To learn more about ACF and the multifaceted ways they're working to support and educate individuals at all levels, visit their website. ACF also offers a certification program that is recognized throughout the industry.
---
Want to be featured? Fill out this form