July 8, 2016 (San Diego, CA) Chef Works, Inc., a global company specializing in the design and manufacturing of culinary garments with sales to over 65 countries believes in leaving the world a better place. It is at the heart of the company culture which drives a deep commitment to making a positive difference in the communities in which we work and live. This was the case for the recent sales meeting where Chef Works, Inc. employees and ten children were in for a big surprise. Believing the assembly of ten youth bicycles was a team building exercise, employees were excited to learn that the bikes were actually going to ten deserving youth… waiting in the room next door.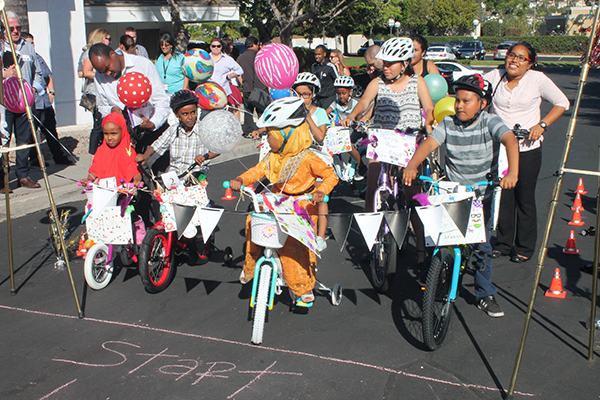 "It was a privilege, not to mention, a very heartwarming experience to organize this event," explains Neil Gross, CEO of Chef Works, Inc. "At Chef Works, we strive two make the best culinary apparel in the world. At the same time, we have strong sense of responsibility to give back to our community and involve our employees in that endeavor whenever possible. To see the surprise and joy on our employees and the children's faces was priceless."
Chef Works Cares team worked closely with City Heights Community Development Corporation to identify the recipients for the ten bicycles. The bike giveaway aligns with the City Heights CDC's Active Transportation program which promotes safe, convenient, and healthy walking, bicycling, and transit commuting options for the City Heights community. "Giving a kid their first bike is such a rewarding experience because it offers the child a new experience of mobility and, for older teens, greater independence. We're grateful to partner with community-minded businesses like Chef Works who actively and creatively give back to the local community," says Anastasia Brewster, Active Transportation Coordinator.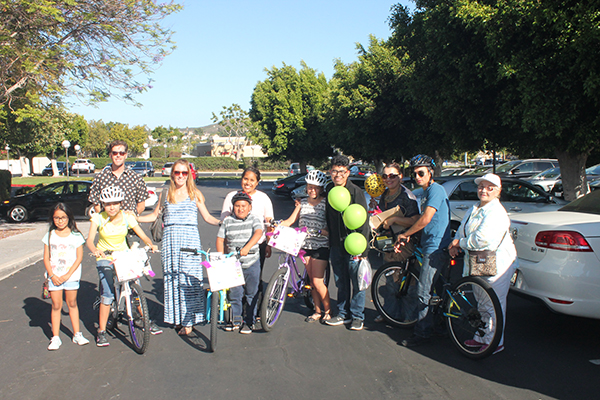 Four children from Hanana Youth Care Center in City Heights received bicycles. Salma (age 6), Jabir (age 6), Mohamed (age 8) and Sumaya (age 5) all received their very first bikes. Mahmud Liban, Program Director for Hanana Youth Care Center shares, "It has been great honor to know and collaborate with City Heights CDC and its dedicated staff; we are glad that they have chosen to help our organization with this project. Similarly, we gladly express our thanks to Chef Works Cares and its staff as well. Donating the bikes to children who needed the most made them and their families happy and those kids would continue to have joyful days for months to come." The families of the six other children who received bicycles are involved in City Heights CDC initiatives, particularly the City Heights Built Environment Team, a resident advocacy group that promotes safe mobility options in City Heights and beyond.
All of the bicycles, helmets and locks were purchased at a discount thanks to the generosity and dedication of Cal Coast Bicycles in North Park.
About Chef Works
Chef Works, Inc. is a worldwide culinary apparel manufacturing and distribution solution for the culinary, hotel, restaurant and food service industries. Offering cost-effective and efficient alternatives for companies of all sizes, Chef Works is the leader in uniform supply management, brand continuity, online ordering, on-site embroidery, personalized reporting, budget coordination and uniform design and distribution. Chef Works successfully manufactures and distributes culinary apparel in over 60 countries. They remain resolute in their mission to provide the best-quality products at the most competitive prices, focusing all of their efforts to ensure complete satisfaction and meet, or exceed, expectations for high-quality, well-designed, comfortable uniforms alongside superior customer service. For more information, visit www.chefworks.com.
About City Heights Community Development Corporation
The mission of the City Heights Community Development Corporation is to enhance the quality of life in City Heights by working with our community to create and sustain quality affordable housing and livable neighborhoods and foster economic self-sufficiency.
About Hanana Youth Care Center
Hanana Community Center (HCC) is a tax exempt public benefit corporation. Hanana supports families facing language, cultural and social challenges. HCC's goal is to build strong community through collaboration and making our programs and services accessible in the San Diego region.  We serve children of all ages, and encompass a broad range of focus areas including academic support, mentoring, and sports. Our community aims to help the youth take initiative to improve their communities.