Chef Works Contemporary Collection is now live!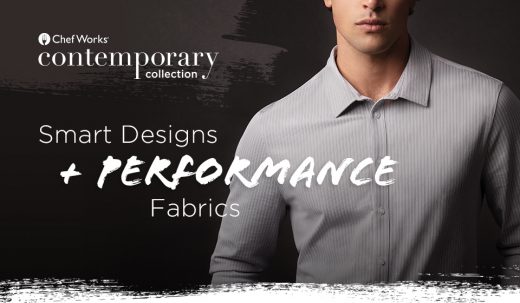 Discover the new looks and feels of Deco, Verismo, Voce, Spiritoso, and Seersucker.
The COVID-19 pandemic forced many restaurants to scale back, put their sustainability practices on hiatus in 2020 or abandon them completely, and pivot in a myriad of ways. As hospitality gets back up and running, Chef Works is here to support your business with getting back on course!  
From being environmentally mindful to creating an elevated experience for your customers, Chef Works Contemporary Collection offers shirting via the Deco, the Verismo, the Voce, the Spiritoso, and the Seersucker. Each style is inspired by dynamic design that was orchestrated with dedicated precision — and an emphasis on performance. Now, more than ever, we understand that you need to be ready to work.
Explore and find the right look and feel for your establishment today.
Pattern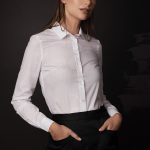 With its easy-fit silhouette that skims the body and an updated drip, the long-sleeve Deco Shirt offers a crisp, smart solution for all front-of-house needs. Available for both women and men, the Deco has clean lines that reinforce a perception of elegance. Its upscale dot print is available in black, navy or white, with adjustable button cuffs, and front and back darts for the perfect fit. The Deco Dress Shirt is a beautiful balance between striking and understated.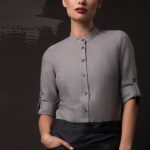 When thinking of an elevated experience for your customers, the Verismo shirt is precisely what you need. Mindfully curated with forward-thinking details for servers, bartenders and brand ambassadors, the artful craftsmanship also offers a functional, balanced, clean and flattering look. Available in black, blue or natural. What's more, the banded/mandarin is a short, unfolded stand-up collar that adds extra detail to the garment — and it's subtleties will convey so much more to your clientele. Staff especially love the ultra light-weight, popular cotton and polyester blend of fabric.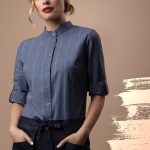 Designed to create an empowering yet subtle statement with wide stripe fabric and luxurious details, the Voce is elegantly cut in a way that brings classical elements forward into an upmarket and contemporary feel. Available in blue, gray or taupe, the Voce is thoughtfully designed and includes minute details like a back-collar apron holder. This dress shirt Includes a darted front for a closer fit, banded collar and handy back-collar apron holder.
Stretch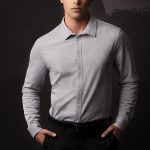 In classical music, Spiritoso means "to be played in a spirited and vibrant tempo." For your front-of-house needs, the Spiritoso features clean lines, classic details, and a polished finish that elevants any food and beverage dress code program. Best of all, the stretch fabric adds an added dimension of comfort and freedom of movement to enable your team to create the kind of experience your customers are looking for.
Texture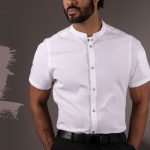 One of the best ways to create an ideal experience for your clientele is to empower your team to make it happen. The Seersucker Shirt is designed to bolster confidence in a must-have shirt for the front-of-house. Ready to elevate any dress code, and purposefully cut to support fluid movements, this short sleeve look means business! There's even a snap-tab back collar for added fit and style.