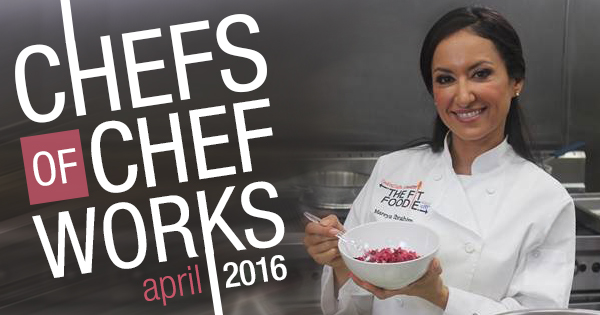 Question 1: Where did you get your start?
"I grew up in a Middle Eastern family where breakfast talk was about lunch and lunch was about dinner.
We lived and breathed going to the open air market in Alexandria, Egypt to shop. It was an experience that ignited all the senses! That is where my passion for food and clean eating took off."
---
Question 2: What is your favorite dish?
"Hand made kamut flour pappardelle tossed with a phenomenal first press olive oil, a little grated Parmigiano-Reggiano and cracked pepper all topped with shaved black truffle. I die!"
---
Question 3: What was your favorite dish as a child?
"I loved my mom's version of meatloaf.
She would make it with ground lamb and herbs then wrap the meat around a hard boiled egg. When you slice it, it would have a little 'eye'. Finally, she would serve it with great marinara on the side.
I still love that dish."
---
Question 4: Who inspired you to be a chef?
"My grandfather and Julia Child.
Watching his passion for ingredients and the care he would take in sourcing – it was awe-inspiring! He also taught me nutrition and how to combine different ingredients. He was way ahead of his time.
Julia Child, because she was who I watched growing up. And I loved that she was so unabashed and bold with her love of food."
---
Question 5: What would you be doing if you weren't a chef?
"I would be an architect. I love building design and structure."
---
Question 6: What advice can you give an aspiring chef?
"You don't have to be in a traditional kitchen all day. You can apply your love of food to all kinds of different things. Just be true to the product and what you love and don't be afraid to develop your own niche from that."
---
Question 7: Is there anything you would have done differently in your career?
"I would have dedicated more time and effort to teaching the next generation of eaters…but I'm doing that now!"
---
Connect with Chef Mareya Ibrahim:
Facebook: @eatcleaner
Twitter: @eatcleanerfood
Instagram: @eatcleaner
WANT TO BE FEATURED?
Email: marketing@chefworks.com