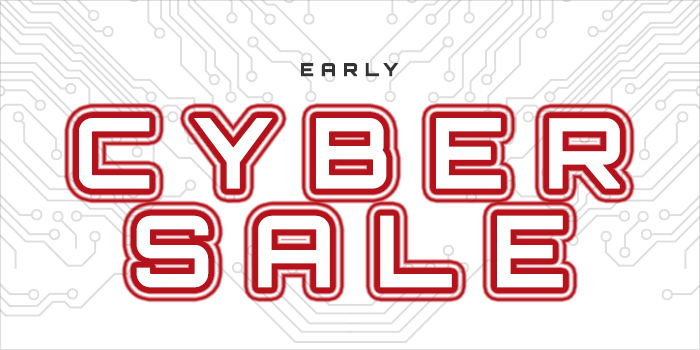 Your turkey may still be defrosting and you still have to pick your parents up from the airport, but that doesn't mean you shouldn't start planning for the after party: CYBER MONDAY! Kick off your season with some new gear from your favorite culinary supply company, offered with some special perks for those email subscribers. If you haven't signed up to receive our awesome e-blasts, you can do so here:
---
---
Details:
Cyber Monday deals are running all week along, so once you receive your offer in your inbox, it's time to get shopping! Need some inspo to help kickstart your shopping cart? We've gathered a little Cyber Monday shopping guide with some of our favorite goodies and best-selling items!
---
Cyber Monday Shopping Guide:
Grab a few of our favorite coats and aprons!
Our athleisure version of a chef coat, the Valencia offers a sleek, sporty, cool look – with a tri-blend fabric that whisks moisture and remains breathable, meaning you're more than ready to take on the kitchen once the flames begin to roar.
---
The Chelsea combines modern denim and lightweight stretch paneling to create a coat that moves with you. Slimmed down to flatter the feminine form this flexible short-sleeve jacket is made for overtime shifts and busy kitchens.
---
Cut longer and wider than our traditional bib, the Berkeley Chef's Bib was made to be completely customizable, with suspenders sets made to be mixed and matched. Equipped with multiple pockets and fully reinforced, hit the line fully prepped for service.
---
Topping off our classic denim apron with a coated finish, the Denver Apron features adjustable cross-back straps that relieve stress from the neck while preventing bunching, so chefs and servers will be ready to hit the floor come dinnertime.
---
*Terms & Conditions:
This offer is ONLY available for orders placed online, and limited to retail customers in the continental United States. Distributors including Sodexo, Entegra, Cintas, Foodbuy, Compass, and AmeriPride are excluded from any Cyber Monday promotions.