While you're busy running service, we're scouring the Internet in search of the latest and greatest stories to hit the airwaves. This week, Bon Appetit examines Millennial's obsession with food, the New York Times profiles the legendary Sean Brock, and Tasting Table discovers some out-of-the-box food jobs for those looking to break into the industry on their own terms.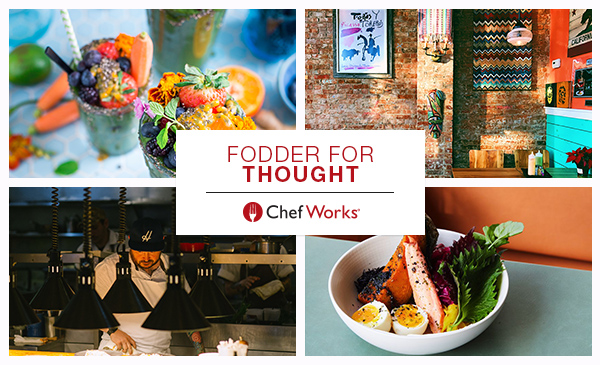 Bon Appetit | This Whole Millennials + Food Obsession Seems Like It's Here to Stay
Who runs the foodie movement? Millennials, it seems. Eighty million strong, Millennials have driven the current culinary renaissance to new heights, snapping, sipping, and sharing their foodie-ventures to their followers and friends. Bon Appetit talks with Eve Turow, author of A Taste of Generation Yum, to dive into why Millennials are so obsessed with food, chefs, restaurants, and what that means for the future of dining in America.
New York Times | Chef Sean Brock Puts Down the Bourbon and Begins a New Quest
The consummate prince of Southern dining's resurgence, Sean Brock has made a name for himself at Charleston's Husk, racking up awards and accolades from the James Beard Foundation, Esquire, GQ, and Bon Appetit, to name a few. So it was a bit of a bombshell last week when the NY Times' profile on Sean chronicled his struggles with alcohol, and his newfound sobriety after a stint in rehab. Returning to the kitchen with a new outlook, read on for his vision for the future of Southern food, his new practice of self-care, and his upcoming ventures.
Eater | Why All-Day Dining Is the Breakout Trend of 2017
All hail the rise of the luncheonette. As formal fine dining takes a backseat to more casual fare, the all-day dinette is making more and more sense, allowing for restaurants to continually attract regulars and new customers throughout the day. Places like Lunetta All Day are becoming fixtures in their local communities, round-the-clock destinations that ultimately drive new sales and are helping to contribute to hospitality's current fast-casual movement.
Tasting Table | 5 of the Coolest Jobs in Food (That Don't Even Involve Cooking)
Want to work in the culinary world but can't cook? Don't worry, there may be a place for you yet – no knife skills required. From a truffle scientist to a beverage architect, Tasting Table has five awesome rolls for the gastronomically inclined. Maybe we can add apron designer to this list?
SaveSave