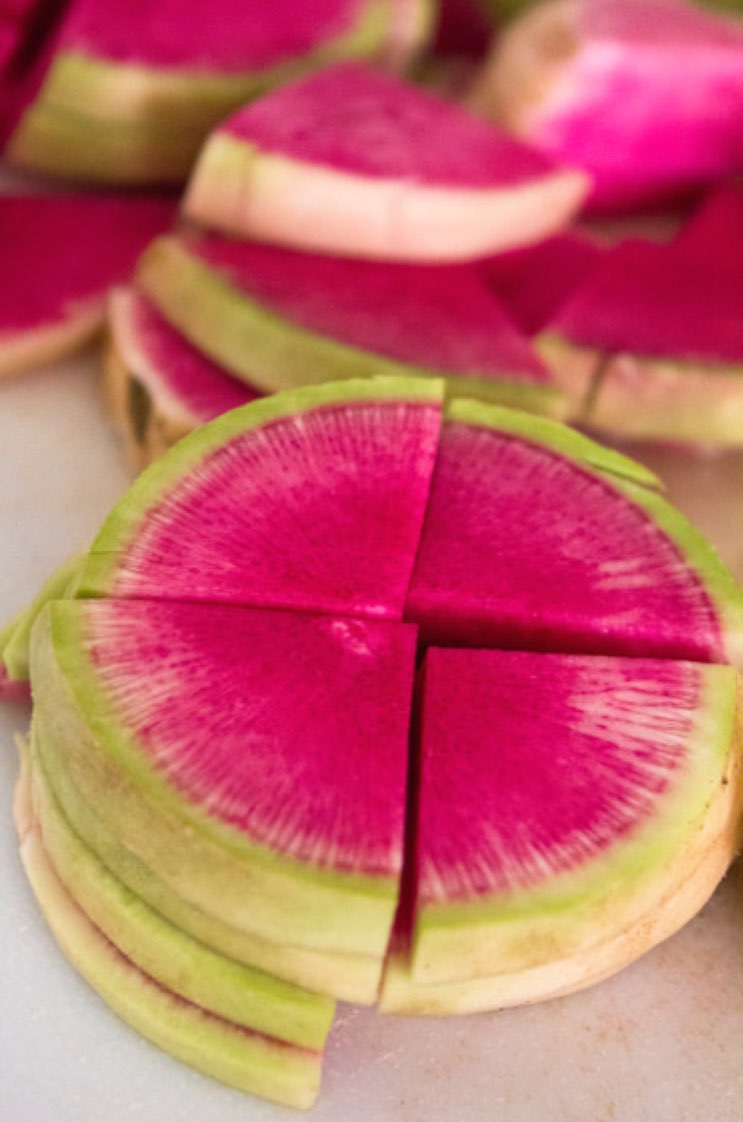 Photo Courtesy of Flickr Creative Commons
Vegetables come in a variety of colors, flavors, and textures, so it doesn't seem right to hear someone say they hate all vegetables. They even come in many different varieties within specific vegetables. You probably know the difference between, say, a Roma tomato, a cherry tomato, and a beefsteak tomato; tomatoes are eaten almost every day by most of us. But, did you know, that even something as seemingly unambiguous as a radish, comes in many varieties? Well, they do, and today, we're going to talk about one of the prettiest and tastiest varieties: the watermelon radish.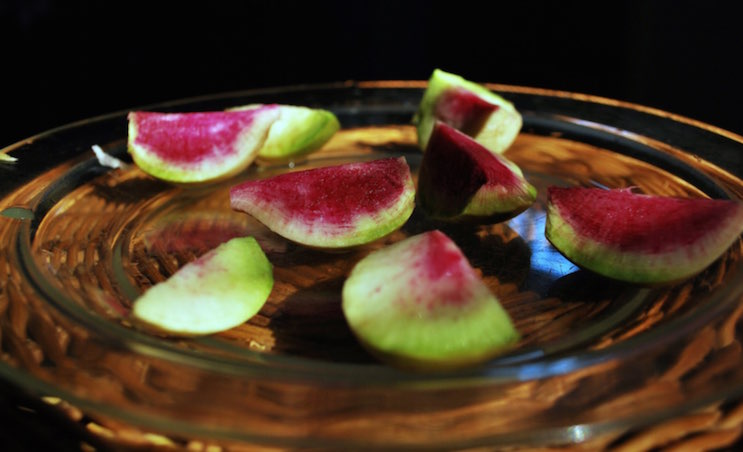 Photo Courtesy of Flickr Creative Commons
What is a Watermelon Radish? If you've never seen or cut one open, you may be wondering exactly what a watermelon radish is. Does it taste like watermelon? Is it a cross between a watermelon and a radish? Is it a fruit or a vegetable?
A watermelon radish is not a watermelon at all. It's definitely a radish, specifically a variety of the daikon radish, which you probably know from Asian cuisine. It belongs to the same family of vegetables as broccoli, cabbage, and arugula.
A watermelon radish doesn't taste like watermelon at all; the name comes from the fact that when you cut one open, it looks surprisingly similar to your favorite summer melon, only much smaller. Green on the outside, inside it's got a gorgeous pink flesh that looks amazingly like watermelon. It's so pretty that you may want to stare at them for a while before eating them; that's okay, there's nothing wrong with pretty food.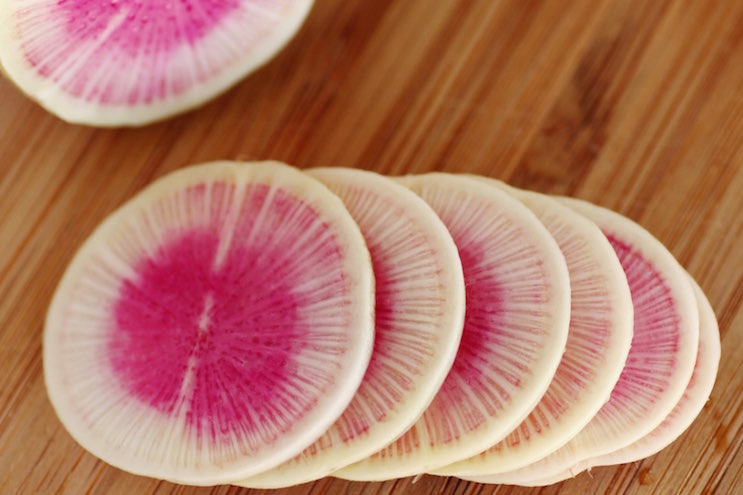 Photo Courtesy of Flickr Creative Commons
What Does a Watermelon Radish Taste like? While a traditional radish (the small red variety you usually find in salad bars) tastes spicy and peppery, the watermelon radish is a bit more mild. It still has a peppery bite, but it's much more mild than most radishes. It's also kind of sweet, which is a nice contrast to its light spiciness. If you've never been a fan of radishes in the past, this variety may surprise you. It's also quite crisp, so it does a nice job of adding a refreshing component to salads or a vegetable plate.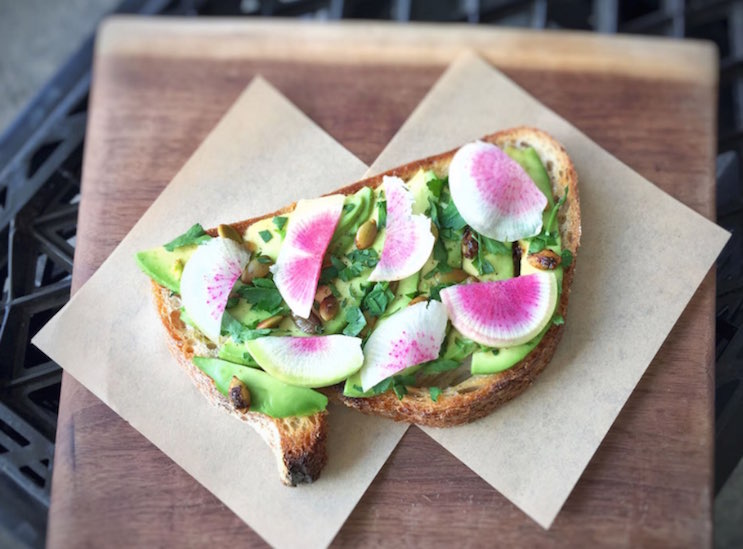 Photo Courtesy of Flickr Creative Commons
Buying and Storing Watermelon Radishes. Watermelon radishes are much larger than most radishes, but they do vary in size. They grow well in the cold so they're a great winter vegetable. Their pretty color makes them especially nice when it's cold and you want something other than bland looking potatoes on your plate.
Unless you have an extensive produce variety at your supermarket, you may have to seek watermelon radishes at your local farmer's market or specialty store. While they are growing in popularity each year (mostly due to their amazing look on a salad) they aren't yet as popular as regular radishes.
When buying them, you want to pick radishes that feel heavy and dense. Avoid those with bruises, wrinkly skin, or other blemishes. They are root vegetables, so if you're buying them from a farmer's market, they'll likely have clumps of dirt on them. This is fine; like carrots or potatoes, a quick scrubbing with a vegetable brush will clean them up nicely.
Like most root veggies, watermelon radishes will last longer than softer veggies. You can store them in the fridge for several weeks and you should be fine. Of course, for maximum flavor and nutrition, you should eat them as soon as you can.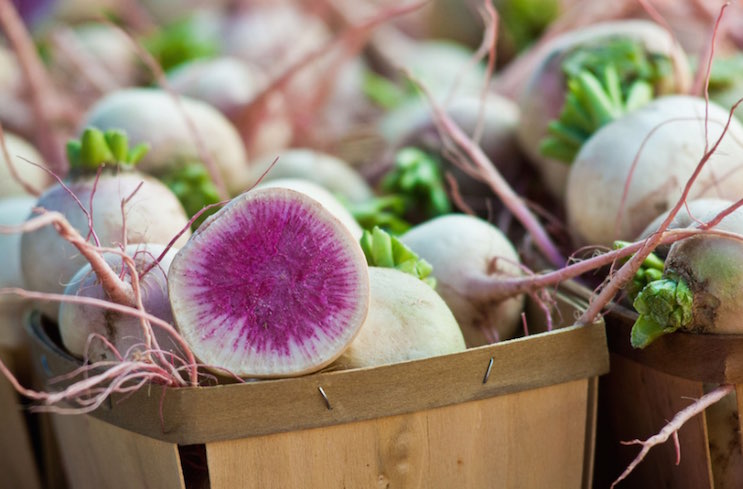 Photo Courtesy of Flickr Creative Commons
Cooking and Eating Watermelon Radishes. Radishes of any variety are typically eaten raw, and usually in salads. They're crisp nature and peppery bite makes them the perfect salad component; they are lovely with creamy dressing and light delicate greens. The watermelon radish is no different, and when you cut into it and see it's beautiful red flesh, you will want to add it to every salad you can. They're also a great salad addition because you don't have to peel them; a quick scrub and you're ready to slice and eat. Try them in Asian dishes such as a Korean Bibimbap for unusual color and flavor. A good way to introduce them to guests is to slice them into half moons, put them on a veggie tray and sprinkle with black sesame seeds. You'll have everyone asking where you got those mini watermelons.
This doesn't mean you shouldn't try your hand at cooking these lovely gems. Radishes, like most vegetables, take on a different taste, texture, and appearance when cooked. You can saute, pickle, or braise them in a flavorful chicken stock for a unique side dish. Roasting them in a hot oven will bring out their sweet flavor.  They are a great addition to winter stews, and compliment sweeter root vegetables like carrots or sweet potatoes nicely. They are also a great way to add an interesting flavor to marinara sauce, and they are particularly nice with creamed soups or vegetables. They will lose their beautiful color the longer they are cooked, but they take on a more earthy, mellow flavor.
If you can get your hands on some, you should try them both ways; you may be surprised which you like best.
Nutritional Properties. Because you eat the skin on a radish, it is particular nutritious. The deep hue of the watermelon radish means it has plenty of antioxidants, vitamins, and minerals.
Like most fruits and vegetables, organic is your best option, and getting them locally or from a farmer's market is better from a nutritional standpoint. Since many of a vegetable's nutrients come from the soil it was grown in, a small organic farm is generally your best option. Root vegetables in particular benefit from good soil that is pesticide free.
To maximize your nutrition, eat your watermelon radishes as close to when you buy them as possible, and eat the whole radish rather than trying to store it for later.
If you're an adventurous eater looking to try a new and exciting vegetable, the watermelon radish is a great option. A slightly sweeter, and milder version of traditional radishes, they are a great option for those that don't like the peppery bite most radishes offer. In addition, they have a gorgeous bright red flesh that makes them amazing for salads that may otherwise be seen as boring or uninteresting.
Have you ever had watermelon radishes? Did you eat them cooked or raw? Tell us about your experiences!