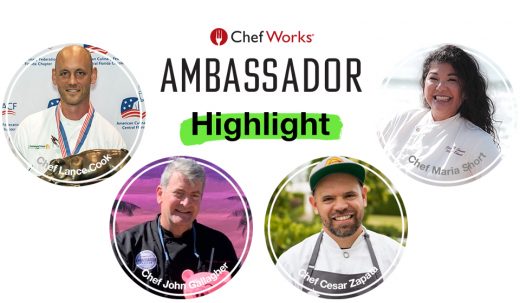 Did you hear the news? This year, we teamed up with 16 amazing chefs to make up our first generation of Chef Works brand ambassadors! And today, we have the pleasure of introducing you to four of them. Meet Chef Lance, Chef Maria, Chef John, and Chef Cesar — all brilliant chefs who are doing beautiful things inside and outside of the kitchen.
Chef Lance Cook
Born and raised in Connecticut, Chef Lance Cook's culinary career has taken him up and down the East Coast. After falling in love with the culinary arts in high school, Chef Lance received his training from the Culinary Institute of America and has since found his niche in private clubs. He's always looking to take his skills to the next level, and when he isn't serving as Executive Chef at Hammock Dunes Club, he's participating in competitions. As a Certified Executive Chef with eyes set on becoming a Certified Master Chef, he's passionate about inspiring future culinarians to also look to their futures with confidence, optimism, and a growth mindset.
Follow Chef Lance on Instagram
"For me, I have always been focused on my career path and the future of it — that's where certification and competitions have helped me push myself to pursue greatness in the industry, to brand the club, and brand myself. I'm always looking for that next step."
Chef Maria Short
There are people who love what they do, and there's Chef Maria Short — whose love for baking has been as steady and bright as the North Star her entire life. Chef Maria and her husband, Dien, run two businesses on the Big Island of Hawai'i: Short N Sweet Bakery Café (a Hilo-based shop serving up heaven in the form of baked goods, paninis, and salads) and Kīpuka Mills (an agricultural processing company making the most of Hawai'i's bounty with zero-waste macadamia nut products). The spirit of aloha and ohana can be found in everything Chef Maria does — from her lilikoi-flavored creations to her messages of sustainability and better living standards for restaurant workers.
Follow Chef Maria on Instagram
"My husband and I, we're both chefs. And we grew up when the kitchen was not a friendly place. Especially for women. So when we decided to open our own place, we told ourselves, 'It will never be like those kitchens we used to work in. No yelling, no screaming, no egos. We all work together.'"
Chef John Gallagher
Chef John Gallagher is a chef and food blogger currently based in San Francisco. Cooking has always come naturally to him, and a core childhood memory revolves around lending a hand with Thanksgiving dinner before breaking off to play with his cousins. He received his culinary training at Johnson and Wales University and did his internship at Walt Disney World, where he became mesmerized by the thoughtfulness and level of production behind creating a magical experience for guests. He's worked with Hillstone Restaurant Group (most commonly known as Houston's), The Cheesecake Factory, Genentech, California Unified Schools, and more. Presently, he's a food blogger who's all about discovering the best food destinations and building community through good eats.
"Sometimes I'll be like, 'Okay, these ingredients, this, this, this — and boom! Put it together.' Or I'll walk through a supermarket and say, 'Hm, if I want to go Pacific Rim, let's see what I can do with this ingredient. Now, let's find a protein…' And I can just completely build the menu, and then four hours later, put it right in front of everybody and say, 'Hey, this is what I thought of today.'"
Chef Cesar Zapata
Chef Cesar Zapata is a Miami-based restaurateur and activist. His first moments in the kitchen started when his parents, after moving the family from Colombia to New Jersey, put 11-year-old Cesar in charge of the family cooking while they worked hard to establish themselves in a new country. At 17, he realized that cooking was his calling and later moved to Texas to attend culinary school. Fast-forward to today, Chef Cesar owns two restaurants in Miami: Phuc Yea, which serves Vietnamese modern cuisine, and Pho Mo, an over-the-counter pho concept. Known for bringing together his love for Vietnamese cuisine and his own roots, Chef Cesar's cooking is the culmination of his personal history and a manifestation of the layeredness found in America today. Chef Cesar believes that, at its core, being a chef is about being able to touch people's lives through food. He works closely with the non-profit organizations, No Kid Hungry and The Humans Who Feed Us.
Follow Chef Cesar on Instagram
"Being able to inspire people by doing what I do and giving back to the community — that's what makes me the most proud. As chefs, a lot of times we don't see it… but we have the power to touch so many people's lives just through food and through experiences."