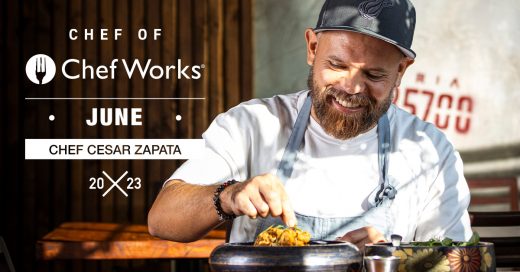 The past two years have brought Chef Cesar Zapata Michelin recognition (for his Miami restaurant, Phuc Yea) and a coveted vendor spot at Kaseya Center, home of Miami Heat. And with two more Asian-inspired concepts currently in the works, it's no question that Chef Cesar is enjoying a season of expansion.
What's the secret to his success? Chef Works had the opportunity to speak with Cesar about taking risks and making an impact — as a chef, entrepreneur, and activist.
Chef Works: You've brought so many ideas to life — including Miami's first popup restaurant — and you continue to bring so much to the Miami food scene. How do you decide whether or not to pursue a concept?
Cesar Zapata: I've always been a risk-taker. If I don't do it, I'll never know. And if it fails, we get up and try again — or we try something different. I've always had that mindset. We started to expand when I became confident in my team, and I felt they were able to run the restaurant [Phuc Yea] without me being there all the time. That's when I said, 'Okay, I think we're ready.' That's when we got the opportunity to open Pho Mo. I'm like, 'Let's give it a chance. If it works, it works. If it doesn't work, it doesn't work.' Pho Mo has been operating for four years. So I guess it's working somehow.
Chef Works: Can you share about opening Rice + Noodz in Kaseya Center?
Cesar Zapata: For Rice + Noods, I've always wanted to be in the arena. It's something that I manifested. They contacted us, we did a tasting, and we actually got rejected. But they gave us another option. They were like, 'Look, your food is amazing. Let's put it in the lounge.' But it's not what I wanted — I wanted one of the stands. Eventually I came up with this menu, and I sent them an email. I'm like, 'Listen, can you just give us another chance? I think I have something that you guys might like, based on the feedback you gave us.' We did the tasting and they loved it. We've been there for a year, and we just signed for another year. I think that's what it is: believing in yourself, having confidence, and not being afraid to take the risk.
Chef Works: Congratulations on receiving your first Michelin award last year — can you share about that experience?
Cesar Zapata: There were rumors about Michelin inspectors being in the city, so we had a meeting with the staff and told them, 'Let's just keep doing what we do. Let's cook with passion. With love.' We did what we do every day. A few months later, we received this email from Michelin, asking us to confirm some information. Two months later, we received this email with an invitation to the Michelin Awards Ceremony in Orlando. But it was a complete mystery. They invited us to go there, but what if we don't get anything? Once we got to the awards ceremony, that's when we saw the group of chefs that got invited. But no one knew anything. No one knew what to expect. The ceremony started and then they just started calling the names for the Bib Awards. They called our name and we just went crazy. It was an amazing feeling. For us chefs, this is a dream. We worked so hard. And we never expected to be a Michelin-awarded restaurant. It validates that if you continue doing what you love — with passion, care, and consistency — and you continue to build that, you can accomplish it. It was a beautiful feeling. When we came back to Miami, we celebrated with our staff and everyone was extremely proud. We did the same thing this year. 
Chef Works: We're inspired by your work with No Kid Hungry and Humans Who Feed Us. How do you regard your roles as a chef and activist?
Chef Cesar Zapata: I love giving back because I grew up underprivileged, and I always said that the day I make it in life, I want to give as much as I can and help as many people as I can. Last year, I saw that the James Beard Foundation was having a bootcamp for advocacy, policy, and change. I was like, 'You know what, let me apply.' A few weeks after I submitted my application, I received an email that I was accepted. So that was huge. They only pick 15 chefs from all over the country, so that was huge for me. They flew us to Avery Island in Louisiana, and the bootcamp was held in the headquarters of Tabasco. We learned about policy, the different things you can do with charity work, and why it's so important for chefs to be part of this. It was an amazing experience and you get the title of James Beard Bootcamp Alumni, so anytime they need to go to Capitol Hill, you can be part of it.
I also just became part of the chef cohort for World Central Kitchen. There's an issue happening in Colombia — a volcano that's been trying to erupt for the past month. So they knew I was Colombian and asked me if I knew some people. I made some phone calls and was able to get them in contact with a charity that focuses on that type of work.
Chef Works: You've started to include your stepson in some of your super popular Instagram Reels — does he want to become a chef, too? 
Cesar Zapata: I came into his life when he was seven years old. I've cooked with him, but never pushed him. But he's so good at everything that he does — eventually, I'm like, 'This kid has skills!' You see the love and the passion, so I started taking him to the restaurant more. I'd throw him on the line, and he wasn't afraid. He was just fearless. He didn't care if he got burned or if he cut himself. But I don't want to push him into this career. I want him to find the love himself. Even though he's not my son by birth, he's like my son. I love him so much, and I love to share cooking with him.