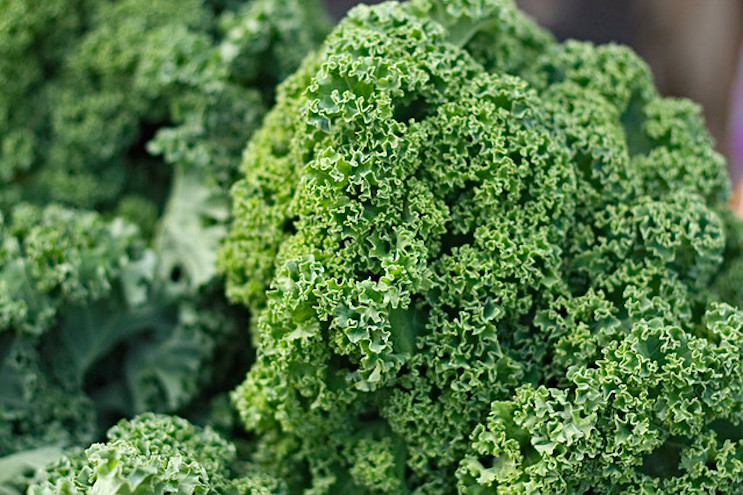 Photo via Flickr member licensetoveg
Fun fact: 20% of all dogs named "Kale" reside in Seattle. I used to live in Seattle, but I didn't have a dog named Kale, and I certainly didn't eat the stuff, figuring it was a food for aging hippies or strict vegans.
But I have come to see the light. It was in an unexpected way: a side dish of sauteed kale, garlic, and onions which was served alongside an unctuous portion of pork belly. While the pork belly was the star, the kale stole the show: slightly bitter but "clean" tasting, it was the perfect foil and pairing to the rich meat. I wanted more. Since then, I have tried to make up for all of those kale-less years. A most versatile vegetable, it can be cooked in a number of different and delicious ways. And it certainly doesn't hurt that it's also bursting with nutrition.
What is kale?
Kale (also known in some circles as borecole) is a leafy vegetable featuring either green or purple leaves. While that might sound rather lettuce-like, it's different in that the central leaves do not join at a "head". Its closest relative is wild cabbage, though it's also part of the same family as broccoli, cauliflower, collard greens, and brussels sprouts.
While kale might be fairly new to you, it's far from a recent phenomenon. Kale was common in European kitchens dating as far back as the Middle ages. It was only in the 19th century that it was introduced to North America.
While kale enjoyed some interest during the rationing days of World War II, it was in more recent years that it's become known as an iconic symbol of whole and healthy living.
In part, this is because of kale's myriad of health benefits. While one cup of raw kale contains only 33 calories, it carries a nutritional wallop: it's high in protein, fiber, calcium, vitamins A, C, and K, and folate (a B vitamin which is important for brain development). It's also high in lutein, which is said protect against macular degeneration and cataracts.
Types of kale
When you go to the grocery store, you may find that there are different types of kale. Here are some common varieties: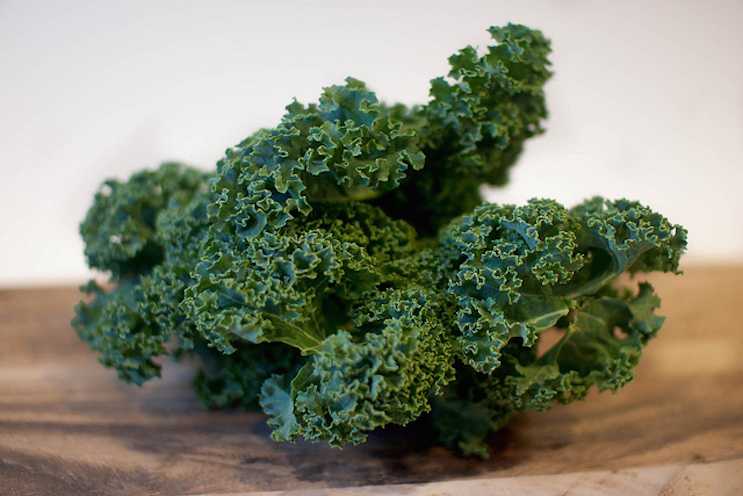 Photo via Flickr member Bobbi Bowers
Curly kale: Arguably the most recognizable type of kale, it is characterized by its tight, ruffly leaves and thick, fibrous stalks which can be either green or purple.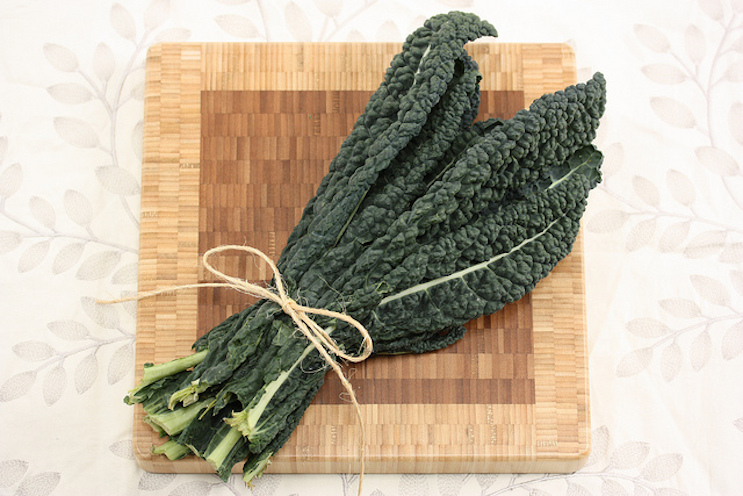 Photo via Flickr member Meal Makeover Moms
Lacinato kale: Also known as "dinosaur" kale, this variety is characterized by dark green leaves with a wrinkled yet firm texture. The leaves are tall, narrow, and quite sturdy–they will remain firm even when cooked. It is slightly less astringent than curly kale.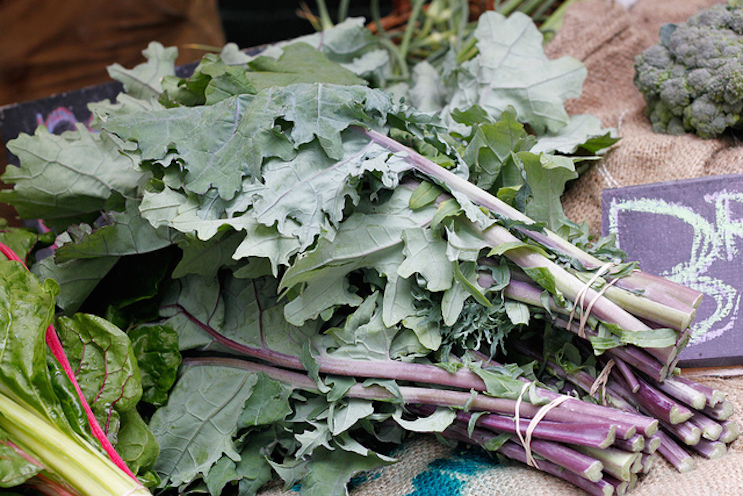 Photo via Flickr member sackton
Red Russian Kale: This reddish-purple stemmed variety of kale has flat, green leaves which somewhat resemble large arugula leaves. While it is one of the sweetest types of kale, its stalks are not ideal for consumption, as they are very fibrous. They should be cut off before cooking.
Recipes
Now that we've satisfied your curiosity about kale, let's set to satisfying your appetite. These ten mouthwatering dishes prove how versatile kale can be in your cooking, and how delicious it can be to eat healthy.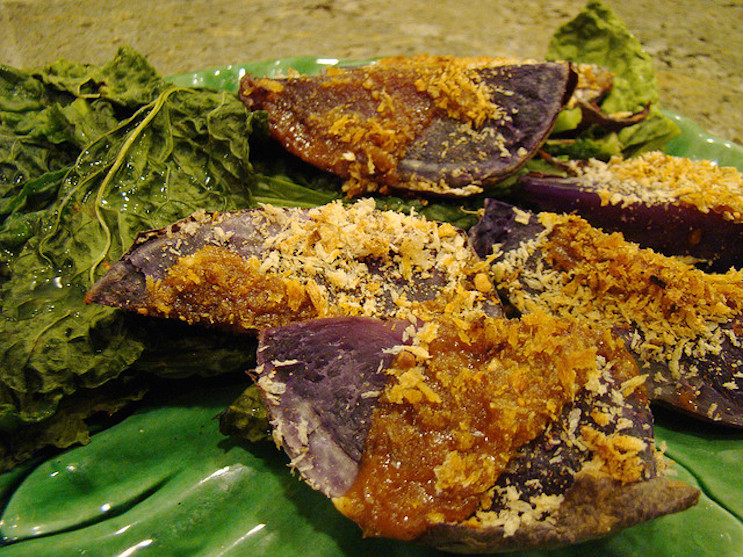 Photo via Flickr member vegan feast
Kale and baked blue potatoes with chili miso sauce: If you have doubts about the deliciousness of vegan food, here's proof that its worth your time. Baked blue potatoes and kale smothered with a delicious homemade chili miso sauce are hearty enough to make a meal.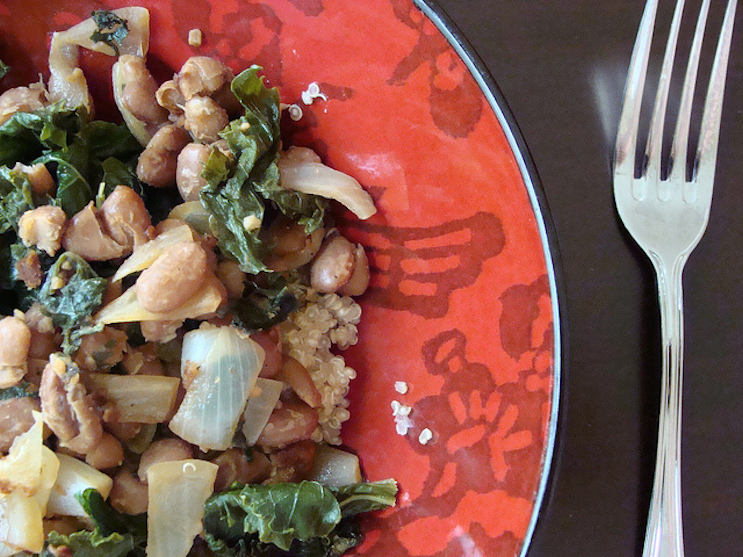 Photo via Flickr member teedle
Garlic beans with kale and quinoa: A delicious dinner is just minutes away, with this recipe, which features beans sauteed in a mixture of garlic and onion, then served with steamed kale and quinoa. In addition to being high in nutrition, it's also naturally gluten-free and vegan.
Photo via Flickr member Mallory Dash
Kale quinoa pilaf: Rice pilaf? Yawn. This version is made with gluten-free quinoa and kale, seasoned with bright lemon, rich pine nuts, tangy and creamy goat cheese, for a vibrant and flavorful light meal.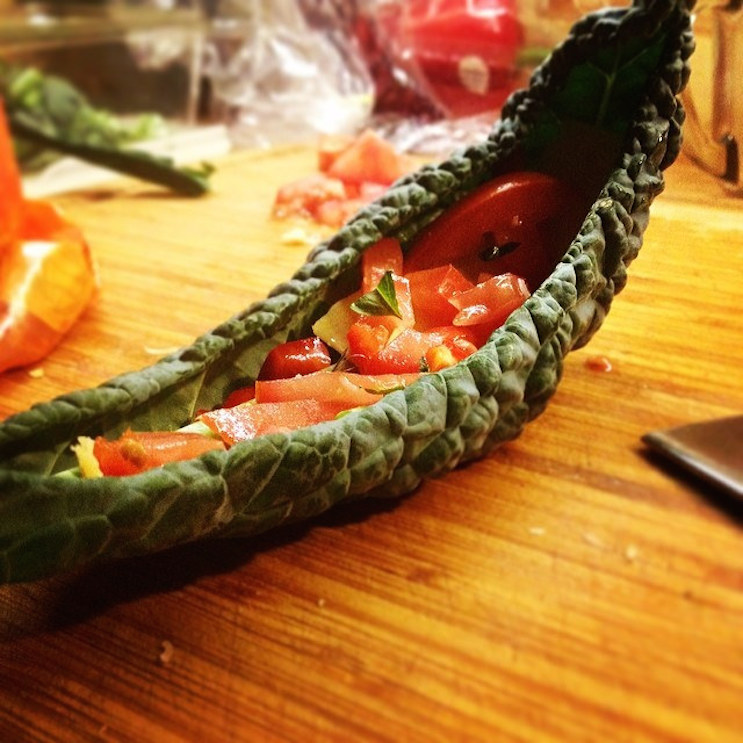 Photo via Flickr member dollen
Kale tacos: A firm type of kale, such as Lacinato ("dinosaur") kale, can be used instead of corn or wheat taco shells. Simply load in your usual taco fillings and enjoy a healthy and lower-carb version of the classic Mexican comfort food.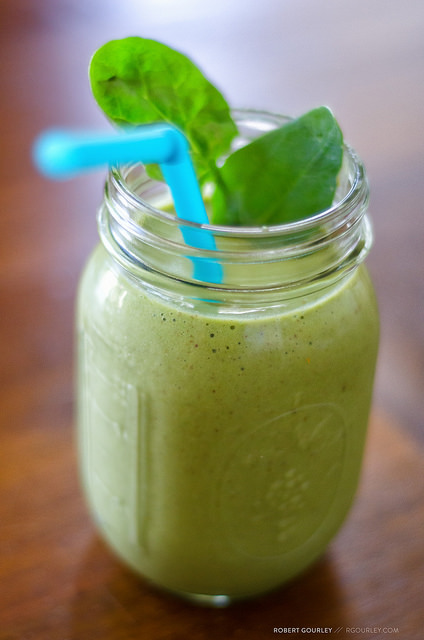 Photo via Flickr member rgourley
Green spinach and kale smoothie: You'll think twice about hitting the snooze button if this green smoothie is on the menu for breakfast. This nutrient-dense drink is made with spinach, kale, banana, and almond butter for a creamy, lightly sweet, and fully flavored beverage.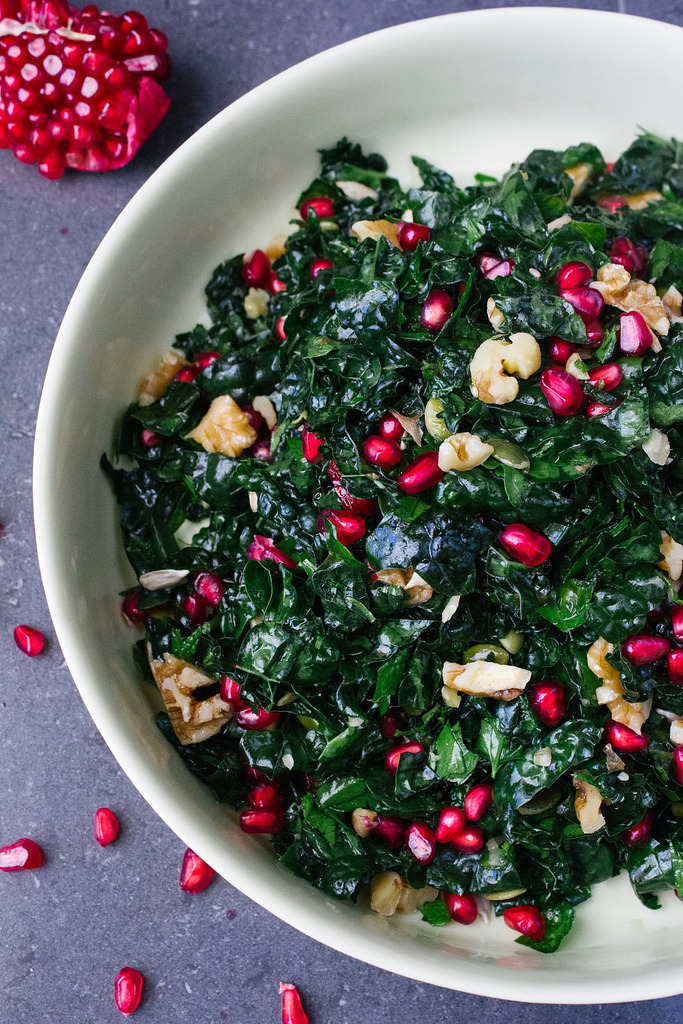 Photo via Flickr member Simple Provisions
Kale and pomegranate salad: Have you ever gotten excited about a salad? This beautiful salad boasts a symphony of flavors, including peppery kale, mint and parsley, seasoned with olive oil and honey, sprinkled with nuts and dried cranberries, and as the piece de resistance, it's finished with a generous smattering of pomegranate arils. It's a decidedly sexy sweet-and-savory salad.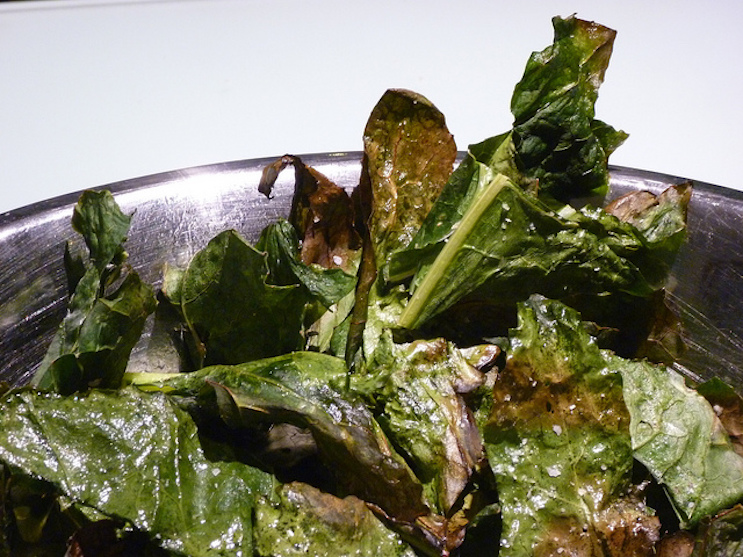 Photo via Flickr member Laurel F.
Toasted kale chips: It doesn't get much more simple than oven-baked kale chips. All you have to do to make this happen? Tear kale leaves to chip-sized portions, toss with olive oil, salt, and whatever other seasonings you like, and bake in the oven until crispy.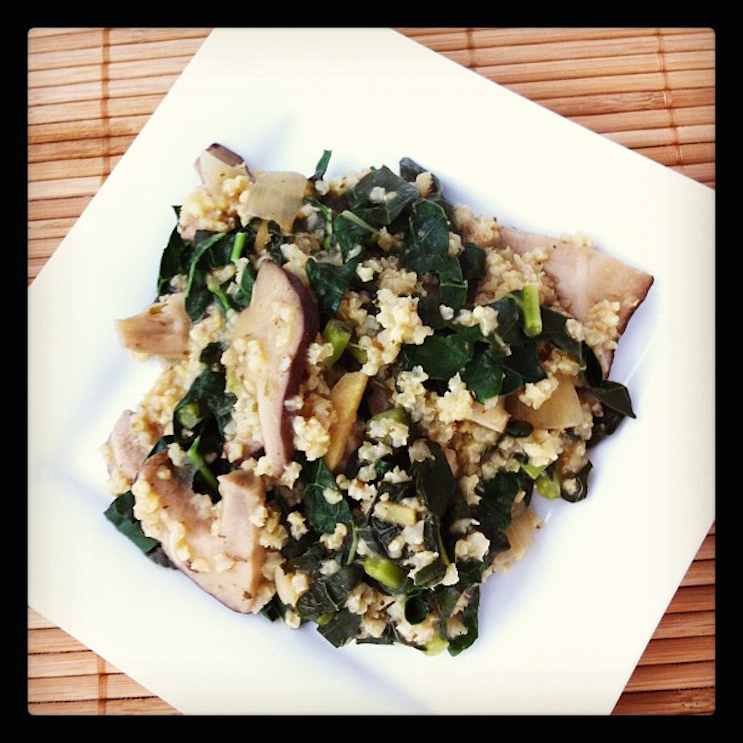 Photo via Flickr member veggiefrog
Mushrooms, millet, and kale: Millet isn't just bird food anymore! It's a delicious component of this veggie-stir fry, which features shiitake mushrooms and kale sauteed with soy sauce, vinegar, and spices.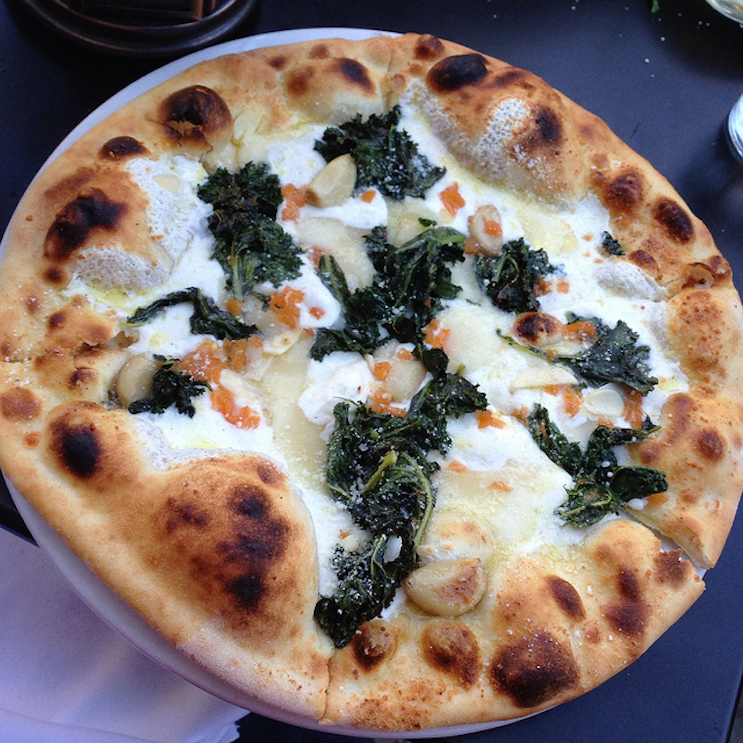 Photo via Flickr member David Berkowitz
Kale pizza: This is more of a concept than a specific recipe, but what happens when you toss kale on pizza? You get a nutty, peppery contrast to the rich cheese. Try tossing small pieces of kale on your favorite homemade pizza–the results are bound to be beautiful and delicious.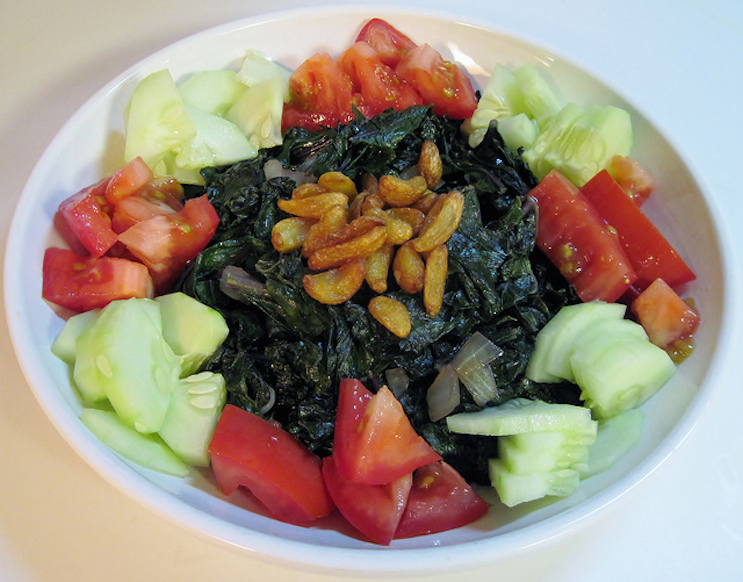 Photo via Flickr member Gloria Cabada-Leman
Wilted kale salad with deep-fried garlic and lemon: Kale is cooked with sauteed onions to lightly "wilt", making it less airy and an ideal base for this dish of fried garlic cloves. Garnished with fresh tomato and cucumber, it's a fairly virtuous but filling veggie-filled dish.
Kale is far from a one-trick pony in the culinary world, and can be eaten from breakfast till night in a variety of ways.
Why not add some kale to your diet and discover how nutritious really can be delicious?