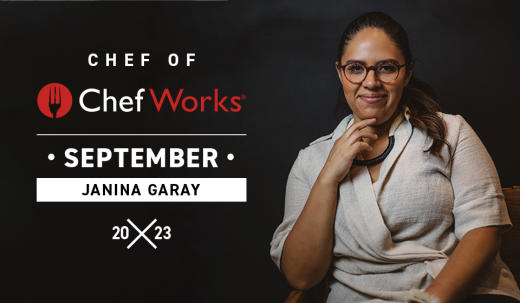 For Chef Janina Garay, pastry has always been personal. Her first solo project, Cannella, was inspired by childhood memories of arroz con leche, butter buns, and playing with her cousins on their multi-generational property. Now, Chef Janina (or Nina, for short), is Culinary Director of Be Saha Hospitality Group, the creative visionaries behind some of San Diego's most up-and-coming concepts. Read on to learn how Chef Janina stays close to her roots — and brings these into every blossoming venture. 
Chef Works: You're currently in Baja — can you share what you're working on?
Janina Garay: We have a restaurant called Tahona Baja in Ensenada, which is right at the entrance of Valle de Guadalupe. It's all nature here — we have the Pacific Ocean behind us, and we have all the valleys and agaves and nature of Baja surrounding us. It's beautiful. We also have two amazing boats parked on the land, with tasting rooms inside.
Chef Works: How did you get started in the culinary world?
Janina Garay: I've been a pastry chef for over 15 years. I went to culinary school because I was really passionate about pastry and bread, which is why my personal projects started with Cannella cinnamon rolls. My last job was at Addison in Del Mar, which is the only three-star Michelin restaurant in Southern California. Right before I left Addison, I did a popup, which is where I met the owners of Be Saha Hospitality Group. They were fans of my work and wanted to find a way for us to work together. After touring their properties and learning about their goals, I decided to help them build their vision as culinary director. Together we opened Wormwood — an absinthe-forward, Baja and French-inspired restaurant. A year later we opened Botanica, a gin and genever bar in North Park. And in November, we took over the food and beverage program at The Guild Hotel in downtown San Diego.
Chef Works: What was it about pastry that spoke to you?
Janina Garay: I have a sweet palate, yes. I love fruits, breads, cheese, chocolate. I feel like it's also in my heritage. Chocolate and vanilla originated in Mexico, and I've always felt that connection. When I first created my cinnamon rolls for Cannella, I wanted to recreate my childhood. My grandfather had an entire mountain where he built houses for the whole family. So my cousins and I grew up together. We knew if we ran to my tia's house, she'd have sweets, soup, and fruit. If we ran to my grandma's, she'd have molé or arroz con leche. All the houses would have different kinds of foods, so we'd eat and run and play the whole day. The two things I remember loving to eat were arroz con leche and my grandma's butter buns. So I recreated those things with the cinnamon roll. The first time my aunts tried it, they cried. Like, "Oh my gosh, this is us. This is our family."
Chef Works: What's the one thing that unifies all of the different projects you're working on?
Janina Garay: What I really want is to share a different experience for our guests. It's amazing how in our day-to-day, there's nothing that awakens us to being human. Not like when you're eating, drinking, talking, and laughing with your close friends and family. The main goal of our restaurant group and myself as a chef is to share these incredible experiences through different cuisines and spirits.
Chef Works: For other chefs who are following in your footsteps and want to elevate their career, what advice would you give?
Janina Garay: Sometimes, we're afraid of commitment or consistency. But there's so much that those things will give you. Also, I used to be afraid of saying what I think or what I wanted to create — but it's so important to be you and listen to your inner voice. There's always something to say, to share, to do better. Lastly, make sure you have your goals set up.
Chef Works: For many chefs, receiving their chef coat for the first time is a moment of accomplishment and celebration. What does your chef coat mean to you personally?
Janina Garay: Even just yesterday, putting on my chef coat gave me the feeling of, 'Let's do this.' There are days where it's struggle after struggle after struggle. But when I put on that chef coat, I feel like a rockstar — like I can take on anything. It helps me get into character as a professional, especially when I know everybody's watching me closely and learning from me.
Chef Works: What are your favorite pieces from Chef Works?
Janina Garay: I love the lite chef coats, especially because I'm running around all day. I wear Chef Works aprons all the time, too. The aprons with the elastic neck are amazing because they don't hurt my neck.
Chef Works: As a pastry chef, is there any one technique or tool that you highly encourage other people to explore?
 Janina Garay: For me, there are three things. Know how to temper chocolate. Know how to make ice cream in a quenelle. And know knifework.
Chef Works: As a woman of color straddling different cultures, is there anything you'd tell other people who are also pursuing their culinary dreams?
Janina Garay: Don't be afraid to be you. Don't be afraid to express and look inside your thoughts — because it might be the best thing ever. There are always people who can help you put your vision together. Anything can work with a little work here and there. Be open to sharing, and be open to learning. We all make mistakes — that's part of being a rockstar and building yourself up either as a professional or as a woman.