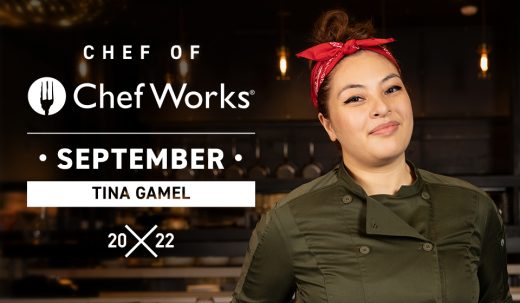 ---
Chef Tina Gamel has a deep passion for local, seasonal, and delicious food. She believes in crafting food while working alongside small farmers and having a positive impact on the environment.
We had the chance to sit down and talk with her about her culinary journey and what sustainability looks like in her current role at The Americano.  
Chef Works: Can you tell us a bit about where you are in your career and where you're working?
Chef Tina: Right now, I am the Executive Sous Chef and Pastry Chef at The Americano Restaurant in North Scottsdale, Arizona. It's been a wild ride. I relocated out to Arizona a couple years ago from San Diego, which, I feel like, has a very different food scene. It took me a little bit, but I found this place about a year ago and it's been my little career home ever since. 
CW: How did you get started in the culinary industry? 
CT: After graduating high school, I actually went to school for psychology. After finishing that degree, I decided that I wasn't really into psych, and I wanted to do something a little more creative. 
I landed in a pastry class and took a couple basics classes at Grossmont Community College in San Diego. James Foran, who was the pastry chef for Grossmont, actually knew the owners of Whisknladle Hospitality. At the time, they were opening Catania, so I took a job there as a pastry cook. 
After that, I moved on to Whisknladle and then moved up from there. I spent about four years at Whisknladle as their pastry chef and then moved on to Bivouac Ciderworks and some other places and then moved out here.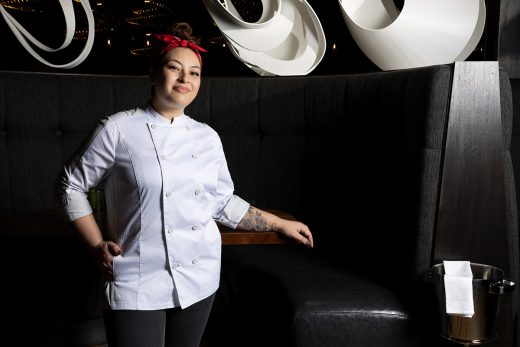 CW: How would you define your cooking style? Are there certain things that drive you as a chef?  
CT: I love seasonality, farm-to-table, and local driven cuisine. Coming up in the restaurants I did really impacted me. We had local fishermen, fresh catches, and cooked with whatever the fishermen caught that day. 
Menus would frequently change based on what we were getting from farmers markets and various farms. All of this really helped shape how I view food, but it also shaped the way I like to formulate menus and how I approach cuisine on a seasonal level. I would say seasonality is my driving force. 
CW: How did you first find out about Chef Works?
CT: When I first started in the industry roughly eight years ago, Chef Works was everywhere. It's the standard. Especially coming up in San Diego where Chef Works has their home base — I feel like everyone out there used Chef Works. So, yeah that's kind of where I first learned about Chef Works, but then that relationship has naturally grown and developed over the years. 
CW: We've had several chefs speak about how putting on their first Chef Works coat felt like a milestone in their career. Did you experience that in any way and could you speak to that?
CT: I think the first time you gain a title and get the coat with personalized embroidery of your restaurant's name, your name, and your title, it really makes you feel like, "I made it, I did it!" 
Which is almost funny when I think about it, because when I worked for Whisknladle, which was really the first time I felt like "I made it," we didn't have the Chef Works coats — we were a casual fine dining, and our back-of-house wore t-shirts that said "Whisknladle." 
I think The Americano was the first place that I got a Chef Works coat that was embroidered and made to fit me. It is a cool feeling as you get ready in the morning. My morning routine consists of putting on my eyeliner, pulling on my jeans, and throwing on my boots. Then, I always have a bandana — it's kind of a thing for me — and then, when I get to the restaurant, I put on the coat. I pull on the coat and apron, and then I'm geared for the day. 
When your coat is on, you're like, "Okay, time to handle stuff." It's a cool feeling! 
CW: Any tips or insights you'd want to offer to aspiring chefs or anybody in the space with you? 
CT: I think showing support to not only the people in your direct circle, but people that are in your wider culinary circle in any given city is really important. We all go through the trenches together, we've all had shared experiences in one way or another. 
I think one cool thing about the food, beverage, and hospitality industry is that no matter what city you're in, you have commonality. You have common ground, and people who know what you're doing, what you're going through, and what you have gone through. It really is a cool community to be a part of. 
It's a little different for every city. I know San Diego's hospitality industry is hyper tight-knit. Everyone knows everyone in San Diego, and everyone hangs out with everyone in San Diego. It's a big city, but it feels small, which is really cool. 
Even now when I go back to San Diego, I can visit chefs that I know or other people that have been in the industry, and we all keep up with one another. 
I feel like the biggest thing is to continue to root for your people. Like, it's cool to see your people succeed. 
CW: We're really focused on highlighting topics that people haven't talked about or that need to be discussed. Is there anything that you want to shine a spotlight on or that you hope that you can advocate for? 
CT: I think moving forward, it's really important to take a look at our environmental impact. I know here at The Americano, we have tried to cut down on single use plastic, use more compostable to-go containers, and other stuff like that. 
But it's more than that. It's also making sure you're picking sustainable proteins, whether that's seafood, chicken, other meat products — all of that stuff. It's so easy to source it and get it on a cheaper level without thinking about the environmental impact, and I think it's so important to take a step back and support the little guy. 
We work with a guy named Brian who owns Hypha Foods, and he's my specialty food purveyor. For example, he forages for his own mushrooms. We work super closely with him. It feels better because we're supporting somebody small who isn't part of a bigger industrialized purveyor system, and who is also conscious of their environmental footprint. He is always trying to get us things that we can use in the moment at a really solid quality. I think that's always important to consider — especially in today's environment.
To learn more about ACF and the multifaceted ways they're working to support and educate individuals at all levels, visit their website. ACF also offers a certification program that is recognized throughout the industry.
---
Want to be featured? Fill out this form