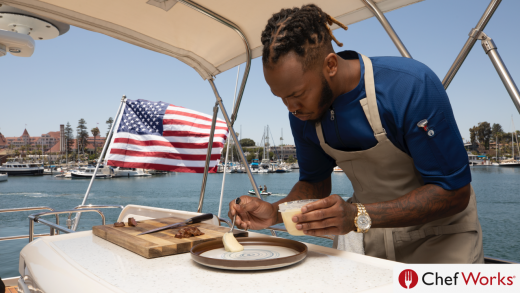 There are several tools that amateur and professional chefs agree belong on a kitchen essentials list. Keep reading for the top 12 items everyone with serious (and not-so-serious) culinary ambitions should have.
1. A high-quality chef's knife
Of all the things to have in a kitchen, a professional chef's knife is perhaps the most indispensable. While there are many different knives for specific tasks (think fileting a fish), when you have to narrow down your options to just one, the Wüsthof 8-Inch Classic Chef's Knife is an industry favorite.
The key to its popularity? It's versatile, comfortable in the hand, and it's as good at chopping and slicing as it is dicing. It's also forged from a single block of high carbon stainless steel and tempered to 58-degree HRC, making it extremely durable and easy to care for.
2. Food storage containers
Have you ever stored brown sugar in a container, only to find it rock-hard and dried out only a week later? Or perhaps you stored your garlic in a container in the fridge, only to find that your refrigerator reeked of garlic every time you opened the door? Leak-proof, smell-proof, airtight storage food container sets are another kitchen essential that keeps your food fresh, organized, and easy to access.
A good food storage container must be durable, airtight (so it's safe from leaks and smells), stain-proof, and safe for the dishwasher, microwave, and freezer. That sounds like a tall order but according to The Spruce Eats, the Rubbermaid Brilliance Pantry Airtight Food Storage Containers' 8-Piece Set fits the bill.
3. Slow cooker
You could always opt to put your roast in a covered pot and place it in the oven for eight hours, but smart chefs know that a reliable slow cooker will do the same job in a fraction of the time. Look for one with a glass lid so you can see how your food is cooking without lifting the lid and losing heat.
Oval pots are also preferable to round ones as they can accommodate larger roasts. According to the pros at America's Test Kitchen, you'll also want a 6-7 quart capacity. The KitchenAid 6-Quart Slow Cooker With Solid Glass Lid meets all of these requirements, at a reasonable price.
4. Baking sheet
Even non-pastry chefs can benefit from a high-quality baking sheet (think roasted vegetables and baked fish). Make sure yours is durable enough to withstand repeated bakes, and made of a material that distributes the heat evenly. The Nordic Ware Natural Aluminum Half Sheet is a favorite with the experts at Epicurious.
Aluminum is best for heat conduction and it also cools down fast, meaning things won't continue cooking when out of the oven. The light color is an advantage too, as you can easily see whether your pizzas, cakes, or cookies are becoming too browned at the bottom.
5. Measuring cups
Home cooks often add a pinch of this or a dash of that. But when precision calls, measuring cups are a must-have.
Professional chefs (and the New York Times) swear by the Pyrex Prepware 2-Cup Measuring Cup for liquid ingredients. The clearly printed measurement markings (in cups, ounces, and milliliters) are easy to read, the tempered glass is durable, and the cups are stackable. It doesn't hurt that it's been around since 1925, so chances are you grew up with one in your parents' or grandparents' kitchen.
For measuring dry ingredients, you can't go wrong with the Simply Gourmet 7-Piece Measuring Cups Set.
6. Cast-iron skillet
Another key essential kitchen tool is a cast-iron skillet. Like the Pyrex glass measuring cup, there's a good chance your grandparents had one of these (many families pass them down through the generations as they are known to improve over time).
Cast-iron skillets are favorites for versatility and durability. Whether cooking over a campfire, or frying eggs for the entire family on a Sunday morning, the cast-iron skillet is a must-have. According to Food & Wine, the best overall cast-iron skillet is the Lodge Pre-Seasoned Cast Iron skillet.
7. Wooden spoon
This workhorse is the unsung hero of every kitchen. Among the many reasons to use a wooden spoon is that they don't leach harmful chemicals, don't conduct heat, and won't scratch the surfaces of your pots and pans.
Jonathan Spoon's Spootle was rated the top wooden spoon by several foodie websites including Serious Eats. Their version isn't cheap (it costs $28) but for many, it's worth it. To start with, the spoon has a unique shape. Its angled flat edge and back-set bowl makes it into a sort of combination spatula and spoon (hence the name). It even comes with a left-handed option.
8. Rolling pin
When it comes to rolling pins, there are many things to consider. Wood,  marble, or silicone? Handles vs. no handles? What you choose will depend upon what you're using it for, whether that be pie crusts, puff pastry, pizza dough, or sugar cookie dough, as well as personal preferences.
Most people believe wooden rolling pins are the best, as wood has stood the test of time. It doesn't hurt that wood doesn't conduct heat, a primary concern when rolling out dough layered with butter.
The best all-purpose handled rolling pin for the home cook, according to Techgear.com, is the J.K. Adams 12-inch maple rolling pin, with self-lubricating bearings to keep rolling smooth and easy. Most professional chefs, it should be noted, opt for handleless rolling pins as they are easier to clean, and you can feel the dough through them more easily.
9. Non-stick skillet
A trusty non-stick pan is what you should use when you're making an omelet or fried eggs and pancakes (they also make cleaning up a breeze). But which are the best?
Bon Appétit swears by the Zwilling Madura Plus, which has a type of PTFE coating called DuraSlide, which Zwilling says is up to 40 times more durable than your standard PTFE-coated pan. Its aluminum core means it heats up and cools down quickly, and it also has a magnetic plate, making it compatible with induction stovetops. To top it off, it's also safe for oven use up to 300 degrees (when buying a non-stick pan you tend to use in the oven, just make sure the handle is oven-safe).
All-Clad and Tramontina non-stick pans are also popular, but at slightly higher price points. As always with a non-stick skillet, avoid using metal utensils which will scratch your surface coating.
10. Serrated knife
According to Epicurious, the best serrated knife (for cutting things like bread, tomatoes, watermelon and pineapple) comes once again from Wüsthof — the Classic 9-inch double serrated bread knife. A double serrated knife is just like it sounds — there are small serrations within the larger serrations. More serrations mean easier slicing.
The knife's sharpness also lasts longer thanks to less wear and tear on the individual serrations. But double serrated knives aren't cheap — expect to pay around $150. Remember that you'll need to use a special knife sharpener, called a Ceramic Honing Rod, for serrated knives.
11. Cutting board
When it comes to cutting boards, what you choose depends on what you're using it for. If you're carving a roast, you'll want a board with a juice groove. If you're just chopping vegetables or mincing garlic, you can choose something smaller without a groove. Michelin advises avoiding boards made of wood composite, if possible, as they aren't good for knife blades.
Wood or rubber are your best bets, but avoid boards made of teak or exotic woods. They are nice to look at but are not great for knife blades. John Boos wooden cutting boards are a favorite among the world's greatest chefs. If you're afraid of warping (some wood boards are prone to this), choose a rubber board and buy them in several sizes. Good Housekeeping recommends OXO good Grips 2-Piece Cutting Board Set which will set you back around $24.
12. Kitchen apron
Last but not least, no chef would be caught without a durable, comfortable chef's apron. Chef Works has a wide range of stylish aprons that are suitable for everyone from food and hospitality professionals to avid home cooks. You'll love the incredible range of colors — from hunter green and teal to coral and French blue. They also offer innovative designs (see the cross-back suspender apron, designed to take pressure off the neck). Chef Works aprons make great gifts for the chef in your life.
The wrap-up
There you have it. Our list of the top 12 chef essential tools. If you have anything to add to the list, please tell us about it in the comments! We'd love to hear from you.