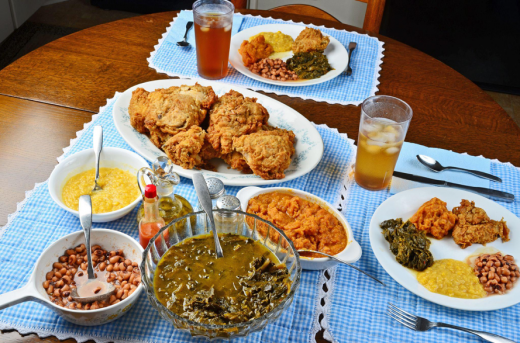 At Chef Works, we're committed to lifting up Black voices in the food industry year round. While Black excellence should be celebrated all day, everyday, it's important to take the time to celebrate Black culture and history in America in a more intentional way, and that's what February is for.
February is Black History Month. In this edition of Weekly Bites, we're shaking things up a little by putting together a list of some of the best cookbooks by Black American authors that have come out in the past few years. We're also sharing a story about a bookstore devoted to Black writing. Another way we're honoring Black History Month in Weekly Bites is by showcasing a different African American chef each week this month, starting with this edition of Weekly Bites.
Read on to find out what cookbooks to fill your shelves with!
6 cookbooks by Black authors to read this year
Cookbooks are a great way to understand the history and soul of a cuisine. Beyond a list of recipes, cookbooks are an opportunity for an author to tell an intimate story about their relationship to food, and to highlight how integral food is to culture and history.
These are our pick for the top 6 cookbooks by Black authors:
Nicole A. Taylor's cookbook is the first cookbook dedicated to Juneteenth that's been released by a major publisher. The publishing world long suppressed the voices of Black authors by claiming that Black-centered stories lacked "mass appeal." The result: few cookbooks written by Black authors. And the cookbooks that did exist painted a monolithic picture of what Black food was and could be.
Watermelon & Red Birds frees the reader from any preconceived notion of what African American food is by providing recipes that are both steeped in tradition and joyfully creative. A central part of a Juneteenth table is red food and drinks, to symbolize the blood shed by Africans and their descendants in slavery, so it's no surprise that this cookbook has plenty of ruby-hued recipes. As for what else is included, you'll just have to read to find out!
What do African American and Jewish people have in common? A lot more than you think. For one, the concept of diaspora is present in both cultures. They also share similarities in what they eat. For example, Sephardic Jews eat black eyed peas during the Jewish new year, similar to the tradition of African Americans eating black eyed peas on new year's day.
Koshersoul, part cookbook and part memoir, paints a picture for how Twitty views the intersection of his identity as a Black man and a Jewish man, through the lens of food.
Brown Sugar Kitchen defines soul food not only by the recipes and ingredients, but also by the role that food plays in community building. Tanya Holland's Oakland restaurant Brown Sugar is a neighborhood spot where people connect over food. Holland brings that same energy to her cookbook, which will have you thinking about soul food in new ways.
If you want a primer on Black cuisine in America, this book is it. This cookbook features stories, art, and of course recipes that paint a picture of the complex and long history of African American foodways in America. Beyond just describing the ingredients and methods of preparation you'd find in African American food, this book dives deep into the history that's shaped it.
My America is a collection of recipes and stories that tell the tale of Kwame Onwuachi's own family history, from Nigeria to the Caribbean to the American South and the Bronx. The book features over 100 recipes that show how the way one family eats and cooks changes over time.
This week we want to honor Chef Kevin Mitchell, one of the founding members of Table 1807 — our Facebook group for chefs and other culinary professionals.
Chef Kevin Mitchell is one of South Carolina's most talented chefs. He also knows everything there is to know about South Carolina ingredients and food, knowledge that he highlights in his book, Taste the State: South Carolina's Signature Foods, Recipes, and Their Stories.
Chef Mitchell is also the first African American chef at the Culinary Institute of Charleston, and has been a cornerstone of Black cooking in South Carolina for the past 15 years. Chef Mitchell started his culinary training in his grandmother's kitchen and from there went to work professionally in kitchens across America. His unique culinary flair celebrates a mix of traditional American flavors, soul food, and French cuisine.
Chef Mitchell devotes his career to documenting the foodways of the Global South.
There's something special about perusing the bookshelves of a bookstore to discover new literature. Specialty bookstores magnify that magic by providing a collection of specific books to choose from.
BEM Books & More is the first bookstore dedicated solely to Black food writing. The store doesn't currently have a permanent storefront, but operates out of various pop-ups in NYC. BEM Books & More stocks cookbooks and memoirs by Black authors. They also carry various fiction, non-fiction, and children's books that center around food and are written by Black authors.