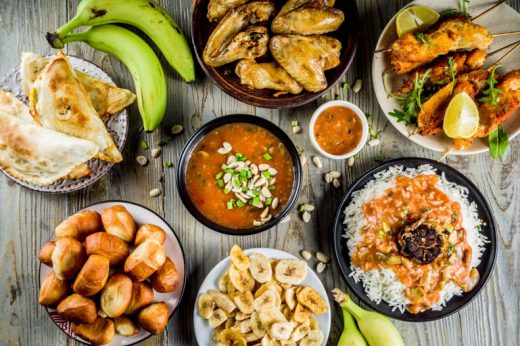 In this special Black History Month edition of Weekly Bites, we're celebrating West African cuisine in the United States.
West African food has been steadily increasing in popularity in the U.S., and it's easy to see a future where West African food becomes as much of a staple cuisine in our food scene as Thai food or Indian food.
West African cuisine first influenced American cuisine when enslaved people from West Africa were brought to the Americas. Today's southern cuisine can often trace its roots back to West African cuisine with ingredients like okra and black-eyed peas, and dishes like gumbo. In addition to the West African influence on southern cooking, there is a sizable West African immigrant population in the U.S. today that are opening their own restaurants.
These two sources of West African influence on American cuisine present unique opportunities for collaboration and fusion.
Read on to learn more about West African food in both fine dining and fast casual, as well as a spotlight on a chef who is creating inspired dishes inspired by West African and Creole cuisines.
The NY Times recently released their predictions for the top food and beverage trends for 2023 and beyond. And according to them, 2023 is the year that the restaurant industry will take a deeper dive into West African food.
West African food has been garnering interest and taking up well-deserved space in the culinary industry for some years now. What started out as a general interest, however, is becoming much more. Today's West African chefs are starting to dive into the regionality of West African cooking. Similar to how Americans first became interested in general Italian cuisine and then later dialed into what makes Sicilian food different from Tuscan food, West African chefs are starting to take an interest in presenting the cuisines of different regions in West Africa. While you may have been eating West African food in 2022, in 2023 you're eating Nigerian food, or Senegalese food.
Different regional West African cuisines are being championed in the fine dining scenes by the likes of  Chef Kwame Onwuachi, Chef Ayo Balogun, Chef Pierre Thiam and Chef Alon Shaya. And like every cuisine that earns a spotlight in America, some chefs are already starting to say "What if Nigerian food… on a taco?".
West African food is not just gaining popularity in fine dining — it's also popping up more in fast-casual dining spaces like food halls and assembly-style restaurants.
Many of the chefs that are opening fast-casual West African eateries started their culinary journey working at Chipotle. Inspired by the customizable dishes and crowd-pleasing flavors of Chipotle, they saw an opportunity to introduce Americans to West African food with the same format.
And like Chipotle, these eateries take the popular format of offering a choice of grain, protein, and sides — all on single-use dining ware. Instead of rice, beans, and carne asada, however, the options are jollof rice, plantains, and chicken suya.
The idea behind these eateries is to appeal to the American palate and reduce some of the overwhelm and hesitation that comes from trying a new cuisine. Chef Ope Amosu of ChòpnBlọk in Houston says, "We're not trying to convince people our food is good or worthy — we already know that it is. I am, however, trying to tell our story and welcome people in who may be nervous about going to a place that feels a bit unfamiliar."
For every week in February we're shining the spotlight on a Black chef, and this week we're celebrating Chef Serigne Mbaye of New Orleans. Chef Mbaye is a Senegalese-American who comes from a culinary family. Both his mother and his aunt were head chefs of respected Senegalese restaurants in NYC.
While Chef Mbaye was raised cooking traditional Senegalese food, his travels around America led him down a different path. He saw the opportunity to tell a story — not just about Senegalese food, but how Senegalese food has transformed and lived in through Black American cooking.
Chef Mbaye lives and works in New Orleans, where the story of creole and cajun foods is told in kitchens around the city. Despite this, Chef Mbaye sees an opportunity to highlight the connection between West African and creole food by creating a fusion of the two. It's an interesting concept, especially because creole food started out as a fusion of sorts.
Chef Mbaye says of the connection between the two cuisines, "As I continue learning more about the connection between the two, I'm realizing the fact I need to tell this story about the between Senegal and New Orleans, because knowing these connections is how we understand more about our diaspora's cuisine, and what we've been able to create under what were oftentimes oppressive conditions."