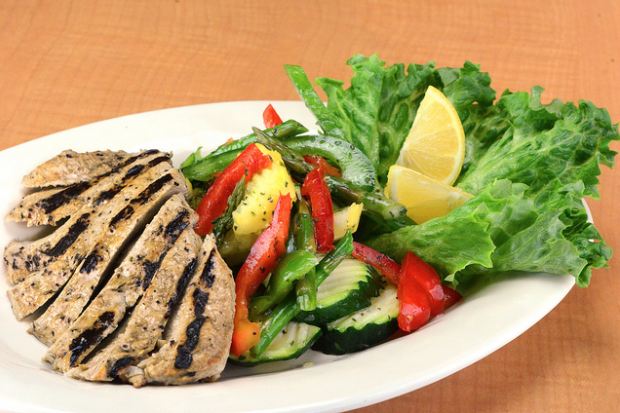 (Source: Flickr)
Regardless of the time of year, there's a flavor associated with the season. From vibrant tomatoes and juicy corn in the summer to cozy cookies and hot toddies in the winter, there are foods which evoke the season and can help your establishment appeal to customers. By offering seasonal specials, you can offer your customers a unique dining experience, allow your chef's creativity to shine, and if all goes well, maximize sales.
But once you've chosen to offer seasonal specials, what is the best way to promote them? Whether you want to promote summery cocktails, cozy fall entrees, or wintery desserts, this post offers 8 effective ways to promote your restaurant's seasonal specials.
Create seasonal beverages to complement food specials.

Part of the fun of seasonal cuisine is enjoying it with a weather-appropriate beverage. Be sure to create a roster of seasonal cocktails to support your culinary offerings for each season. For instance, in the summer, you might make watermelon margaritas or sangria featuring seasonal fruit. In the cooler months, hot toddies and robust

craft beers

will tempt your customers to stay cozy as they sample your food.





Season-appropriate beverages also allow you to tie your seasonal food specials in with

happy hour specials

, which are proven to garner attention from customers. The bottom line? It's well worth your while to incorporate seasonal beverages into your menu!

Create a sense of the season on social media.

Be sure to use social media outlets to post delicious-looking photos of your seasonal fare. Put yourself in a food stylist's shoes, and try to showcase the food and drinks in a way that really creates a sense of the season.





For instance, if you are offering pumpkin spice cheesecake for dessert during the fall, create a scene where a plated dessert has vibrant leaves all around it, or is propped next to a row of pumpkins. Creating scenes like this for social media will get people in the seasonal spirit, and it will make your seasonal offerings seem more timely and appetizing.




(Source:

Flickr

)

Make seasonal specials available for a limited time only.

When your menu is always the same, customers don't have a specific reason to visit your establishment. However, when you offer seasonal specials for a limited time only, you create a sense of urgency for the customer to visit while the special items are still available.





Offering certain foods for a finite amount of time only creates interest and demand. It also urges customers to order something different and maybe even a little more than usual because the items in question might not be available the next time they visit.




(Source:

Flickr

)

Create a specific seasonal menu.

Create a separate menu for your seasonal specials. This can be as simple as separate menus printed on good quality paper, which can accompany your permanent menus, given to customers once they are seated. Or, you could create a seasonal special menu which appears on a board in a highly visible spot within your establishment, or dedicate a special section of your menu to seasonal items.





Separating the seasonal specials in this way instantly makes them worthy of attention from the customers. It brings attention to the fact that they are a limited time offer that should be taken advantage of while they have the chance.

Offer a package deal.

Package deals are an effective way of "bundling" products to promote sales. This can be an invaluable way to promote your seasonal specials.





For instance, say your seasonal specials include a specific type of craft beer for $6, a special appetizer for $8, and a special entree for $13. You can create a package wherein a customer gets all three for $20. They get a value for bundling, and you get a higher overall sale, because without the bundle, the customer might have only ordered one of the items.




(Source:

Flickr

)

Tell the story of your seasonal dishes.

Everything tastes better with a backstory, and your seasonal specials are no exception. Use your seasonal specials as an opportunity to share these stories with your customers. This will not only enrich the customer experience, but it will make them feel more emotionally connected with your restaurant.



There are many ways in which a story can be told about a dish. For instance, say the Beef Wellington on your Christmas menu goes back five generations. Or perhaps the chef grows the late spring strawberries featured in the seasonal salad in his own garden. Telling these stories will make it a more interesting meal for the customer, with a much more personal touch. These stories can be told on the menu, or by servers or bartenders.


(Source:

Flickr

)

Train your employees to sell the dishes.

Speaking of servers, be sure to train them so that they can really sell your seasonal offerings.





First, make sure that all of your servers have sampled the seasonal offerings, so that they can adequately describe them to customers. If, for dietary or ethical reasons, the server cannot sample the dish, be sure to train them with descriptors so that they can at least accurately describe the dish. Be sure that the servers know selling points for the dish, such as where the ingredients came from, what the story behind the dish is, or anything that makes it extra special. Servers carry a lot of weight and authority when it comes to selling items to customers, so be sure they are adequately trained to do so. It can increase not only your overall sales, but

improve tips for your servers

as well!

Employ seasonal decor in your restaurant.

Don't just sell seasonal dishes: sell an entire seasonal state of mind. Make your customers feel the mood of the season by adjusting your decor accordingly. This could be as simple as featuring centerpieces made from mini pumpkins in the fall, or fresh wildflowers in vases in the summer. Or, perhaps you have special napkins or dishware that you can employ depending on the time of year.





Creating a pleasant ambiance will get your customers in the mood to engage with the seasonal specials in your restaurant!
Conclusion: Seasonal specials can offer a great marketing and promotion opportunity for your restaurant. They keep your offerings fresh for customers, and can increase sales for your establishment. By taking the steps detailed in this post to promote seasonal specials, you'll be giving your customers a far richer dining experience while simultaneously bolstering your bottom line.
Does your restaurant offer seasonal specials?