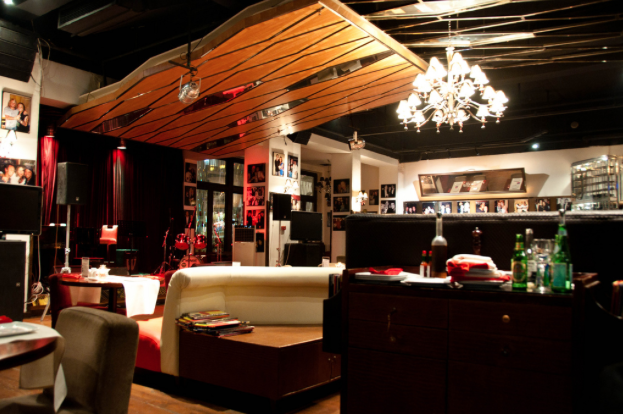 (Source: Flickr)
The seating layout is one of the necessary choices you will have to make before opening your restaurant. Your decision about how to arrange your dining room and which seating options you choose have a huge effect on not only the overall dining experience, but on the efficiency of your restaurant. A poor seating layout and floor plan result in confusion and congestion; a smart floor plan can result in expediency and good "flow", which can translate to higher sales and customer satisfaction.
By taking the time to consider what type of seating layout you'd like to settle on before you start buying tables and chairs or building bar fixtures, you will be investing in the success of your restaurant and the comfort of your employees and customers. Here, we'll discuss some approaches to choosing a seating layout and instances in which different approaches might work.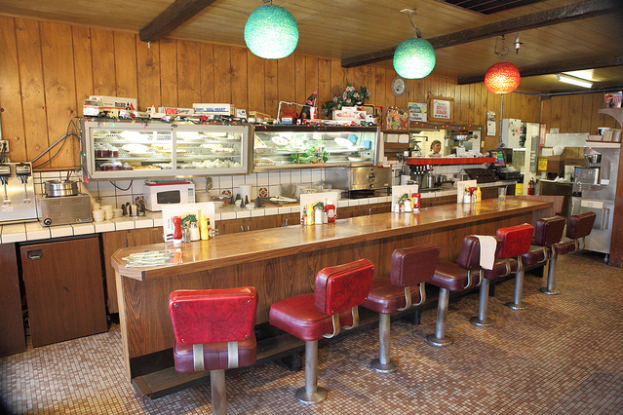 (Source: Flickr)
What does "restaurant seating layout" mean? Confused about what "restaurant seating layout" means? Basically, this refers to the pattern in which the tables and chairs, host/ess podium, and to go or waiting area are laid out. By strongly considering where items are placed and the format and style in which they are laid out, you can create a more comfortable restaurant experience.
9 Tips for Designing an Effective Restaurant Seating Layout. There's not just one "right" way to set up a seating layout. These questions will help you figure out how to design the right one for your particular restaurant, and to clarify some of your goals for the restaurant.
What appeals to you visually?

This is very important: how do you want your restaurant to look? Do you want it to look airy and spacious, or cozy and close together? Do you want a rustic feel with large wood communal tables, or a more industrial look with narrow, high tables? This is the question you should ask first; the rest of the considerations can fall into place after you've decided what type of seating works best with your

restaurant concept

and your personal aesthetic.




(Source:

Flickr

)

Consider bar seating.

If your restaurant is going to have a bar, consider not only stools or chairs at the bar, but also some limited seating for around the bar area. This can help prevent congestion when people are in groups chatting and enjoying a drink, and it can also help persuade people to go from just ordering a drink to ordering a second round, and then maybe progressing to appetizers or dinner, thus

improving restaurant sales

.

Do you need a waiting area?

For days when a queue forms at your restaurant, will the waiting diners be standing awkwardly in the dining room? This can really disrupt the flow of a restaurant, get in servers' ways, and stress out the diners currently trying to enjoy a meal. You need to consider what your solution will be, particularly if it is rainy or cold and people don't want to wait outside. Making sure that you have an area specifically for waiting customers is usually a good idea.




(Source:

Flickr

)

Will you be offering takeout?

Will your restaurant be offering takeout? If so, it becomes extremely important to have a way to deal with takeaway orders that will not disrupt the entire restaurant. If people waiting for takeaway wait at the bar, they may be taking up space without taking money. Alternately, if there is a huge line of people waiting for takeout in the same area where diners are waiting to be seated, it can cause unnecessary congestion. Some establishments have a separate entrance with a takeaway counter and a couple of seats. By doing this, you can keep your seating options open for diners.

What atmosphere do you want to create?

Do you want your restaurant to be buzzy and busy and bustling? Or do you want it to be sophisticated and refined, so that people on business dinners or on dates will be able to have privacy? The restaurant that has large communal tables, or modern metal tables and chairs close to each other will have a very different tone from one with plush seats and individual tables that are set widely apart.

Do you anticipate wheelchairs or strollers?

Fine, this is a trick question, because yes, you should expect wheelchairs and strollers at some point in your restaurant. Be absolutely sure that at least a few tables are equipped with enough space to be accessible. Also, making your establishment family-friendly by offering high chairs can help increase your business; if people know that the entire family is welcome, they will come more often.




(Source:

Flickr

)

Can you offer outdoor seating?

If you are able to, offering outdoor seating is a fantastic way to maximize sales during warmer months, and it should figure into your seating layout. This will mean that you'll have to secure a sidewalk permit, and you'll have to get durable fixtures that won't blow away or be damaged by the elements.

Is privacy important?

Are you aiming to create an atmosphere that offers privacy? Whether it's for business meetings or intimate date nights, it's important that you need seating that will offer it to your customers. Whether it's banquette or booth seating, you can also install walls or dividers for added privacy. If you have multiple rooms in your establishment, you can dedicate one or two of them to more private seating or seating which anchored to places like nooks or overhangs to create a cozy, intimate atmosphere.

What about large parties?

If a party of 20 wants to reserve your establishment for a rehearsal dinner, is this going to upset your whole dinner service? If you want to be the type of restaurant that can accommodate large parties, no matter how great your

menu

is, you have to have proper space. Be sure to carve out space for them, either having large tables that can be pushed together or even an entire room dedicated to parties.

Conclusion: A great restaurant seating plan should be a marriage of your vision, your customers' comfort, and efficiency for your staff. By taking a few minutes to consider the questions posed in this post, you'll be well on your way to choosing the most appropriate seating plan for your restaurant.
What type of seating do you offer at your restaurant?