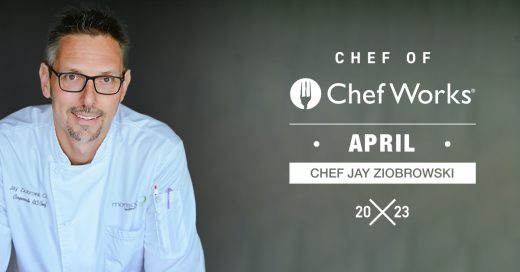 Ever wondered what culinary paths exist outside of the restaurant? Chef Jay Ziobrowski, also known as "Chef Jay Z," is one of Morrison Healthcare's corporate R&D chefs. Those concepts you see at a Morrison-run hospital café, whether it be a grill concept or a chicken salad concept — Chef Jay Z and his team are the ones developing, implementing, and teaching the recipes.
But how did he get started? Chef Works had the delightful opportunity to have a coffee chat with Chef Jay Z and learn all about his successful career in the culinary world.
Chef Works: Was there a defining moment for you when you knew you wanted to become a chef?
Chef Jay Ziobrowski: So I'm having lunch with my grandma Jane after I graduated high school, and we're having a candid conversation, and she says, 'What do you want to be when you grow up?' And I say, 'I don't know, Gram. I just graduated high school. I'm just gonna go have some fun.' She goes, 'You know, this tuna fish sandwich is delicious. You should go to cook school.' So I went, 'Hm, cook school…' I looked into some community colleges locally in Long Island, New York, and Suffolk Community College had a hospitality culinary restaurant program. I said, 'Let's do it!'
Chef Works: So your grandmother encouraged you to explore the culinary world, but what was the thing that hooked you?
Chef Jay Ziobrowski: I fell in love with the stainless steel of a kitchen. The adrenaline rush of getting the orders out, the ticket machine printing forever, the servers messing up orders… I really, really enjoy that rush.
Chef Works: You've worked in so many sectors of the industry, from mom-and-pop restaurants to college campuses to fine dining. How did you enter your role as an R&D chef?
Chef Jay Ziobrowski: After working at the Ritz-Carlton in Naples, Florida, I came back up to New York and got a job as a sous chef at this little Italian restaurant. My first day on the job, I get a phone call at the restaurant. 'Hey, Jay Z, this is Shane. Remember me from college? Listen, I've got a job opportunity for you — call me when you're done today.' He sold me on moving to Minnesota from New York and working for the Schwan Food Company as a corporate R&D chef. I loved it. It was a great opportunity for me to learn a different side of the industry. It wasn't a mom-and-pop restaurant, it wasn't a college university. Here I was, developing frozen pizza and food products!
Chef Works: As an R&D chef at Morrison Healthcare, you develop the recipes seen in hospitals all throughout the country. Can you give us an insider's look at your process? How does an idea start?
Chef Jay Ziobrowski: What's hot? Let's see what's happening right now in the industry. We do a lot with Datassential. We'll look at something like gojuchang to see where it's at in stages, because all food trends follow a similar journey: inception, adoption, proliferation, ubiquity. We take the growing trends for the next two years, then we start researching those. Right now, we are looking at ceviche, Korean street food, Peruvian, and Filipino. So we'll look at trends, see what's available to our chefs, and then start creating. We'll also do a dry run somewhere. We have rockstar chefs in the healthcare sector, and they can test the whole concept within their market before it even gets launched. We all work together to make it perfect!
Chef Works: Aside from technique, what's the most important quality a chef should have?
Chef Jay Ziobrowski: Passion. If you have passion for the job, we can teach you. I can teach you. If you don't have passion and you're just in it for a paycheck, you're never going to be the caliber of person that I would want to work with. No matter who you are — if you have passion, you're that person I want to work with and bring it to the next level.  Always raising the bar!