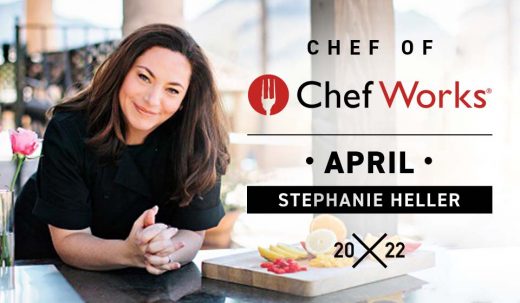 ---
New York native, Stephanie Heller, was working long days in a Manhattan office building. She was unhappy and wanted things to change. She decided to move to Scottsdale, get culinary training, and launch her own business as a personal chef. We had the chance to sit down with her and learn about how her business took off, what she loves about being a personal chef, and why she shifted to teaching others to build their own businesses in the culinary industry.
---
CW: What made you want to join the culinary industry? 
SH: I grew up in New York, went to college, and then spent several years working in an office. I was doing everything I was "supposed to do," but I was unhappy. I started asking myself, "What's the point of this?" That's when I decided to move to Scottsdale and figure out what was next in my life. I knew I wanted something that was portable, had no income ceiling, and that allowed me to be creative — being a personal chef fit all of those requirements, so I enrolled in the Scottsdale Culinary Institute, Le Cordon Bleu, to get a culinary education.
Chef Works: How did you get started as a personal chef? 
Stephanie Heller: I opened my personal chef service in Scottsdale about 13 years ago. It took about a year of grinding before the phone started ringing more consistently. After a little while, I got my first professional basketball player as a client — that's when I knew this business was going to work. From there, I decided I would niche down and become known as someone who works primarily with athletes. I kept making my offer better and better all while marketing and building my website. Then the phone started ringing. By the end of the second year, I was working 6 days a week and my clientele kept growing. I brought on another chef to help with the workload, and within the next six months, she was working five days a week. That's when I realized we had something here. This was a real business. Before I sold half of the business two years ago, I had eight chefs working for me, a full-time culinary manager, and we were earning close to half a million in sales. 
CW: Tell me more about the personal chef industry — what's the process when working with a client? 
SH: As a personal chef, I cook in the client's home either daily, weekly, or monthly. The core service that a lot of families, professionals, CEOs choose is the multi-meal service. I come to their house once a week to cook and it usually starts at four entrees with four portions each so the client has 16 meals for the week. There is a protein, starch, and vegetable for each meal. I create their menu based off of a questionnaire the client answers that tell me what their preferences are, and then they review the menu ahead of time and we make any changes they want. The longer you work with someone the better it gets because you receive feedback and build a relationship with them. Working as a personal chef, I get to use a lot of my culinary talent — and I love that. 
CW: Does that process change when you're working with professional athletes? 
SH: With athletes, I most often do what's called a "Fresh Service" or "Daily Meal Service." It comes in a million variations, but the most straightforward way to explain it is that as a chef, I'm at their home cooking the client breakfast, lunch, and dinner. I go to the client's home anywhere from 2-7 days a week. As I said, each situation is completely unique. The person might have teammates join them which means I'm cooking a much bigger meal or they might be from out-of-state and want food that reminds them of home. Some of them have families that you cook for while others are single.
CW: When you go into people's homes, do you wear culinary attire? 
SH: Absolutely! We actually had Chef Works jackets made with our logo — they were gorgeous. That's what we would give to our chefs to wear in clients' homes.   
CW: The majority of chefs and business owners we feature work in the restaurant industry. In your opinion, what's a unique benefit of being a personal chef?
SH: You really get to make decisions for yourself. Restaurant work is hard, the schedule is challenging and you don't get a lot of freedom to do things your own way. As a personal chef, I get to decide what days I want to work, how much I want to earn, if I want to have a family, when I want to travel. I feel that being a personal chef gives you your life back. 
CW: You've now moved from being a hands-on chef to teaching others how to run their own businesses, could you tell me more about that change? 
SH: As I was running my business, I kept hiring these amazing chefs who wanted to cook but didn't want to run the business side of things. We started building relationships and I would ask them why they weren't interested in starting their own business. They told me it was because they wanted to cook and not worry about the business side of things. And to some extent I get that. Of course cooking is the fun part of it, but as a business owner you have so much opportunity to grow and expand. I saw a huge need for education in this space. So I started coaching one-on-one and then I did a group program and I could see that it was making a difference in people's lives. Now I've launched my business, Elite Personal Chef, through which I teach people how to build and operate their own personal chef businesses. 
CW: What is some advice you would share with others about building their own personal chef business? 
SH: People think good cooking is going to get new clients — but that has almost nothing to do with it. You really have to learn to run a business. Also, you need to be ready for the long game. This isn't the type of industry where you get started and immediately earn six-figures. This is a real career, and anyone getting started in this industry should be ready for that. 
CW: What is a highlight of being a personal chef that you want chefs considering joining this industry to know about? 
SH: You are a part of people's good times, and they are going to remember you for the rest of their lives. Whether you cook for them every week or just once, they remember you forever. For example, we do a lot of bachelorette parties. These girls save their money for the whole year because their best friend is getting married. And they have us come cook for them and we know they are going to remember it forever. As a chef, that's super special. 
If you're interested in learning how to build a business as a personal chef, visit Stephanie's website where you can sign up for one of her courses. She also offers a free download with resources to help personal chefs get their next 5 clients, and a private Facebook group for Elite Personal Chefs.
---
Want to be featured? Fill out this form