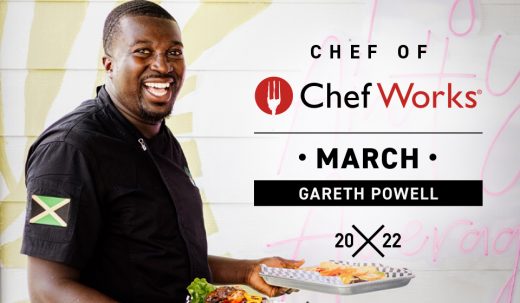 ---
Gareth Powell is the founder and head chef of Jamaica Pon Di Road. His culinary journey started in Jamaica where he was born and raised. In 2011, he moved to Houston, Texas, to marry his wife, Danielle. She runs the business side of the restaurant while he cooks up and serves authentic Jamaican food to their guests. We had the chance to sit down and talk with them about their restaurant, the work they are doing to help the houseless community of Houston and Jamaica, and their new line of sauces.
---
Chef Works: I would love to hear how you got into the world of cooking and becoming a chef — what inspired you to do that? 
Gareth Powell: Well, I've been cooking since I was about 10 or 12 years old in my grandmother's kitchen back in Jamaica. So I developed a love for cooking from that age. We didn't have fast food, we were farmers, so we had to cook everything we ate. We cooked everything from what we grew on the farm. 
CW: What kind of foods would you cook with your grandmother? 
GP: Sweet potatoes, Guinea yams, bananas, and a lot of other produce that is mostly just used in Jamaica. We cooked with Ackee, a fruit that is used for our national dish Ackee and saltfish; Callaloo which is similar to spinach; and Chow Chow, a type of squash that is also sometimes called Cayote.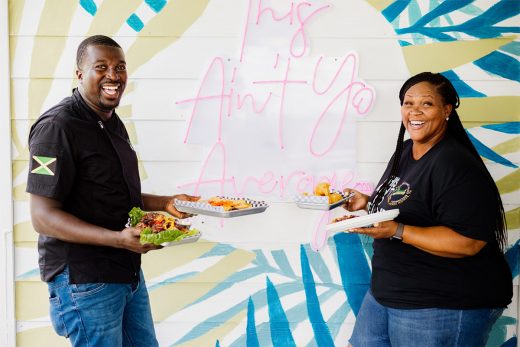 CW: What brought you to the US?
GP: Well, I have my family here. I met my wife, Danielle, in Jamaica while she was on vacation, and now we have a family together. I've lived in Houston for 11 years. 
CW: That's amazing! What do you wish people knew about Jamaican food? 
GP: I wish more people would be open to trying it. You know, most people when they hear about jerk chicken just think that it is extremely spicy, so a lot of people are not even willing to try it because of what they've heard. And it's true, some people overdo it, and it makes the chicken less flavorful and too spicy, so it's super hot. But you know, that's not authentic. When I moved here, I realized there's a void in Houston for authentic Jamaican food. And that void needed to be filled! So I decided to jump into the food truck community to let people experience authentic jerk chicken. 
CW: How has it been running your food truck? 
GP: People were very receptive of it, that's why we've expanded into a brick and mortar store this past summer as well.
CW: And can you share with me what "Pan Di Road" means? 
GP: "Pan" means "on" and "di" means "the," so the name, "Jamaica Pan Di Road" translates to "Jamaica on the Road." We chose that name because we started with the food truck as a mobile kitchen moving anywhere in Houston, so we were "Jamaica Pan Di Road."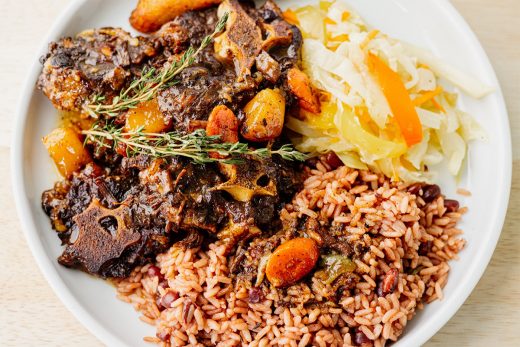 CW: What are some dishes you would recommend for people to try? 
GP: The jerk chicken is our most popular dish. It's a smoked meat made like a barbecue with lots of spices and fresh herbs. Our ox tail is also extremely popular and I'd definitely recommend giving that a try. 
CW: What's been your favorite experience so far of having the food truck? 
GP: My favorite experience is just seeing people enjoy the meal. That brings me joy — when I see someone experiencing and enjoying my cooking. 
CW: Please tell us about the homeless outreach work you're doing to support different communities. 
GP: We started our community outreach here in Houston and abroad in Jamaica back in 2013. We partner with my old school and church in Jamaica and once a year, we send food and backpacks and school supplies for the kids. And then in Houston, we partner with Church Under the Bridge who have a homeless ministry. We take the truck down there on the fourth Monday of every month and feed the homeless people there. 
CW: Danielle, what should we ask your husband about that he's probably too humble to share? 
Danielle Powell: Yes, I'm sure you can tell, he is extremely humble. I think that's what makes him special. He didn't come here assuming everything was going to be easy. He grew up in a community that was tough, so it's just second nature to him to give — and that was part of what attracted me to him when I first met him in Jamaica. He believes that through his cooking, he is healing the world somehow. But, you should ask him about his sauce line, people are extremely excited about that.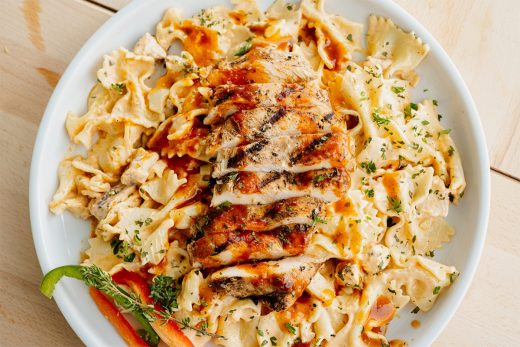 CW: Yes! Tell us more about your sauces. 
GP: We started an authentic Jamaican sauce company — at this point we offer a Jerk Marinade and a Mango Peppa Sauce. Very soon we will add a Jerk Sauce and Dry Seasoning. It's called Nyam Good Sauce because in Jamaica, "nyam" means "eat," so it means "eat good" sauce. My hope is that it will eventually be available worldwide, but right now we ship to the US and Canada. 
CW: I know Covid has been such a challenging time for many small businesses, and as we're moving into however the world is going to unfold, is there anything you're looking forward to for what's to come? 
GP: Right across from our brick and mortar store is a school. A lot of the children who attend this school are experiencing homelessnes. We are working to find ways we can partner with them to feed the kids. We've hired some of the highschoolers to work at the restaurant, but we're trying to find other ways to provide food for the kids in need. 
If you're in Houston, visit Gareth and Danielle Powell at the Jamaica Pan Di Road restaurant or find them serving authentic Jamaican cuisine from their food truck around the city. You can also partner with them to feed those experiencing homelessness in Houston by giving here. For those outside of Houston, order a bottle of their Nyam Good sauce and experience a taste of authentic Jamaican cuisine.
---
Want to be featured? Fill out this form