Chef Works: Let's talk about Coastal Roots Farm, what do you all do? 
Javier Guerrero: Coastal Roots farm is a nonprofit community farm in our seventh year. We're located on the last 67 acres of what was formerly Ecke Ranch in North County. Historically, Ecke Ranch was 800 acres and it was known for being the poinsettia flower capital of the world — the Ecke family was responsible for making it the holiday flower a couple generations back. They've been there in North County for many years. 
The last 67 acres was acquired by the Leichtag Foundation in 2012. In 2014, it started off as a program and a foundation. The following year, 2015, it became its own 501(c)(3) nonprofit, so we're in our seventh year and have grown pretty substantially in that time. I've been with the organization since the summer of 2018, when I came in as the first full-time Executive Director. I'm now the President and CEO of the organization. I've been working with nonprofits in San Diego for about 20 years, and have some background in terms of bringing to life, growing, and moving forward the impact of an organization. 
CW: How is Coastal Roots Farm participating with the surrounding community? 
JG: Coastal Roots Farm centers around four impact initiatives that we've focused on over the last couple of years. One is regenerative agriculture, which is how we farm — it's the most sustainable way of farming as we know it. We're CCOF certified organic, which is great. Regenerative agriculture relates to how we care for the soil to grow the most nutrient dense, amazing produce. We also have chickens that are part of the farm, so we get and use their eggs. 
The second impact initiative connected to the growing of food in a sustainable way is our equitable access to food, or food justice, which we call the Organic Food Distribution Program. It's wrapped around the idea of making this food accessible to food insecure families. Not just providing them with any food, but providing this rich, nutrient dense, organic produce that people often feel they can only get at some specialty produce store that doesn't feel accessible. So how do we make it accessible? We have an on-site "pay what you can" farmstand which has been in operation since about 2014 or 2015. Anybody can come and shop there. It is pay what you can up to $30, so people can choose how much they want to spend up to $30. If they have EBT (previously known as food stamps), they can extend that even further with their EBT card. So that's pretty amazing. We refer to this as access with dignity. You know, we have people shopping who are coming from any number of walks of life. And so it's access with dignity, it's not a food pantry. Everybody's coming and benefiting, regardless of where they're coming from — whether they're well off, homeless, a student just trying to get by, a family with young children, or living out of their car. Some people not only pay the full amount, but make an additional donation to contribute to the work we do. That social enterprise model is pivotal to how we do things because it generates revenue from the farm. But more importantly, it's making food accessible and dignified. The other way that we put food into the community is through a number of direct donations, so everything off-site is a direct donation into the community that's going out through close community partners working with target community populations. Some partners include the San Diego American Indian Health Center, providing food for a lot of indigenous homebound elders living throughout San Diego county. Indigenous families of the Iipay Nation living on the Santa Ysabel Reservation, as well as families of the Mesa Grande Band of Diegueño Mission Indians and the Los Coyotes Band of Cahuilla and Cupeño Indians. Vista Community Clinic which also has a lot of seniors and lower-income Latinx community members. In North County, there are low-income enlisted military families in connection with Helping Hand Worldwide — unfortunately, a lot of family members of the military are living at or below poverty, which is really sad. And we also partner with Mercy Housing's Cantebria Senior Homes for low-income seniors. We're providing food for other places like the Community Resource Center and local Holocaust survivors in partnership with Jewish Family Services — I'll explain the Jewish life connection in a second.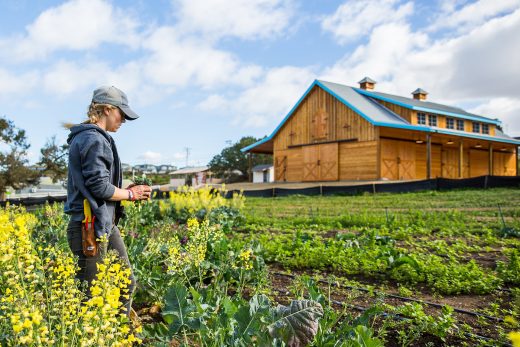 The third initiative is environmental education, it's wrapped around providing a myriad of programs for youth and community. We have our anchor for environmental education programs, our school and group visits, farm camp, and we offer community programs and tours. We provide seasonal events. We have internships for high school, college age, and adults. We've got a new outdoor nature play experience focused on early childhood development. There's both free play and caregiver-and-me facilitated programming with our educators. And then there's a whole big area we're growing a lot in the program side very much connected to that. 
And then the fourth initiative is Jewish life. The farm was initiated with the idea of integrating and providing a platform to welcome the Jewish community and people of all backgrounds. Within Judaism, like so many cultures, there is a strong connection to agriculture and the land. That's what a lot of our big festivals and events are connected to, you know, the Sukkot harvest festival or Tu BiShvat which is a celebration of the trees. The values of healing the world, not wasting, caring for animals, caring for others, treating your farmers fairly are all embedded within the tradition. We call this the ancient agricultural wisdom, but it also plays into how we run the organization and on a day to day. 
It's important to note that while we're not a religious organization, we are guided by these values and make this a very welcoming place for people of all backgrounds. We invite people to look at their cultural traditions and values and think about how they can stay connected to the land through those traditions. I mean, we all eat right? So we all have some connection to food. Some people have more of a connection through family and culture and traditions and land through farming. When you go even just one generation back, it's really interesting to me how often people have something nostalgic that really connects them to the land, to people and traditions. I think that kind of summarizes the farm. In terms of nourishing community, there's a lot of ways that we nourish community — physically, socially, spiritually, how we connect people to the land or nourish our bodies, how we nourish our community, and bring people together. It's a very holistic kind of model. No one piece is really truly separated from the other.
CW: That's amazing — there are so many incredible things going on! How many people work at the farm?
JG: We have 67 and a half acres of property, and we're on 17 acres, which is pretty good. Our staff size ranges from 26 to 28. During the summer when we have our seasonal farm camp, we'll be bringing on up to an additional 10 people to help as camp counselors and that sort of thing. Our budget this year is around 2.3 million, which, I would say, is right on par for San Diego and the size of our staff. 
CW: What are some things you're looking forward to in 2022 and beyond? Are there any collaborations or new things on the horizon that you're looking forward to? 
JG: We've expanded the size of our education team and the education program side of the organization is really taking off. We have schools and groups coming from all over the county, and our capacity has grown so that we're able to welcome more. Our farm camps have also really taken off. Through COVID, we started to add after-school farm camps and seasonal fun camps. With after school farm camp, we found that people were looking for additional outdoor childcare options. And then our seasonal camps are winter, spring, and then our big summer camp. 
But the program that we've been piloting that's really taking off is this outdoor nature play experience. The farm stand is open Thursday 12-3 and Sunday 10-3, and the outdoor nature play is open then too, so that's gonna allow visitors to come and enjoy the farm from a programmatic side as well as grab produce from the farm stand to take food home. We are looking to introduce some culinary-type experiences where you could actually get some produce from the farm stand and then participate in a program around food. 
In the last two years, we brought our food course online, and our agroforestry system grew from 40,000 pounds of produce to over 80,000 pounds of produce. So there's been a lot of growth in our production. We're feeding more people than ever. During COVID, we took on this collaboration with the local indigenous communities here in San Diego in partnership with the American Indian Health Center. We're able to serve the Iipay Nation of Santa Ysabel, Mesa Grande Band of Diegueno Mission Indians, Los Coyotes Band of Cahuilla and Cupeno Indians, Rincon Band of Luiseno Indians, and additional families. And that's morphed into collaborations with tribal communities throughout San Diego County to support communities growing their own food on tribal lands. There's a real interest from the communities to have their own gardens and farming areas. Tribal food sovereignty is a really important initiative that we want to find ways to support. So we do both the education and programming side. We have the farming background and are savvy in terms of how to grow food, and we actually teach these topics — farming, compost, pollinators, chickens, and everything else. It allows us to provide opportunities for youth and community members to come to the farm where they learn first-hand and participate in programs and workshops. And we have an initiative where we're looking to support the build-out of some gardens and farming areas on tribal lands. 
I actually just met with a tribal member in Santa Ysabel who's really wonderful. She's overseeing their Garden Initiative and Seed Program. What they're planning to do there is really amazing, and that's just one of several locations we're looking to pilot this with. And again, doing something off-site like this is kind of a pilot. It's a really wonderful initiative because there are so many facets — there's parts of it that will happen out in tribal communities and parts that will happen at the farm. And having the farm be a place for the indigenous tribal communities to come gather as people of the coast and the ocean just as much as of the land, the mountains, and inland. For them to come and use the farm as a gathering space for their programs and events. I'm really jazzed about that because I think that's going to have a huge impact and it ties into our pillars of welcoming people of all backgrounds, especially indigenous people who are the first people of these lands, it incorporates the food justice piece, the environmental education piece and the regenerative agriculture piece. So there's a lot of ways that we can connect our values and our impact initiatives to lift up what's going on in the community.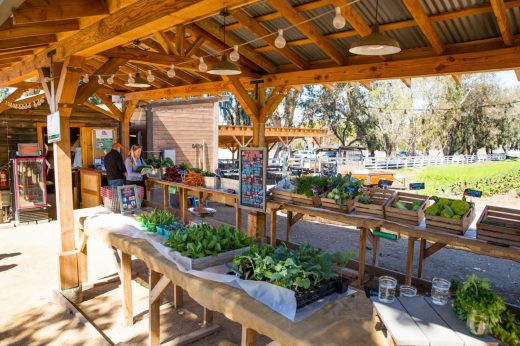 CW: What are some of the ways that the farm collaborates with the culinary industry? 
JG: Partnering with the culinary industry is a whole thing in and of itself. I have the intent of creating not just an advisory council for the farm, but also an ambassador program. That would mean inviting local chefs who are really committed to sustainable sourcing of foods and produce, along with musicians and athletes and people in the public eye who would be interested in helping to further get out our story and be ambassadors of the farm. They would participate in our messaging campaigns as well as food events at the farm, which we're planning to do a lot more of. We also have a couple of different private events people are hosting at the farm. Not weddings per se, but other types of corporate and nonprofit events. They bring in chefs who feature our produce in some way. But we're looking to do more open-to-the-public type events with chefs at the farm. 
There are a couple of chefs or event planners who are looking to the farm to be a venue for an event to benefit their organization. We have this beautiful venue space that doubles as nature play and a great outdoor venue — it's a great location, there's parking, and this beautiful organic farm. We have all this seating, an outdoor pizza oven, two different mobile teaching kitchens that have convection stove ovens — so there's some real fun stuff we can do with chefs around that. 
We're also going to be building an outdoor kitchen space with three-compartment sinks and a 24 foot counter running on both sides of the fence. It's only going to be used for rinsing vegetables and stuff like that, so the sinks will connect to a gray water tank that waters our passion fruit vines along the fence.
Learn more about the heart and mission of Coastal Roots Farm through their website. If you want to be a part of the work Coastal Roots farm is doing, consider supporting their initiatives or, for those in the San Diego area, visit their pay-what-you-can Farm Stand on Thursdays and Sundays, climb and explore during Nature Play hours, or sign your nature-loving kid up for a session of Farm Camp. Scholarship is available and nobody is turned away for inability to pay.