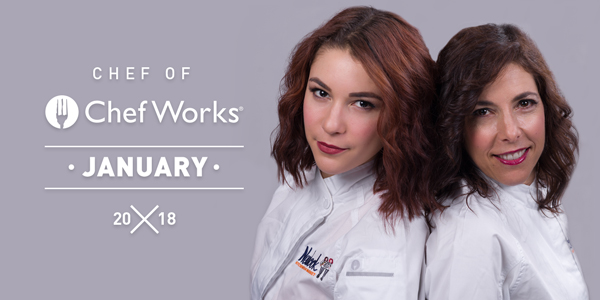 It would seem that at age 23, Danielle Hartog is living the dream. She's doing what she's always wanted to do – working as a head chef, running her own business and doing it alongside her best friend.
Did we mention her best friend is her mom? We are proud to kick off 2018 by featuring Cindy and Danielle Hartog, chefs and owners of the Paleo-centric NewBrook Kitchen + Artisan Market in Westport, Conn.
For the Hartogs, this is more than just a passion. It's also therapeutic. Four years ago, mother and daughter were diagnosed with autoimmune diseases within months of each other. The Paleo diet helps control symptoms. Danielle handles the meals. Cindy does the baking.
The pair took some time to chat with us about how the business came together and the joys of working together.
---
Your original background was in acting. How'd you move into the
culinary industry?
Cindy Hartog: When my dad became ill in 2004, he told me two things [that made me realize] I needed to switch my career path. He told me that he too always enjoyed the culinary world and that he had many regrets of things he never did with his life and realized it was now too late. I decided I didn't want to let my passion for food be unfulfilled and decided to get my professional culinary degree.
He passed away in 2005. Danielle and I decided to name our restaurant after his paper-converting business, which he started on his own. We have always felt his guidance and wanted to pay tribute to that.
---
2. What's your favorite childhood memory of mom's cooking?
Danielle Hartog: We used to subscribe to a monthly cooking box and I remember the two of us making popcorn soup. I remember how fun it was being able to share that experience with her. The fact that we got to create something from nothing – and share that experience together – really stuck with me.
---
3. What inspires you most about your mother?
Danielle Hartog: Her unbelievable support and unconditional love inspire me in so many ways. She constantly strives to better herself and those around her.
She also has an incredible work ethic that I think has inspired all three of her children. We were always taught that hard work pays off as long as you love what you are doing.
She also has a keen business sense. It has been incredible watching the two of us build a company from nothing.
---
4. What is the most gratifying thing about working with your daughter?
Cindy Hartog: She is the head chef and I handle all the desserts and breads. Danielle is so naturally-gifted in creating dishes that are uber-flavorful, beautiful and healthy.
We work together efficiently and smoothly — like a well-oiled machine. We totally trust each other. Occasionally my youngest [daughter] helps at the register and Danielle's boyfriend helps out during most lunchtimes. But we pride ourselves on creating a warm and intimate customer service-oriented café where we personally know and care about our customers.
---
Follow Chefs Danielle & Cindy Hartog on social media!
@NewBrookKitchen
@NewbrookKitchen
@newbrookpaleokitchen
NewBrook