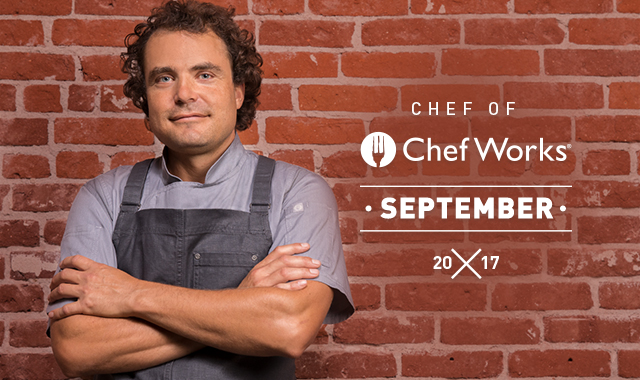 ---
Each month we feature a Chef of Chef Works. If you're a fan of Chef Works gear and are interested in being featured, email marketing@chefworks.com. Pictured above is our September 2017 CoCW, Chef Fred Piehl, photographed in his Hartford Chef Coat. 
---
Inspired by his European Farm-to-Table upbringing and culinary training at Le Cordon Bleu Paris, Executive Chef and Owner Fred Piehl marries French cuisine with the bounty of San Diego in a way that is rustic, yet refined. Helming two restaurants next door to each other, Chef Piehl spends his nights jumping from his award-winning French bistro, The Smoking Goat, to his adventurous eatery, One Door North.
We met this amazing chef while we were shooting our new looks at his restaurants, and in-between poses and styling, managed a few moments to chat about his European upbringing, juggling two restaurants, and where to eat out in sunny San Diego.
Read on to discover more about Chef Fred Piehl, our Chef of Chef Works!
---
1. Describe each of your restaurants in one word.
One Door North — Genuine. I feel like that best speaks to the heart and soul we put into the food — going the extra mile, spending the extra dollar to provide guests with the best quality available, prepared deliciously and not pretentiously. We want to give our guests a genuinely good meal in an atmosphere that evokes fun, sparks creativity, and celebrates adventure.
The Smoking Goat — Warm. It is a cozy, romantically lit space reminiscent of small bistros in France. The relaxed feeling you get when you walk in prepares you to indulge in something new, reconnect with good memories, and have an experience you can't wait to repeat.
2. How do you balance your creativity of being Executive Chef with your role as an owner in both concepts? Do you find yourself approaching menu development in different ways?
Yes, I definitely approach the menu development in different ways. I think it is actually quite similar to having two different children like I do. While you of course raise your children with the same core family values, each child is different and has their own unique personality, so you manage and utilize different approaches in hopes they will grow and prosper into amazing individuals. With the two restaurants, we apply our core company values every day in the operation of both — such as carefully sourcing ingredients, handcrafting our product daily, and incorporating sustainable practices into our businesses. But I think about the restaurants as individuals when I am creating. I also balance this by utilizing a great team and make time to give focused attention for both.
3. How do you blend French cuisine with SoCal dining culture? And what are some ways you're making French food approachable to the neighborhood?
We offer a 3-course prefix menu at an exceptional value to encourage guests to try things outside of their comfort zones. I can't tell you how many times I have heard "this is the first time I have ever had snails" and the same amount of times when people say, "the escargot reminds me of when I was in Paris". We care about the ingredients, we make everything from scratch and we don't over-fancify it. We want it to be unpretentious and to feel warm, welcoming, and satisfying, but with the realization that every step and item on the plate is intentional and meant to be enjoyed to its fullest.
4. At One Door North, there's a distinct design theme of discovery and exploration — how does the menu reflect these ideas?
While One Door North's aesthetic was born out of our personal love for the outdoors and desire to be close to nature, our menu reflects our commitment to true ingredients. We believe in simplicity, in bringing the focus back to the quality of the individual ingredients themselves. We take great pride in taking the extra time to source our products responsibly and sustainably, putting the extra effort into hand-making our breads and using cooking techniques that take longer, but yield a more flavorful dish. In an era where nearly everything is rushed or "for show," we want to provide our guests an opportunity to come in, connect with their family and friends, and enjoy a genuinely delicious meal.
5. Describe a perfect day eating out in San Diego.
I like to stay close to home on my days off so I would start off the morning with a soyrizo scramble and lots of coffee at The Coffee Cup in La Jolla. I am usually thinking about Mexican food by lunch so I would head over to the Ranchero for a tostada and cold beer. After those two filling meals, I would probably keep it light and delicious for dinner and enjoy a few cocktails, oysters, ceviche, and some sort of fresh fish dish at Herringbone — all taken down with a bottle of wine, of course.
---
Follow Chef Fred on social media!
FACEBOOK: One Door North
TWITTER: One Door North
INSTAGRAM: One Door North
WEBSITE: One Door North