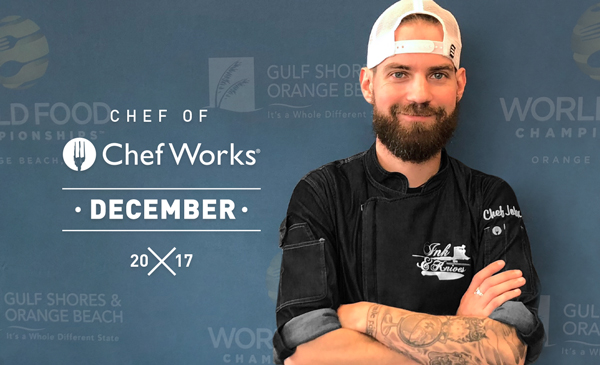 Chef John Curley has no problem admitting that he owes a tip of the cap to his mom, Colleen. After all, "She taught me everything I know," he said.
Under her guidance – and sometimes alongside her as a sous chef – Curley has enjoyed tremendous success in the world of competitive cooking, including a victory at the 2016 World Food Championship in the bacon category. He's since branched out on his own. And at the 2017 Burgers & Brews Bash in Detroit, he won a People's Choice Award for Most Unique Burger.
Curley, a quality manager by day and competitive chef by night, recently took a few minutes to chat with Chef Works about the rush he gets from competitive cooking, tips for the perfect burger and what's in store for 2018.
---
1. How is daily life for a competition chef different than a traditional chef?
The best way I can describe a day in the life is that it is a whirlwind — and you better hold on. The biggest difference is the public spectacle that is competition cooking. All chefs, whether you are cooking in a restaurant or in a competition, operate under a time clock. But when you have spectators watching you cook and the countdown timer constantly being called out, it adds an additional layer to the process.
Cameras and interviews would be the next biggest difference. While cooking in a restaurant, chefs may get asked about their dishes after the fact. During a competition you are constantly in the spotlight. [You] could have cameras on you being asked
to give an interview about what you're cooking while you're trying to present your
best dish.
2. So how do you cook the perfect burger?
Flat top oven grill, and cast iron over everything else. To me, there is nothing better than a burger cooked medium rare on a cast iron flat top. It gives a perfect crust on the outside and helps lock the entire flavor in.
I would also say the complements to the burger are just as important as the right cheese or sauce and can be the difference between just a good burger and an award-winning burger.
3. What advice do you have for aspiring competition chefs?
Just go for it and don't be afraid to fail. I know both are clichés, but they are true. If you have something that you are passionate about, find a competition and go for it. The amount of knowledge and experience that will be gained far outweighs the fear of not succeeding.
You have to be willing to accept constructive criticism. Thomas Edison found the correct way to make a lightbulb, but he also found several ways to not make a lightbulb. Failures can also be successes.
Also, have fun. The world of competition cooking can be incredibly stressful, but also
incredibly rewarding.
4. What's on your 2018 docket for competition cooking?
There's no telling what is on the horizon, but I do plan to do more competitions in 2018. I was a little late to the game in 2017 so I missed several entry dates. I know there are burger festivals in Memphis, Tenn., Atlanta and Charlotte, N.C. that I will be competing at in 2018.
---
Follow Chef John on social media!
@inkandknives1703
Ink & Knives