San Diego's most loveable chef, Rich Sweeney has been a kitchen staple in the city for over ten years, whipping up crave-worthy dishes that are as gluttonous as they are delicious. Having just launched a second location of the widely popular kid-friendly gastropub Waypoint Public, we caught up with this Top Chef alumnus to chat about the local food scene, his favorite thing about being a cooking genius, and his go-to brew after a long shift. Read on and enjoy our April Chef of Chef Works!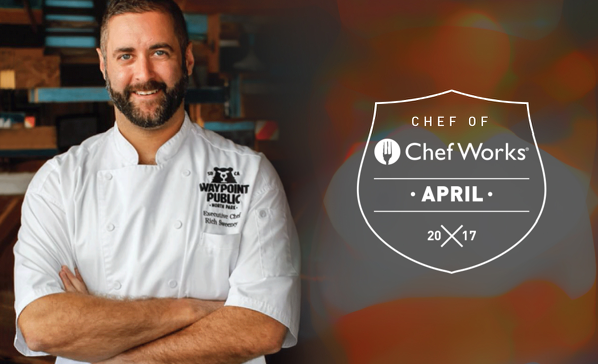 1. Describe a perfect day eating in San Diego.
Hmmm… I'd probably have to start my day out with a cup of coffee from Dark Horse Coffee Roasters, then grab some pancakes at Original Pancake House (that bacon though… YUM). After that, I'd want to snag some tasty tacos from about a dozen spots (have you had the Puerco Agridulce from City Tacos?), and some guacamole and margaritas at Puesto. Move on from there to some noodles from Amarin Thai, then round out the day with some gelato from Pappalecco… and then maybe a midnight snack…
2. Favorite cooking/ingredient trend right now?

I don't keep myself too deep in the trends, but am always trying to think ahead and look at what might become the next big thing. Right now I'm really into using infused honey in dishes… like the Sichuan/Szechuan peppercorn honey we make at Waypoint Public Del Sur for a hint of tingly sweetness in our Beer Can Half Chicken Entree!
3. Describe the menu at Waypoint Public in one word?
FUN.
4. Best thing about being a chef is…
PLAYING WITH YOUR FOOD!! Come on, we get to do the one thing your parents always got mad about when you were a kid, and we get paid to do it!
5. Worst thing about a chef is…
The schedule and hours! We are usually the first ones in the door, and the last ones to leave. The kitchen crew always gets the job done, even if it means we make sacrifices to do so.
6. If you could tell the aspiring chefs of the world one thing, what would it be?
Be ready for it all: the good, the bad, the accolades, the disappointments, the happy guests and the irate ones. It's never all one thing or another – there's so much variety every day that you never know what you're walking into. But make your best food, and be proud of what you do!
7. Favorite kitchen tool/gadget you can't live without (besides your favorite Chef Works coat)?
My Chef Works coat is the perfect balance of function and fashion – cuz you've gotta get the job done…but who says you can't look good while you do it?!
My favorite tool would be my Microplane – I use it for savory and sweet, core recipe ingredients as well as finishes/garnish. So many ways to use it, and it's safe enough for a child to use as they learn to cook, too!
8. Wine or beer?
While I LOVE me some wine (and bubbles… mmmm… bubbles), I'm definitely a beer guy. Some Modern Times Blackhouse Coffee Stout (on Nitro), and I am a happy fella!
Follow along on Chef Sweeney's adventures –
Facebook | @chefrichsweeney
Instagram | @chefrichsweeney
Twitter | ‪@chefrichsweeney