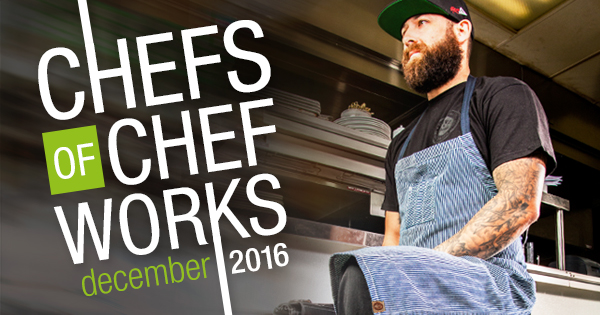 Chef Dave Fults
Photo Credit: Rob Forsythe of Photog-Rob Photography.
Question 1: Where did you get your start?
"I started at Gabardine in Point Loma, San Diego working for Chad White (Bravo's Top Chef, season 13) – it was a smaller restaurant within Chef Brian Malarkey's restaurant group.
I washed dishes for forever, then I was the oyster bar "Man of the Year"! Then I was moved over to the salad station (b**ch). These stories go on!"
Question 2: What is your favorite dish?
"Whole hog cooking is my go-to. I had Chef Hanis Cavin (Carnitas Snack Shack) and Mad Max show me how to do it the proper way and it has been my go-to!
It's such a family/party type of thing! There's something awesome about cold beer & swine."
Question 3: What was your favorite dish as a child?
"I don't really have a childhood dish. I can't really remember anything. A lot of chefs have those memories, but for me it was eating MRE's (meals ready to eat) during my time in the military. "
Question 4: Who inspired you to be a chef?
"I was kind of forced into the kitchen life. When I got out of the military I really didn't know what to do. All I could think of was that I washed dishes when I was a kid. So that's what I did! "
Question 5: What would you be doing if you weren't a chef?
"Man, I would like to say I would be an athlete or maybe a contractor of some sort. "
Question 6: What advice can you give an aspiring chef?
"Stay in the kitchen for a sufficient amount of time! There is a whole life and culture that I enjoyed and I feel like I cut myself short of that. There is also a learning curve that I skipped. Goods and bads with everything but living that kitchen life was fun!"
Question 7: Is there anything you would have done differently in your career?
"I would have stayed in the kitchens a bit longer!"
---
Get in contact with Chef Dave Fults:
Facebook:
@flutters77
https://www.facebook.com/flutters77
Twitter:
@ foodNmouf
https://twitter.com/foodNmouf
Instagram:
@knifeandfig
Personal Website:
Knife&Fig
https://www.knifeandfig.com/